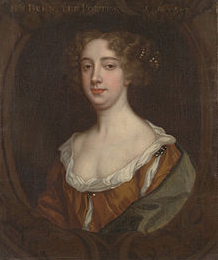 Classics
The Astonishing Authorship of Aphra Behn
This content contains affiliate links. When you buy through these links, we may earn an affiliate commission.
Aphra Behn (1640–1689) is the first woman in the Western world known to have made her living as a writer. In A Room of One's Own, Virginia Woolf states that all women who earn their living as writers owe a debt of gratitude to Aphra Behn. Meanwhile, in a column in The Boston Globe, literary critic Harold Bloom calls Aphra Behn a "fourth-rate playwright" who should only be included in a curriculum if the professor wishes to dumb down to the students.
Aphra Behn was a controversial person already during her lifetime. She was considered scandalous because she challenged the conventions of what was considered appropriate behavior for a woman. Despite this, Aphra was a popular and respected writer, named the successor of Sappho by her seventeenth-century English contemporaries.
Although she lived and worked more than three hundred years ago, her collected body of work has aged well and still packs a punch. Several of her poems address lesbian love affairs and male-to-male attraction while her most famous poetic piece, "The Disappointment," deals with rape written from a woman's perspective in a clever use of the rhetoric of male sexual entitlement.
Considering how popular she was, surprisingly little is known about Aphra Behn. However, scholars have pieced together enough information to be able to present a biography of sorts.
Aphra Behn is believed to have been born in 1640 somewhere in the vicinity of the city of Canterbury in south England. Her parents were a merchant couple by the name of Johnson. It is not known whether they were her biological parents or if they were her foster parents. In 1663, Mr. Johnson was sent to the colony of Suriname in South America, bringing his family with him. Mr. Johnson died on the journey across the Atlantic, leaving Mrs. Johnson, Aphra, and a nameless boy believed to have been Aphra's brother to fend for themselves in the colony.
In 1664, Aphra was back in England where she associated herself with a Dutch merchant whose last name was Behn. It is believed that they married, although this has not been confirmed. They parted ways in 1665. Some sources say they divorced, others that Mr. Behn died. Considering Aphra's freedom of action after their separation, it is likely that he did die. A widow had greater agency at this time in history than did a woman who was unmarried or divorced. Either way, it is from this point in time that Aphra adopted the public persona of Mrs. Behn, which in time became her byline.
One year after her separation from Mr. Behn, King Charles II appointed Aphra his personal spy in Antwerp. The king vouched to pay all her expenses, a promise he never honored. To be able to return to England, Aphra was forced to borrow money. In 1668, she was imprisoned when she was unable to repay her loan.
It is believed that Aphra became a writer so that she would never have to depend on anyone for money again. Her first play, The Forc'd Marriage, was produced in 1670.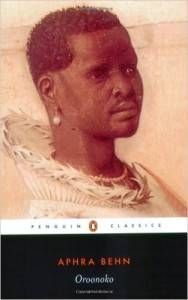 Aphra Behn's most famous novel is Oroonoko, or The Royal Slave, published in 1688, one year before she died. The novel is believed to be based on her experiences in Suriname and tells the story of Oroonoko, an African prince who is taken captive on a British ship and sold as a slave. Set to work on a plantation in Suriname, Oroonoko refuses to accept his fate and stages a rebellion together with the other slaves.
Oroonoko is an important novel for several reasons. As English literature has developed over the centuries, Oroonoko has emerged as one of the most important literary works in the development of the modern novel. Moreover, it is an early example of an anti-slavery story, written decades before an abolitionist debate can be said to have begun in earnest. Furthermore, the story is told by a woman, who decides to share Oroonoko's story so that the world might know the atrocities that are being committed against fellow human beings. The first part of the novel is written from Oroonoko's point of view so that the reader will get to know him. The second part is written from the point of view of the narrator, which enables her to reveal the treachery of the plantation owner. This way, the reader sympathizes and roots for Oroonoko, while the hypocrisy of people who call themselves civilized Christians is exposed.
For a long time Aphra Behn has been overlooked in the history of English literature. But as time goes by and more voices are included in the canon, Aphra's contributions and talent have become recognized.
Virginia Woolf writes that flowers should fall on Aphra Behn's tomb for what she achieved through her work. If you're ever in London, pay Aphra a visit. She lies buried in Westminster Abbey, yet another sign of the esteem in which she was held during her lifetime.