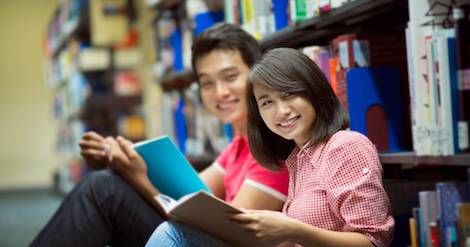 Newsletter 1
Where Are All the Asian Kids in Contemporary YA Romance?
Walk through any bookstore's YA section, and it isn't hard to pick out contemporary romance stories. Young couples fall for each other in small towns, in big cities, in Europe, through letters and emails and phone calls.Falling in love is exactly the kind of universal experience many readers seek in contemporary young adult (YA) fiction, and it's easy to find–that is, if you're a white teen.
Anna and the French Kiss. Amy & Roger's Epic Detour. Fangirl. How to Save a Life. Chasing Jordan. The Fault in Our Stars.
Sarah Dessen. John Green. Jennifer E. Smith. Lauren Morrill. Maureen Johnson. Morgan Matson.
These are just some of the numerous authors and novels that populate contemporary romance in the YA landscape, and all of them feature white teens written by white authors. These are great stories, ones I've enjoyed and eagerly recommended. But they rarely, if at all, involve people who look like me. So I have to ask: YA, where are all your Asian kids?
Contemporary YA romances with Asian teens do exist, but they're the proverbial needle in the haystack, challenging readers to find these titles among the hundreds of stories where we're only the side characters. We are featured far more often as the best friend, the rival, or the history that brings the main character and their love interest together. We're in your YA novels, but rarely cast as the one falling in love and lighting up the pages.
It's not as if Asian kids are a small section of the population. In the United States, Asians are now the fastest growing ethnic/minority population in the country, and Canada's not far behind, with 60% of immigrants in the last ten years coming from Asia and the Middle East. North America alone can establish that kids with Asian heritage are becoming an influential part of modern society, and yet their bookshelves don't reflect their existence in the world.
The Cooperative Children's Book Centre counted only 113 books with Asian-American/Pacific Islander protagonists published in 2015. Scouring Goodreads lists, there are far more science-fiction/fantasy and historical novels with Asian kids as the main characters than there are fun, light comedies or romances. When we do feature in romance, it's common to find us paired up with the (more-often-than-not) white main character.
Eleanor & Park and Hello, I Love You are two recent titles that come to mind almost instantly for their inclusion of Korean boys as love interests, but they're still written in ways that add to a stereotypical narrative. Park is seen through Eleanor's eyes, eyes that judge him as Different, as Other almost immediately (though notably not even as the correct ethnicity)–
Maybe Park had paralyzed her with his ninja magic.
and which continue to see him that way, even after she falls in love with him.
Stupid, beautiful Asian kid.
In Hello, I Love You, we are treated to the white main character's trek to South Korea, and her utter dismissal of everything Korean, even as she falls for a Korean boy. Surprise, surprise, said Korean boy grew up in the United States, and his favourite band–The Doors–is American.
As disheartening as this kind of representation can be, there are some amazing novels out there from North American publishers that give Asian kids the spotlight. Jenny Han's To All the Boys I've Loved Before is a delightful and poignant read, as is Everything, Everything by Nicola Yoon, which has a biracial African/Asian-American teen at the centre. Justina Chen penned a hilarious romantic comedy in Girl Overboard, and Varsha Bajaj takes readers along on a Bollywood-style sweet romance in Abby Spencer Goes to Hollywood.
There are definitely more titles outside of North America, though if my experience in the Philippines is anything to go by, YA booksfrom the big five publishers are still the most prominent. But we shouldn't have to stop here, or feel that these few titles are enough to go on.
I want more YA romances that aren't about being Asian-American, or the struggle of immigrant parents, or how a non-Asian partner might deal with our culture. When do Asian kids get to have wild, ridiculous adventures with the partner or group of their choice the night before they graduate? When will a Chinese teen see stories about kids like her agonizing over their first kiss, not because their family disapproves, but because she might want more than a kiss?
When will a Vietnamese boy get to tell his best friend about how his fingers brushed against his crush's palm as they stock books at work? When will a trans Filipina teen take a romantic walk along the beach with someone that they love? When will Korean kids star in their own comedy, and get to make silly decisions that they'll remember forever?
I'll admit that this is a dearth of literature that I wish I'd noticed sooner growing up. It didn't bother me then that every YA romance I picked up was about white teens, because I never thought to ask for a story with kids like me. It didn't occur to me that maybe I could be reading about a Filipino girl falling in love with a Japanese boy on the steps of her high school. The possibilities were never that present in the books I found at Barnes and Noble as I moved through adolescence. But the lack of Asian teens in contemporary YA isn't something we can ignore anymore, not if we want to continue building an inclusive community. Not if we want to show teens today that their lives, first kisses and last goodbyes and everything in between, are vital.