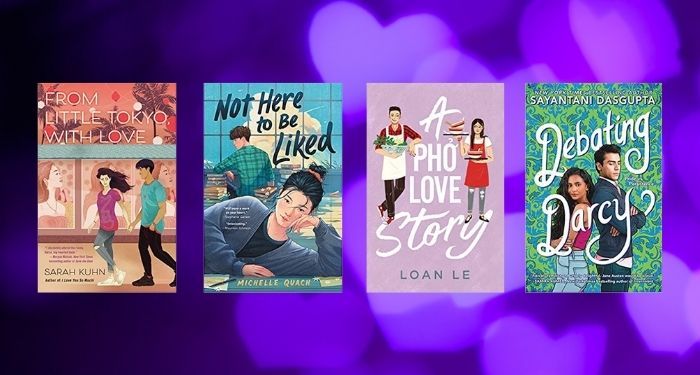 Lists
8 Asian American YA Romances I Wish I Could Have Read in High School
This content contains affiliate links. When you buy through these links, we may earn an affiliate commission.
High school was a pretty rough experience for me. Not because of any horrible happenings outside the normal teen drama, but because it made me feel incredibly small, if not invisible. Having never really seen myself in media or popular culture, I frankly had no idea how I was supposed to fit into the school ecosystem, no idea how to be. My very own life felt like being a side character in everyone else's stories, because nowhere did I ever see evidence that I — the mostly quiet, unassuming Asian girl — was allowed to be a main character with a full life and story of my own.
I especially never saw myself in romances. Nor did anyone else, as evidenced by the fact that my own beliefs that I was undesirable and undeserving of love were confirmed again and again by the people around me who saw me as nothing more than homework help. Even if my own high school life had stayed exactly the same, I do wish I had had some exposure to just the idea that teenagers like me could have the same experiences we saw other teens having because not having that exposure continues to affect how I think of myself even to this day.
What I hope for is that teenagers today don't have the same experience that I did of not realizing the kinds of full, wonderful lives — including love lives — they deserve to pursue and have. And while nowhere near perfect, things certainly do look much better on the representation front now than they did when I was in high school. Each and every time I see a new Asian American YA romance announced or released, it gives me such a rush of joy and emotion that hasn't faded no matter how many I see. In this list, I've highlighted a few recent (and upcoming) Asian American YA romances that would have been so beneficial for me had I had the opportunity to read them in high school, and that I hope are beneficial to the Asian American high schoolers reading them today.
---
For even more YA featuring Asian American characters, this list of 2021 YA books by AAPI authors has got you covered, including more romances as well as books from other genres as well!