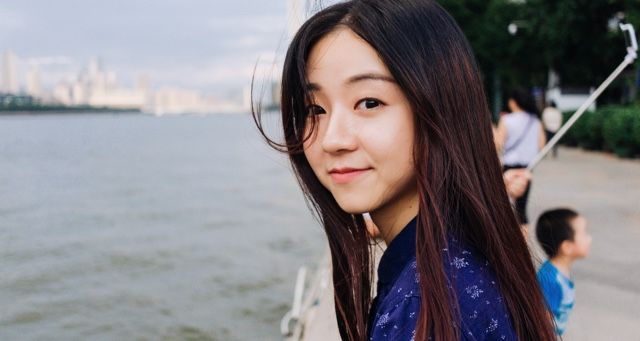 Fiction
Where Is All the Asian American YA Historical Fiction? A Conversation with Author Stacey Lee
This content contains affiliate links. When you buy through these links, we may earn an affiliate commission.
The mooi sets off all the water sprinklers in my mouth, sour and salty at once.
The sentence jumped off the page and hit me like a lightning bolt. Yes! That's exactly what it's like. Where was this book when I was a teenager and thought I was the only one in the world who snacked on Chinese preserved plums?
Last year, I read Outrun the Moon by Stacey Lee and was captivated in a way that was different from any other time I've read historical fiction. It was the first time I'd read a historical novel from the perspective of a Cantonese Chinese American. This character could have been me if I were born earlier, if my grandparents immigrated to the U.S. instead of Canada. A million questions popped up in my brain. Are there more stories like this? What do other readers—especially teen readers—think about it? Now that the #OwnVoices movement has taken off, will there be more?
The questions were still simmering in my brain when I reached out to Lee for another Book Riot post. And in our email exchange—which included marveling at the coincidence that her name is the same as my maiden name—the questions bubbled out of me, starting with our conversation about Asian American YA historical fiction. Why isn't there more? Why are there so few authors, let alone #OwnVoices authors, who write it?
I wanted to dig a little deeper into the topic, so I asked Lee for an insider's perspective on writing the genre as an #OwnVoices writer, the reactions from readers and the industry, and what she believes the future holds.
Where Are the #OwnVoices Authors Who Write Asian American Ya Historical Fiction?
One of the reasons I had such a strong reaction to reading Outrun the Moon was because of its genre. I'm happy to say that in the last few years, I've read quite a few YA novels by #OwnVoices Asian American authors, but I couldn't remember reading any that were historical. In fact, I couldn't remember even seeing any—either as an adult or as a teenager. Lee had the same experience. "I just accepted it," she told me in an email. "I didn't see many non-white characters in books (or other media like film or TV), especially Asians, so I internalized it. That was just the way the world was."
But when Lee was looking for middle grade books for her son, she discovered the books of Laurence Yep, who's written several Asian American historical novels, including The Dragon's Child and The Earth Dragon Awakens. "I wish I had known about his books earlier!" she says.
So why is there such a dearth of Asian American YA historical fiction by #OwnVoices authors? After all, as illustrated by both Lee herself—she's a fourth generation Chinese American—and her characters, Asian Americans have been in this country for decades. The answer, Lee believes, is complicated, but one of the reasons might be that "many of us have grown up trying to downplay our heritage. When you grow up lacking books or other media that represent you, you start thinking that being anything other than white is a drawback. Most of the stories I wrote before Under a Painted Sky featured white heroines. Those are the only ones I thought people would read."
Fortunately, Lee has written three YA historical novels, all of them with female Asian American protagonists:
In 1849, 17-year-old Samantha disguises herself as a boy and sets out on the Oregon Trail.
Fifteen-year-old Mercy bribes her way into a San Francisco private girls school in 1906.
Seventeen-year-old Jo pens an advice column under a pseudonym in 1890s Atlanta, Georgia.
Where Do Asian Americans Fit into American History?
One of the things I love most about Lee's three historical novels is that each one takes place in a different setting and period of history—some of them, I'd argue, unexpected for the Asian American experience.
"Someone asked me if I'm trying to write a book for every region of the U.S.," Lee told me in an email. "No, but I can see why it looks that way! I do like to center a historical novel on a historical event or somewhere with a strong sense of place. It allows me to work on several levels, providing commentary on the state of the world and societal mores, through the lens of my protagonist. For example, the 1906 earthquake allowed me to show the social and racial divisions that existed in San Francisco and how that affected the life of a simple but not simple Chinese girl, her family, and her community."
As important as the choice of setting is to Lee, her stories are first and foremost about Asian Americans—and in her experience, it's not as hard as we might expect to find them in a variety of historical settings in America. "We're pretty resilient," she says. "My parents call Chinese the great immigrants because they've traveled far and wide to all corners of the earth. I think it's important to show Asian Americans where you don't usually see them. If we don't do that, we erase them."
Because Lee writes stories about Asian Americans in unexpected places, she gets to research and explore relationships between Asian Americans and other people of color during specific periods of history. In her research for The Downstairs Girl, Lee learned a few things about how Chinese Americans did business in the South, at a time when many communities in the region still saw in "black and white." Chinese business owners often served both groups—sometimes from two separate establishments. As a result, she says, "friendships and communities developed."
That said, Lee told me,"it's important to remember that for the Chinese living in a society that only saw in black and white, many tried to align themselves with whites and distance themselves from blacks. This is one of the unfortunate repercussions of when one group holds too much power."
And what about romantic relationships? Only one of Lee's characters, Mercy, has a relationship with another Asian American. It turns out there's a reason for that. "I love writing Asian American heroines, and with the exception of Outrun the Moon, the places I've chosen to set them (on the Oregon Trail, and Atlanta, Georgia) didn't have very many Chinese men," she told me.
There were, however, interracial relationships between Asians and other groups of people. Lee told me that "due to the Chinese Exclusion Act, most of the Asians in historic America were Chinese men, bachelors, usually. Without wives or Chinese women around to marry, they integrated into the local populations—Mexican, Native American, whites, and blacks."
How Readers Are Responding to YA Historical Fiction About Asian Americans
When she's writing, Lee keeps her Asian American readers in mind—she wants to give them books she didn't have when she was growing up. At the same time, she told me, "I sincerely hope and desire that my books appeal to all people who have ever felt like they don't belong somewhere. I know it's cliché, but I'm constantly trying to point out that we have more in common than differences."
That said, as a Chinese American reader of Lee's books, I felt some of my biggest thrills when I recognized certain ordinary, yet unique, experiences of growing up in an Asian family—the sensation of tasting mooi, accepting gifts with both hands, pinching the web between thumb and index finger to help a headache. I think if I could have read these stories when I was a young adult, I would have felt both less alone and also understood more fully where these traditions came from. As it turns out, I'm not the only one. Lee told me that this is why many of her Asian American readers appreciate the distinctly Asian details and behaviors she writes about in her books.
Lee understands this, and shared a detail from her own childhood. "I remember being so embarrassed for having to bring those flat trifold sesame breads to school," she told me. "I would rather have brought Wonder bread, but my mom refused to buy Wonder bread."
When Lee first started hearing from readers, she was surprised to get letters from Asian Americans who have been adopted by white families, some brought over from orphanages overseas. "These are people who did not grow up knowing anything about their cultures and didn't realize what they were 'missing'," she told me. "It's rewarding to be able to help others understand the Asian American experience, regardless of what kind of 'Asian' they are."
What's in Store for Asian American YA Historical Fiction?
Before Lee wrote her first novel, she knew she wanted to write a Chinese American heroine during the California gold rush, but since she hadn't seen books with Asian American protagonists, she didn't really think it would sell. In 2014, when she submitted to publishers, she got the sense that the industry wasn't looking for Asian American historical fiction. "Of 20 submissions for Under a Painted Sky, I received 19 rejections, before the last publisher (GP Putnam's Sons) said they'd like a revision before they'd consider buying it," she says.
She ended up publishing with GP Putnam's Sons and couldn't have known then that after her first book came out, they'd ask for more historical fiction from her. Lee is hopeful that the industry is becoming more open to historical novels about Asian American teens. She points out that in the last few years, Asian American novels have proven to be good sellers "if they are given the marketing and push of more mainstream titles."
What is Lee herself working on now? "In my next book, set on the Titanic and centered around the eight Chinese men passengers that history forgot," she told me excitedly, "I get to focus more on the guys."
Before Lee wrote her first novel, she didn't know she'd end up writing this genre, but she told me she loves it. "I definitely think I've filled a very specific niche of Asian American historical fiction and it sometimes feels like I'm in some moon crater…where is everyone?"
I asked Lee what other genres she'd like Asian American authors to explore. "Everything!" she replied. "I think we need more of everything. And if anyone wants to join me in the moon crater, I would happily embrace them."
---
Read more about Stacey Lee and her work at her website. And if you're looking for more diverse YA historical fiction, check out these Book Riot posts:
3 on a YA Theme: 2019 Diverse YA Historical Fiction