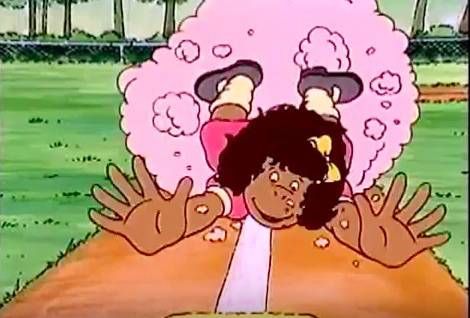 Children's
On the Arthur Episode "Francine's Bad Hair Day"
Sometimes we women need to learn to love ourselves. This is not easy in the wake of industries playing on our desires to be beautiful. It's also not easy when you have hair that people desire and yet dislike when they see it on you. I'm not speaking about my hair, but about African-American women hairstyles.
We probably have seen the Sesame Street video where a cute Muppet sings about how she loves her hair. We may not have seen Jessica Williams discussing how expensive straightening and adding chemicals can be for black women. Perhaps we have heard of the documentary Good Hair. To discuss some of my mixed feelings, I'm turning to the show Arthur, and its surprisingly relevant episode, "Francine's Bad Hair Day".
Francine appears on Arthur as an abrasive yet loyal friend; Arthur twice has mentioned that he can always count on her. She's a spectacular athlete, a hard-working student, and dedicated. She's also bullied him in the past about minor things, though he and the class have returned it tenfold. In short she's confident. Francine is also black. This is something I realized later on, since on the show Arthur and in the books race isn't shown as a problem or a stigma, generally. The subtlety vanishes when one becomes an adult, however, and rewatches the episode on YouTube.
Francine's bad hair day
This episode serves as a realistic representation about taming hair. Francine's hair generally is shown in a neat, straight bob that requires minimal fuss. The picture books also have this style for Francine, back when Arthur did look more like an aardvark. I'm still not sure what sort of genes Francine has.
Francine starts the episode confident about her image. She wins a huge kickball game against the fourth graders. Meanwhile, her gal pals Muffy, Prunella and Sue Ellen discuss picture day clothes in the girls' bathroom. Muffy thinks that Francine should dress up for pictures, and convinces her that she could be beautiful. While reluctant, Francine does wish she could have a gorgeous dress and long, curly hair. After finding Francine's only dress, Muffy then decides to give her friend a new hairstyle. The results are less than satisfactory.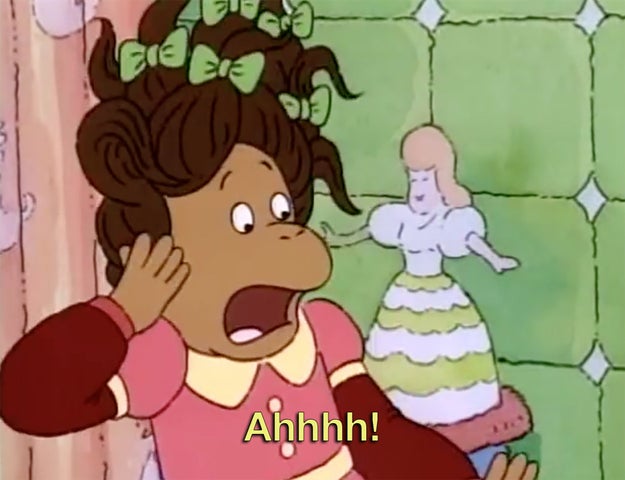 I envied Francine's hair. She didn't need to comb it, or have her mother braid it every morning. These days, my long and curly hair tends to go up in a bun, or in two braids if I feel fancy. Thus, when Muffy says she needed to change her hair, I'm with Francine when she protests, "What's wrong with my hair?"
Despite this neat appearance, Francine's hair doesn't comb easily. Muffy finds this out twice, when simply running a brush through it and when trying to put it up with multiple bows. Undaunted, Muffy takes Francine to her hair salon appointment. Apparently hair like Francine's needs special treatment to look "great" in Muffy's eyes. Francine doesn't want to go in, and she tries to set boundaries, but Muffy doesn't listen. She reminds Francine that last year's school picture was dirty and muddy. Embarrassed, Francine goes with her friend into the salon. She actually enjoys herself when Flossie, the salon owner, personally washes and cuts her hair before putting her under a dryer.
The economic disparities become clearer. The hair salon employees cater to Muffy, who lives in a mansion, while Flossie tells Francine that they don't promise miracles in her price range. Francine lives in a three-bedroom apartment with her garbage man dad, homemaker mom and fashionista sister. Muffy of course could have done the nice thing and covered Francine's permanent, but it doesn't occur to her, and Francine uses her soccer ball savings to pay for the service. Flossie also mentions that Francine's hair isn't like Muffy's, in that it poofs up and curls instead of laying down with a prom queen style. Thus, imposing the prom queen style of long hair and curls doesn't work.
Priorities also become clear. Francine wants a lovely hair style that she can wear to kickball. While the new perm and her dress go well together, Muffy mentions that Francine can't play kickball without messing up the style. Most intense style makeovers require no strenuous activity for at least 24 hours, but Muffy didn't mention this before making Francine go along with her scheme. Francine again tries to set boundaries because she doesn't like all these rules, but Muffy steamrolls Francine into having her way.
The lack of boundaries here is important. Muffy never asks Francine how she wants to look on picture day. She never asks what Francine wants to wear. She instead orders Francine to put on her pink dress and insists on doing her hair. Other episodes show that Francine would rather wear a shirt and pants to formal events, and that she can find outfits that match her straight style. Muffy ignores all of this, to try and make Francine more like her. Then she blackmails Francine into getting the salon treatment, and makes her pay for it. Flossie does ask Francine what style she wants, but that's her job.
Naturally, Muffy's scheme backfires. At school the boys laugh at Francine's new look and panic when she has to sit out of kickball. Francine can't fight back when the boys say she looks ridiculous, or she'll get dirty. Sitting by the sidelines as her class loses in the game isn't her style; she jumps in to catch a fly ball, and kicks a home run. Though Muffy is disappointed, Francine says she likes how she used to look, and she likes that her class picture has her home run mud.
When you are a person of color with curly or unruly hair, a good portion of your time goes to maintaining it. People will always try to change it, or step over lines to correct it. You can't really tell them "no" because they mean well, and you don't want to be rude.
Francine for me told me it was all right to have my hair and to not wear dresses. She could banter with the boys and treasure her dirty state. She and the show Arthur, at least before Arthur ran out of ideas, were well ahead of their time.