This content contains affiliate links. When you buy through these links, we may earn an affiliate commission.
To celebrate the birthday of Arthur Conan Doyle, we're writing about all things Sherlockian/ACD today. This coverage is sponsored by The 7 ½ Deaths of Evelyn Hardcastle by Stuart Turton.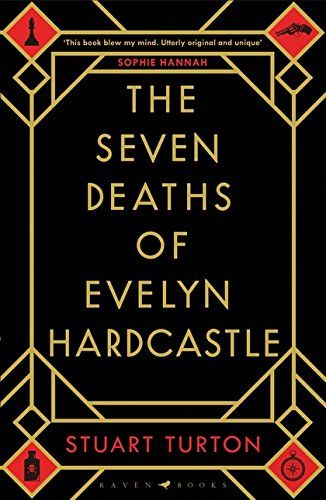 The most inventive debut of 2018, this clever, mind-bending murder mystery will leave readers guessing until the very last page.
One of Stylist Magazine's 20 Must-Read Books of 2018.
One of Harper's Bazaar's 10 Must-Read Books of 2018.
One of Marie Claire, Australia's 10 Books You Absolutely Have to Read in 2018
At a gala party thrown by her parents, Evelyn Hardcastle will be killed. Again. She's been murdered hundreds of times, and each day, Aiden Bishop is too late to save her. Doomed to repeat the same day over and over, Aiden's only escape is to solve Evelyn Hardcastle's murder. However nothing and no one are quite what they seem.
---
It's ACDD! Not to be confused with AC/DC Day—is that a day? Anyhoo, it's Arthur Conan Doyle Day! We celebrate the birth of Arthur Ignatius Conan Doyle (born on May 22, 1859, in Edinburgh, Scotland) because he created, surely, the most famous detective: Sherlock Holmes. And fictional duo, because everyone knows Watson, too.
You don't need to have ever read any of Doyle's novels or short stories to know about the detective with the amazing skill of deduction, because the likelihood that you've seen/read an adaptation, reimagining, or "inspired by" character is very high. I mean you've certainly made it when a false signature phrase is regularly used in pop culture and attributed to your character even though you never wrote it: "Elementary, My Dear Watson."
I do often wonder what Doyle would think of specific adaptations or reimaginings of his work. Would he be an Elementary fan? Think the BBC nailed it with Sherlock? Or shake his fists and demand rewrites? Does he agree that Stephen Fry was an excellent choice to narrate the audiobook of his work? And also think Sherry Thomas's gender-swapped reimaging of the famous Holmes/Watson duo is brilliant? (It is!) At least I like to think he would—or still does, as he was a huge believer in spiritualism. But honestly, he'd probably be too busy focusing on how influential his writing was on an entire genre. (I'm gonna pretend he got over his whole being tired of Sherlock phase.)
Sir Arthur Conan Doyle was actually a very interesting person beyond his creation of Sherlock Holmes: he was a physician and once a ship surgeon; applied his own deductions to a real murder case to try and help a wrongly convicted man; was convinced that Harry Houdini actually had psychic powers—something Houdini denied but Doyle refused to believe. So on Sir Arthur Conan Doyle's 159th Birthday—that's a lot of candles!—Rioters' happy birthday song will be in the form of fantastic, interesting, amusing, and excellent posts for all the mystery fans, Sherlockians, and readers who've never dabbled in Doyle's work—or mysteries—but think maybe now's as good as time as any. (It is!)
And if you don't need a specific day to celebrate Sherlock or mysteries, because that's everyday, we have the Read or Dead podcast and the Unusual Suspects newsletter.
Happy deducing!
My Dear Holmes and Watson: 3 Books Featuring Dynamic Duos
I love what the world has made of Holmes and Watson in recent years. In fact, I love their relationship in all its different forms much more than I love their actual adventures. Eccentric, socially awkward genius. Grounded, capable every man. Both valuable people, but better together than apart.