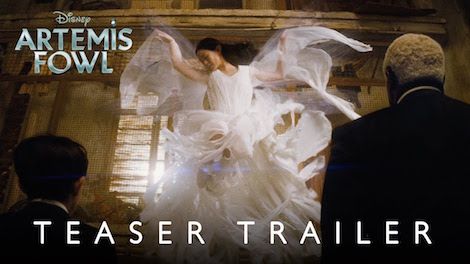 News
Watch the First Artemis Fowl Teaser Trailer
This content contains affiliate links. When you buy through these links, we may earn an affiliate commission.
Fans of Eoin Coffer's Artemis Fowl, your day has arrived. Disney has finally dropped the first teaser trailer and its…well I'll let you see for yourself.
With a mix of imagery that include dystopian urban landscapes, verdant wilderness, and…Blade Runner, the Artemis Fowl teaser trailer sets itself apart visually from the settings many of us imagined while reading the original novel.
The uproar on Twitter is deafening so far, with many posters decrying a complete abandonment of the source material. Personally? I'm seeing a mix of fey magic and sci-fi technology. I'm seeing Artemis taking aim and walking into the room like he's the smartest, most capable one there. I'm seeing places that challenge the notion of traditional fey tales.
That seems pretty spot-on Artemis Fowl to me. Add to that the cryptic voiceover that tells of a people beaten down by the greed of mankind and I'm getting a solid Book 1 vibe.
Besides, any time a movie trailer can work in the phrase "rapacious appetite," I'm going to be willing to give it more than enough slack to prove itself. Hopefully in the full trailer we'll see more story beats from the first novel to assuage the naysayers.
Artemis Fowl will be in theaters August 9, 2019.
Share your thoughts! Do you think this teaser captures the essence of Eoin Coffer's world? Or is this just another Disney franchise cash grab?