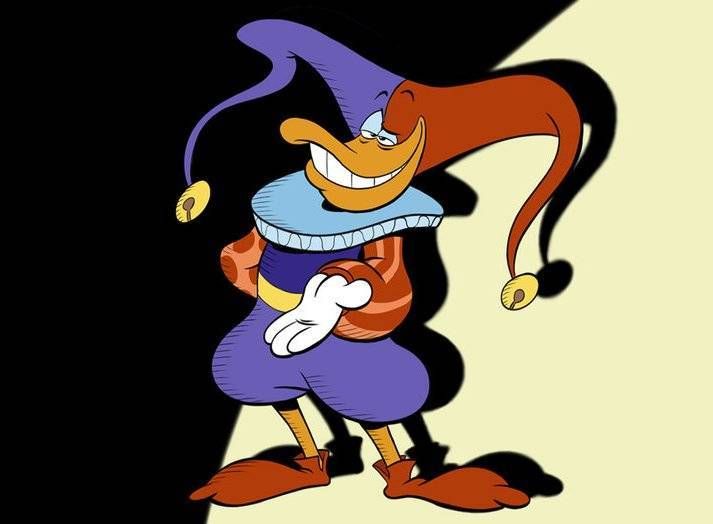 Welcome to another week of Art Roundup! Because I like clown themes, and Duck comics, and because I love you, I've rounded up some great fan creations centered around Darkwing Duck's Quackerjack.
We'll start with a more traditional-looking Quackerjack, by Vermintz on tumblr. A solid work, and as usual, I appreciate when folks go for the full body instead of stopping at head shot or just the bust.
A much creepier interpretation of Quackerjack, featuring Mr. Banana Brain. This is by Russian artist Mihail, or glooh.
This piece features all of the Fearsome Five, except they've been reinterpreted by American artist Aurora not only as human, but as cute girls. I could see myself wearing some of those as a costume. Anyone up for a group cosplay?
Keeping with the theme of a human version of Quackerjack, here's another, non-genderbent version by Tumblr user Vaikne. Simple, but cute – he'd look right at home in the carnival streets in Hunchback of Notre Dame.
Okay, okay, last human one. This Quackerjack and Megavolt piece is actually a re-draw of a scene from the animated series. Nice work by FinnishVampire.
Rocket City Customs' Thomas presents another creepy, gritty version of Quackerjack. The red eyes are a nice touch, but yeah, he looks like a nasty character here.
The last piece I'll highlight here is a head shot by Sam of Skelly Sketches. I like that this piece doesn't rely on heavy lines to form his figure – just letting the colors do the talking.
As ever, drop in links to more of your own favorite Quackerjack fan creations in the comments, and feel free to suggest or request characters for future installments of this column.