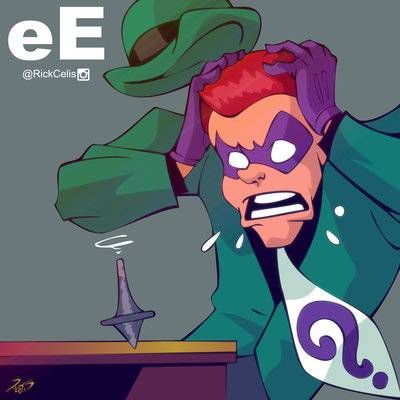 Riddle me this, Panelteers…
Just kidding, I suck at making up riddles. Welcome to a new year of art roundups! I thought I'd kick off 2015 on a goofy foot, though now that I say that, maybe I should have gone with Joker. But the Clown Prince of Crime doesn't wear smashing green outfits with punctuation marks and snazzy hats. Sorry, Charlie.
Speaking of smashing… I think I'm in love. Totally blown away by this photograph and the costume and everything here, by Melissa Salvatore.
What I like about this piece by Kaitlyn Van Dorn, besides its simplicity, is the posing. So many fan works out there that are just a head or torso floating in space, and then you see full-body pieces like this that aren't even frontal and it's just great. I'm not knocking the other stuff, don't get me wrong here, I'm just saying I appreciate when someone draws a character's entire body.
Tasia, crafter extraordinaire, made this fantastic knitted Riddler that I just want to snuggle up with forever.
This week's fan art piece that brings up a character in a completely different style and nails it is created by Canadian artist Darren Ward.
Your bonus dose of cosplay goodness is brought to you by adorable toddlers dressed in the best outfits. Photograph by Joyce, and I believe she also belongs to the kiddo pictured.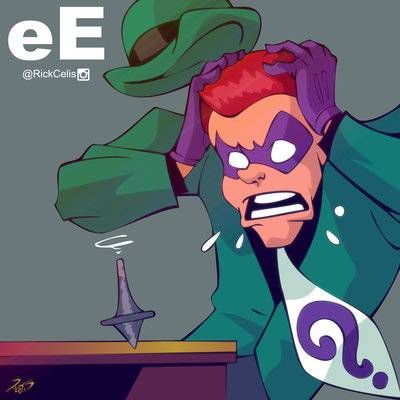 Oh man, now I am imagining how Riddler would react to the circumstances of being trapped in a dream like in Inception and I just know he'd be frustrated (or would he be fascinated?) beyond belief. Good job, Rick Celis.
This last one kinda breaks my rule of choosing pieces that are "relatively recent," because it's from 2012. But I couldn't resist, and it eventually won out because I really love the colors and composition and everything here. Credit to shirami, a female Japanese artist.
As usual, go ahead and drop links and props to your favorite Riddler fan creations in the comment below, and let me know what other characters you'd want to see in future iterations of Art Roundup! Also, feel free to vote on the frustration vs fascination issue above.