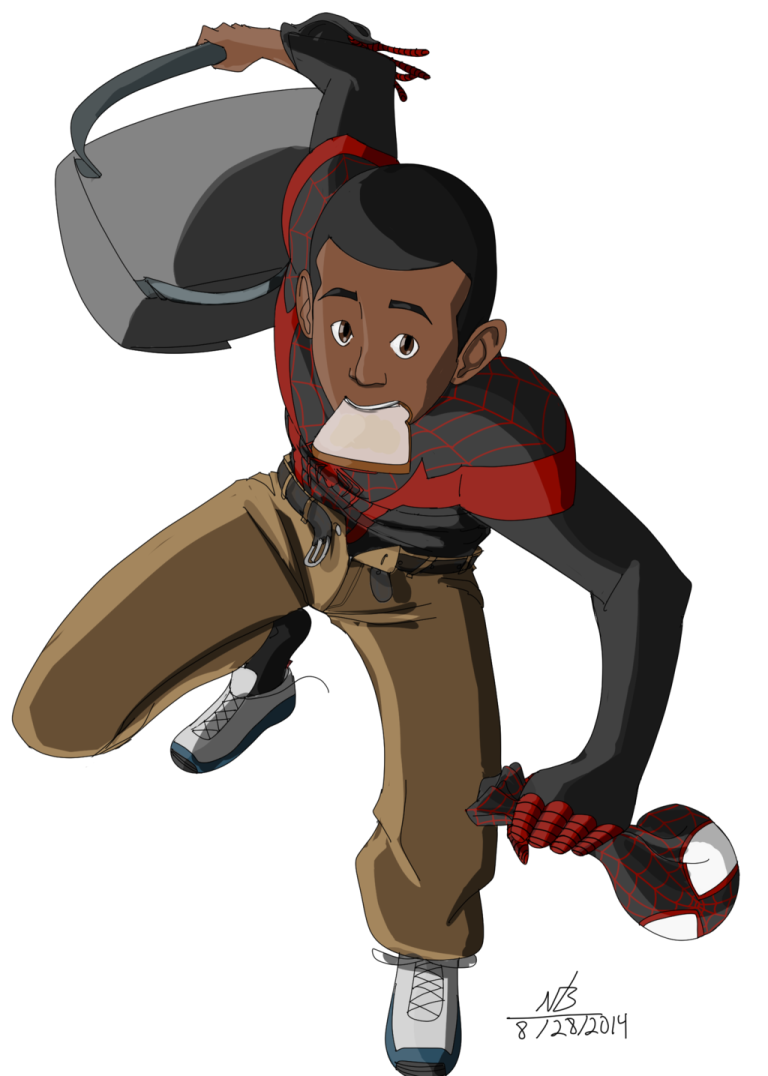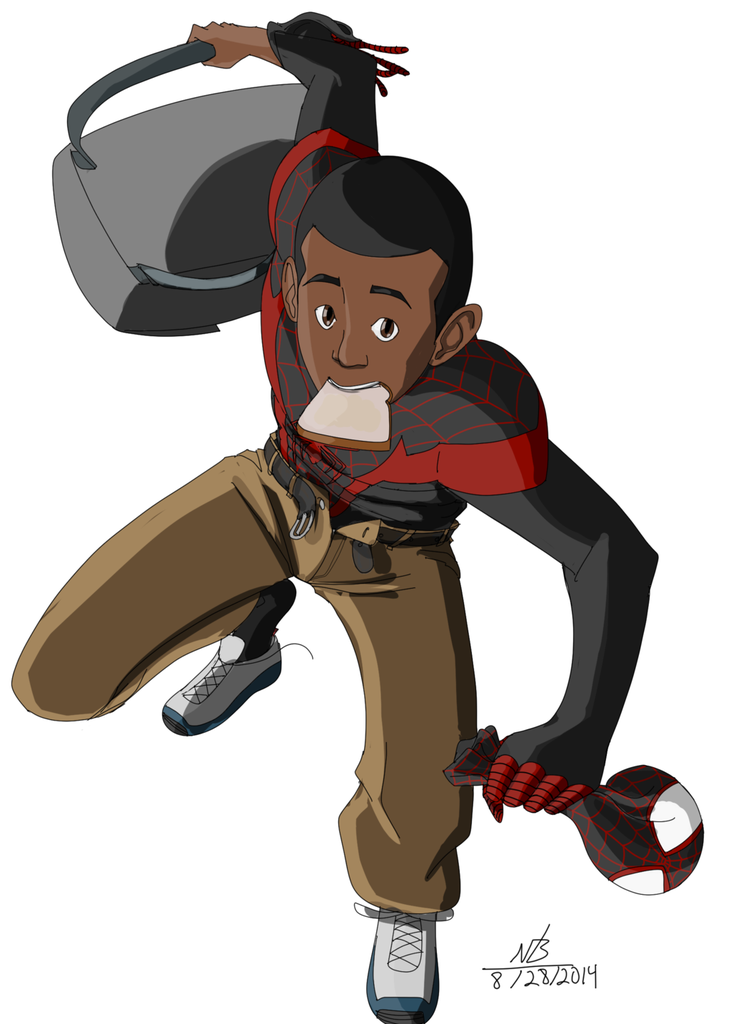 Welcome to another edition of the awesome and amazing art roundup, curated for the joy of spreading the love for awesome comics characters and the artists who create beautiful things based on them.
This time, I'm showcasing Miles Morales, who didn't quite rise to the occasion when he first got bit by the spider and attained abilities similar to that of Spider-Man (then Peter Parker). Eventually, he took up the good fight, though, and he's brought a great new dimension to a superhero we already are familiar with, except, of course, he's a totally different person with a totally different background, and a young teen at that. Miles was created by Brian Michael Bendis and Sara Pichelli, and he's animated now, too.
Art time!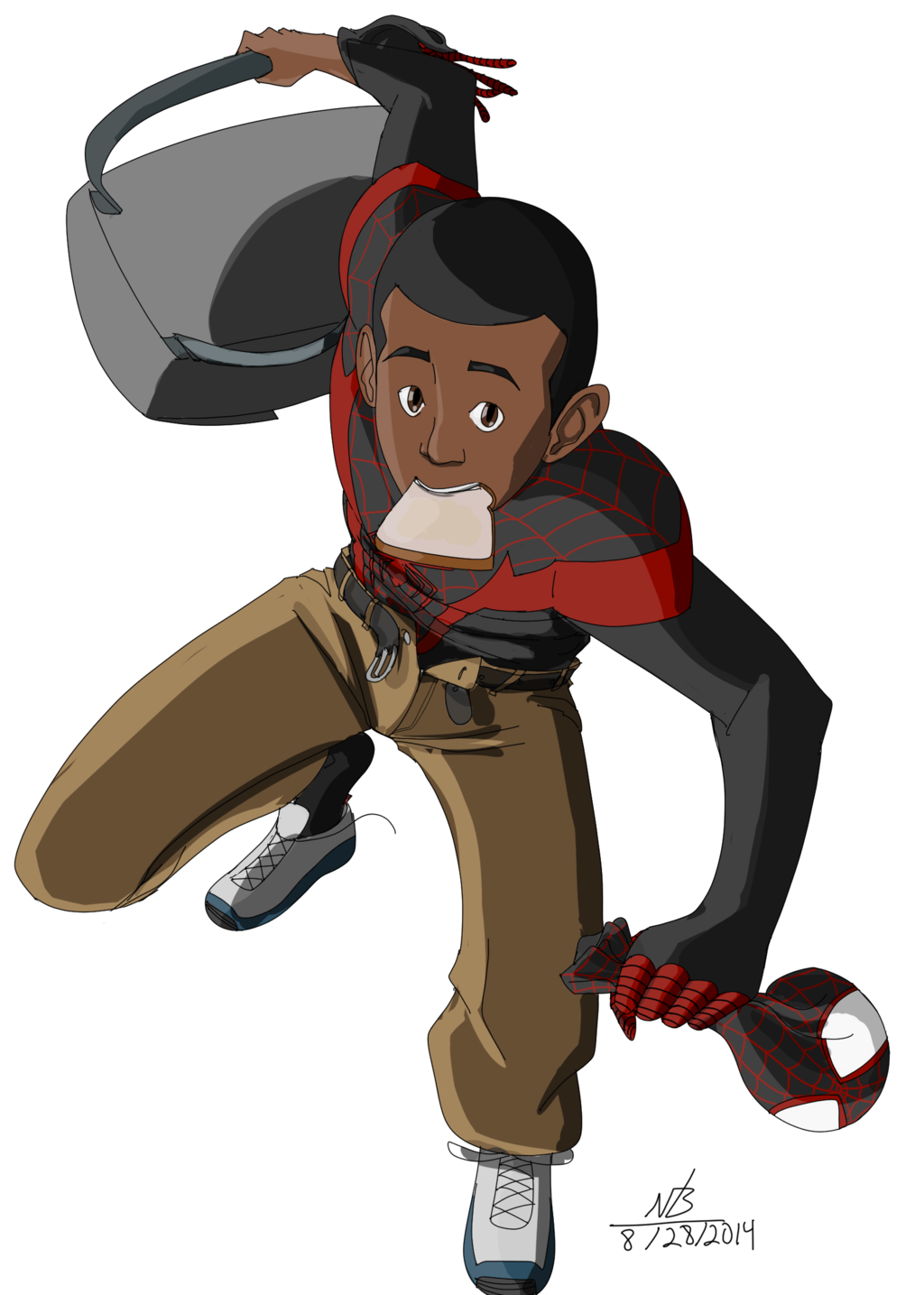 Let's kick things off with The Plight of Spider-Men, which artist Nathanael Batchelor describes as juggling school and a life of crime-fighting.
Jeegar Thakker takes a more minimalist approach to Miles in this piece he created to celebrate the casting of Donald Glover.
RAYBOT Customs has transformed (and/or improved) many an action figure, and this is no exception. This custom figure was once Spider-Man in a black costume. He has since gotten his duds upgraded and a couple of other new parts.
This one's a little more dramatic than the others, and I like that. What is he thinking? Will he jump? Cheers to the DeviantArtist I can only identify as comicbooger for this one. Check out their gallery for some more Miles.
Of course I'm not going to forget to show at least one cosplay shot. This one was chosen because I love the angle and everything else about the photograph. The costume is by AirVee and the photograph is taken by Adam Suh.
Another delightful custom toy, this time a Mighty Mugg painted by Philippines-based artist fnwebslinger. As you may be able to guess by that handle, a lot of their art is inspired by Spider-Man and the Spider-verse.
I'm going to round this off with one last Spidey-Miles in a classic Spidey pose. Credit for this one goes to UK-based JD Graham.
As usual, drop links in the comments below to other great fan creations featuring Miles, and if you have any requests for future art roundups, let them be known!