Romance/Erotica
"I Do (I Really Don't)": 20 Of The Best Arranged Marriage Books
This content contains affiliate links. When you buy through these links, we may earn an affiliate commission.
Don't you just love arranged marriage romance novels? The plot of arranged marriage books is one most romance readers have encountered at least once—more if you love historical romances—and it just never gets old. Tangential to the fated mates trope of paranormal romance, and falling under the umbrella of the forced proximity trope (which I have had the pleasure of raving about in a previous post), the arranged marriage trope is designed to bring together a hero and heroine who otherwise would not have said "Boo" to each other while passing on the street. As a result, there's usually a lot of enemies-to-lovers involved, a plethora of marriage-dodging tactics employed, and plenty of tender emotions mashed to a fine pulp.
For the purpose of this list of arranged marriage books I tried to stick to a pretty specific definition of the arranged marriage as being: a marriage that has been arranged for the hero and heroine by secondary parties (often for financial or political reasons), with or without their consent.
I've deviated from that a bit since, as with most tropes, the arranged marriage plot comes in a wide variety of forms, and some books were just to good to leave off this list. Still, wherever possible I tried to stay true to the definition above! And since I'm looking at a specific trope I broke each book description into "Who" for the lead characters, and then "Why" to describe the circumstances of their arranged marriage.
So someone fire up Pachelbel's Canon in D and let's get this (arranged and potentially awkward) wedding party started!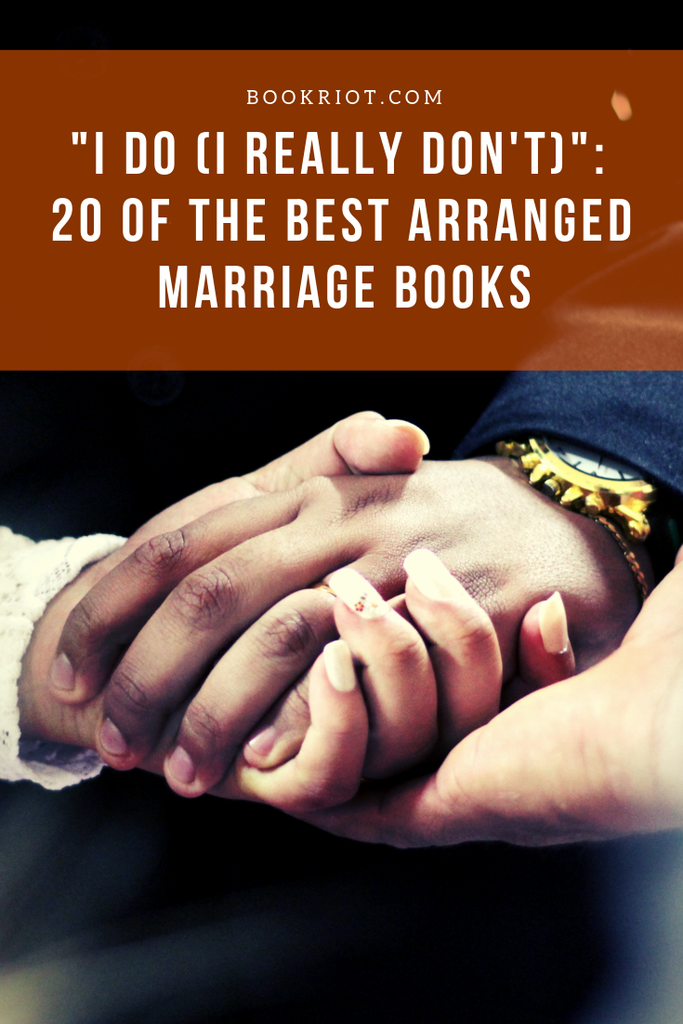 Contemporary Arranged Marriage Romance Novels
Who: Naledi Smith, STEM grad student and epidemiologist-in-training, definitely doesn't have time for hoax emails claiming that she's betrothed to an African prince. Prince Thabiso, heir to the throne of Thesolo, definitely doesn't have time to go chasing his absentee childhood fiancée to American.
Why: Naledi and Thabiso were engaged as children, but Naledi's family fled their home country of Thesolo under mysterious circumstances and took Naledi with them. Unfortunately for Thabiso, being a princess is NOT part of Naledi's degree progress plan.
Kiss an Angel by Susan Elizabeth Phillips
Who: Daisy Devereaux is in trouble. Drowning in debt, she's facing some serious jail time unless she complies with her wealthy father's wishes. Alexander Markov works for a circus. He's excessively broody, and secretive, and has zero interest in being married to the human embodiment of a sugar cookie.
Why: Daisy's father has issued an ultimatum, Daisy can either go to jail or she can marry Alex, and stay married to him for six months in order to receive her trust fund. How has he tangled Alex up in this arrangement? *insert shrug emoji here* Guess we'll find out!
Who: India Saene, Princess of Bagumi, wakes from a two week coma to find that her new husband has died in a tragic accident during their honeymoon, and she's "inherited" his younger brother. Sheikh Omar El Dansuri doesn't want a crown, or a wife, and, fun fact, it's entirely possible his new fiancée killed his brother in the first place.
Why: India's marriage is crucial to saving her kingdom from economic disaster. Now that her husband is dead, tradition in Omar's kingdom dictates that she becomes his bride. Neither of them can trust the other, but the marriage must stand.
Who: Prince Magnus of Norway would rather be king of extreme sports and pretty women than face up to his responsibilities as crown prince. Princess Isabella of Liechtenstein thinks Magnus is a womanizing jerk with an ego the size of his country.
Why: Magnus's latest scandal is one scandal too many. He has embarrassed his family, and if he doesn't get his royal backside back on track he's going to be passed over for the throne. The quickest way back to his parents' good graces? Get married to blue-blooded, proper, presentable Isabella.
Who: Vanessa Mazur has just ditched the worst job ever. She no longer has to play assistant and housekeeper to the most annoying defensive end in the Northern Football Organization. Aiden Graves, said most annoying defensive end, turns up at her door begging her to come back because he needs a favor. A really, really big favor.
Why: Aiden is facing deportation back to Canada, and if he wants escape a one way ticket home he needs an American wife, and fast. Vanessa's already been taking care of him for two years, might as well make it official. Right?
Technically a deviation from the usual arranged marriage romance, A Bollywood Affair considers what happens when the one you're arranged to marry isn't The One.
Who: Mili Rathod is from a small village in India, currently studying in America while she dreams of the day when her husband (who she hasn't seen in twenty years) will finally come and claim her. Meanwhile her husband has forgotten he even had a wife and remarried. Now, to save face, Samir Rathod has been charged with securing his older brother a quick and easy end to his first marriage.
Why: Mili and Samir's brother were promised when Mili was only four, and were quickly separated and have lived apart ever since. Samir is supposed to get her to sign annulment papers, but before he can tell her the truth about her missing husband he and Mili find themselves falling for one another.
Who: Nayna Sharma thought agreeing to an arranged marriage would help to pull her disintegrating family back together. In a moment of "potential marriage" panic that involves heels and a tiny dress, she finds the insufferable, insufferably sexy Raj Sen. Traditional and fond of living by the rules, Raj personally finds Nayna to be the insufferable one. Though he just can't stop thinking about her.
Why: Not long after their awkward first meeting and moonlight kiss, Nayna and Raj find themselves face-to-face again, presented by their parents as candidates for an arranged marriage.
Historical Arranged Marriage Romance Novels
Who: Princess Serena of Badenstein is ready to run. Stay in Badenstein with her violent father and his unpleasant plans for her future? No thank you, check please. Karl von Lohenberg has nothing to his name, except possibly Serena, and he's not about to let her get away. Even if that means a calculate "removal" of the two of them to somewhere safe and secluded.
Why: Serena's father has arranged the political marriage between she and von Lohenberg, and as much as Serena is anxious to get out of it, Karl is equally anxious to make sure it takes place.
Who: Sabrina Cameron and Morgan MacDonell have always been from feuding families. Sabrina's family has wealth, comfort, and plenty, Morgan's family is poor and often go wanting. They antagonized each other as children, and when they meet again years later as adults they don't get on much better than before.
Why: A sudden murder reignites the hatred between their clans, with the potential to evolve into an all out war. Morgan and Sabrina find themselves promised in marriage to each other as a way of establishing a more permanent peace and avoiding years of bloodshed.
Tempest by Beverly Jenkins
Who: Regan Carmichael just shot a man, and is seriously reconsidering her plan to travel west as a mail-order bride and marry a total stranger. Dr. Colton Lee is having serious qualms about marrying the woman who just shot him. But accidental injuries aside, the two can't deny that they are drawn to each other.
Why: Unlike many of the other couples on this list, Colton and Regan actually arranged their own marriage. Colton needs a wife to care for his daughter, and Regan is looking for a life and family of her own out West.
Who: Millicent is in a strange situation. She's been married for eight years to a man who has become her best friend, and who she is in love with, but who has no intention of ever truly being her husband. Because Millie was so young when they wed, Fitz agreed to wait eight years to consummate the marriage, and then he's off to be with his childhood love and future mistress. So long, Millie.
Why: The marriage was arranged because Fitz needed Millie's family's money to save his family from debt, and Millie's family wanted his title.
Who: Nicolas, Lord Hatherly has no intention of adding on to his family's "mad" bloodline by taking a bride. Alice Tombs has made repelling suitors, via the ingenious application of disgusting facts, an art form for three long seasons, equally intent on avoiding the altar.
Why: Are you ready for this? (I love it.) Nick and Alice's marriage is arranged when Nick's father "loses" him in a game of cards to Alice's father, who is somewhat anxious to get her married finally. Too bad neither Nick nor Alice are happy about their questionable future.
Who: Graeme Parr and Abigail Parr (née Price) haven't seen each other in years, ever since their disastrous marriage imploded on their wedding night. Now Abigail has returned from America, the woman she has become is nothing like the girl Graeme remembers, and he has no idea why she is back, or what she wants.
Why: Abigail's father forced the marriage between she and Graeme when they were younger. He used extremely underhanded tactics to bring it about, and Graeme blames Abigail for everything.
Who: Lady Isidore has spent years flirting her way across Europe, trying to attract the attention of the husband she's never met. Simeon, returning to London after years spent adventuring, finds a wife who is anything but the docile duchess he expected and desires.
Why: Isidore and Simeon were married by proxy when they were children. They've never even met, living their lives completely apart until the day Simeon returns, demanding an annulment.
Who: Marjorie Entwhistle is Postmistress of Bath, and she intends to remain as such. She works hard at her job. Why would she willingly give up her independence? Blake Chesterfield has no intention of leaving Bath without Marjorie, however, no matter what that entails.
Why: Marjorie's absent father has orchestrated a marriage between her and Blake, and though Blake feigns enthusiasm for the union it quickly becomes clear to Marjorie that her father has used less than honest means to get her potential groom to Bath.
(Although now out of print except for an expense trade paperback version, I definitely recommend picking up a used copy of The Betrothal. It's an older, fairly obscure book but an old favorite of mine.)
Who: Aisley de Laci thinks she's dodging the altar when she tells the king that the only knight she'll marry is the infamous Red Knight. Renowned as a vicious warrior, Piers Montmorency disappeared into his fortress and hasn't been seen for years. Meanwhile, rumors about black magic and devils abound.
Why: King Edward is Aisley's guardian and is determined to marry her off, so when Aisley tries to thwart him by naming Montmorency, he takes great pleasure in sending her off to marry one of his best and most feared knights.
Fantasy Arranged Marriage Romance Novels
You'll note that there's quite a lot of overlap here with the royal arranged marriages section.
Who: Princess Valeda is a high princess of Hell, who has been living topside in the human world to avoid her super creepy (like, Lannister creepy) brother. Adriel (not her brother) is known as the Captain of Bloodshed and Slaughter, he's a royal bastard who has fought his way up through the ranks of Hell's army.
Why: Valeda is married to Adriel as a means of securing his forces in the war that Valeda's mother, the Queen, is waging against the aforementioned creepy brother. He is intent of claiming Hell for his own and making Valeda his queen. (I told you, Lannister levels of creep.)
YMMV: I love this book, but I fully acknowledge that Hell on Wheels is weird. Full stop. Judging by the reviews people either hate it or love it. Personally, I don't see how you can go wrong with roller derby skating she-demons.
Who: Khamsin Coruscate is a princess of Summerlea, but her father despises the very sight of her and so she spends most of her life living out of sight in an old wing of the palace. Wynter is the king of Wintercraig, a fierce warrior of inhuman strength and skill.
Why: Wynter demands one of the King of Summerlea's daughters as revenge after three years of bloody war that have now ended in victory for Wintercraig. Unwilling to give up one of his beloved daughters, the king disguises Khamsin as one of her sisters and forces her to marry Wynter.
Who: Ildiko is royalty, and has always known that her only value was what she could gain for her family via a political marriage. She just sort of…expected her groom to be human. Brishen Khaskem, prince of the Kai, isn't at all human, thankfully, as his people find humans like Ildiko to be terribly ugly.
Why: A trade and political alliance between the human kingdom of Guar, and the Kai kingdom of Bast, must be secured by marriage. No matter how unattractive—or horrifying—the two intendeds find each other.
Firelight by Kristen Callihan
Who: Miranda Ellis has a powerful gift that she's spent her whole life controlling and hiding. She gets by in life by stealing to support herself and her once wealthy father. Lord Benjamin Archer hides his disfigured face behind a mask, and his dark nature deep down inside of his skin.
Why: In a Beauty and the Beast twist, Miranda's father Hector steals something from Lord Archer. Rather than kill the man, Archer demands an arranged marriage between himself and Miranda instead.
---
Love the trope? What are your favorite arranged marriage books?