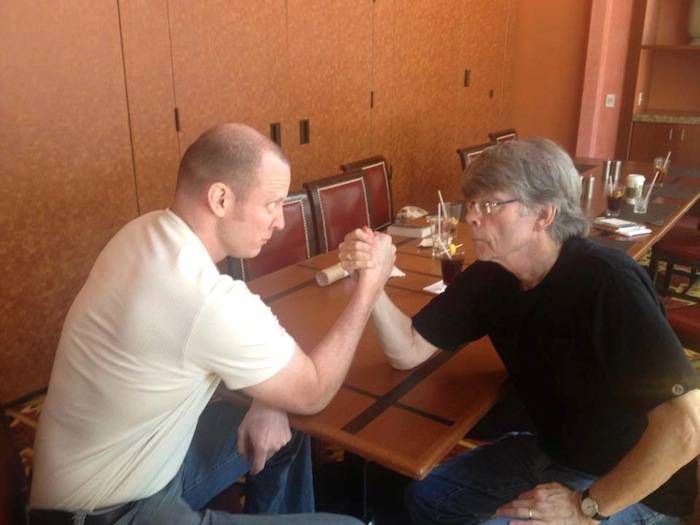 This is a guest post from Josh Hanagarne, a 6'7″, 260 lb librarian in Salt Lake City, Utah. He has extreme Tourette Syndrome. He is a performing strongman. He is the author of The World's Strongest Librarian. He speaks all over the country. If you read this far, he likes you even more than The New Yorker liked his memoir. Follow him on Twitter @JoshHanagarne.
_________________________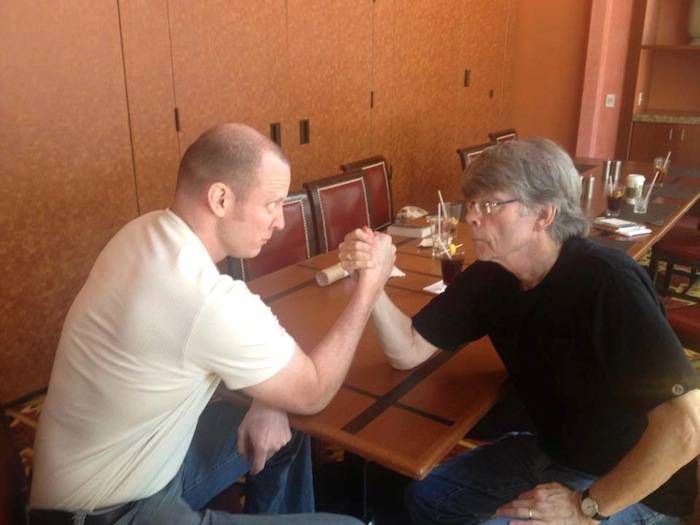 A question: Should you take the chance to meet your literary idols, should the chance arise? I've heard yes, because "OMG why wouldn't you it would be like a dream come TRUUUUUUE!"
I've heard no, because "The authors' 'real voices' will never match their 'book voices' and it will be a letdown. And variations on this theme.
I know now that, before the encounter described in this piece, I lacked an opinion on the matter. This is probably because I don't have literary idols, although I've got a big passel of authors I'm pretty wild about. But I don't obsess and if I had a bucket list, meeting any particular author wouldn't be on it. (I'm lying—see: Mary Karr).
Before meeting Stephen King, I'd met a few authors at book signings. I have a copy of Caramelo by Sandra Cisneros that, in Spanish, says, "My handsome white boy, now and forever, I only write for you." I met Margaret Atwood. I met Bruce Campbell and Lois Lowry my beloved Lyndsay Faye and John Scalzi. These were all pleasant, brief experiences, and the opposite of nerve-wracking.
Then the Director of the Mark Twain House in Hartford contacted me. I saw you're going to be in town. Want to attend the Stephen King event and work security and hang out with us all?
Uh. Yeah.
Reactions from friends:
"Are you freaking out?"
"No."
"I'd be freaking out!"
"What are you going to ask him?"
"I don't know."
"But aren't you going to go all fanboy and say you love his books?"
"I'm sure he knows the people there love his books."
I'm not a star-struck type. It'd take something like bumping into Jesus on the street and realizing the second coming was upon me before I started stammering just because I was in someone's presence.
I got to attend a private lunch at the hotel where Mr. King was staying. I told him how diligently my mom had been about keeping his books out of our house. I asked about his guitar. Then we arm wrestled and got the picture accompanying this post. The first thing he said was, "Send that to your mom. Tell her I say hi."
At one point an intern was shivering. He said, "I'm going to the gift shop to buy you a sweatshirt." He returned with the blazer from a maître d.
Then I got to ride in the car alone with him to his reception. "You're so calm." (Music to a Tourettic's ears). "You don't really care who I am, do you?"
I laughed. "No," I said. "What I care about is how kind you've been to everyone. I like just about everyone and want to meet everyone. I'm just so happy that you're actually the decent person I've always thought you were."
"You have no idea what a relief it can be to be around someone who's not fawning," he said.
"You're right," I said. "I have no idea."
What ensued next was probably the funniest conversation about 50 Shades of Gray that has ever happened. Alas, Book Riot's word count parameters compel me to say no more.
I got to work security at his event. It was great fun to stop people from getting in line more than once, and evaluating all the gifts people brought for him.
"What's in the box?"
"His favorite kind of cheesecake."
"All right. What's in the bag?"
"Crocheted Pennywise mask. It's for a picture with him."
I don't really know how to work security, but I'm fond of looming and standing with my arms crossed. Everybody won.
When it was over we were in the green room. Stephen King (Stephen KING!) stood, hugged me, and made a gracious offer that I can't share, but which I accepted.
"I know everyone here says you've changed their life," I said. I didn't try to stop my voice from shaking, "But I seriously would not have most of the good things in my life if you hadn't written all these silly, wonderful horror stories. And no other man has ever given me such an obscene amount of pleasure."
I knew how exhausted he was, but he laughed really hard, hugged me again, and that is about as close to a sacred experience as I'm capable of.
Oh, we were arm wrestling over who loved Mary Karr more.
It's me.
I don't let you win when we're talking about Mary Karr, even if you're 66 and and one of my favorite authors.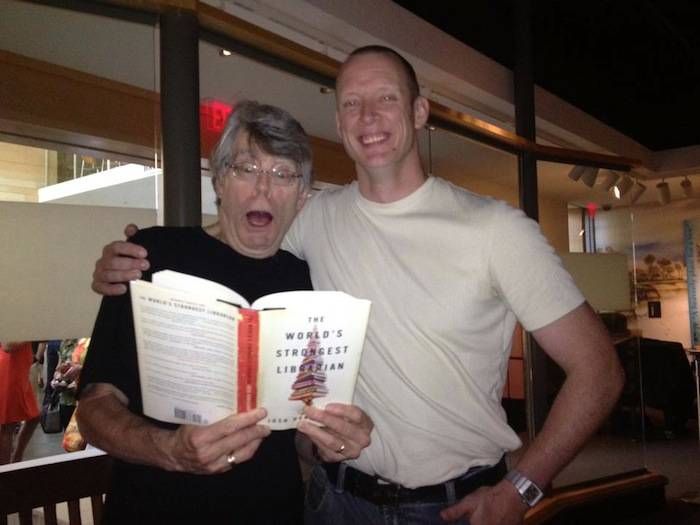 _________________________
Sign up for our newsletter to have the best of Book Riot delivered straight to your inbox every two weeks. No spam. We promise.
To keep up with Book Riot on a daily basis, follow us on Twitter, like us on Facebook, , and subscribe to the Book Riot podcast in iTunes or via RSS. So much bookish goodness–all day, every day.