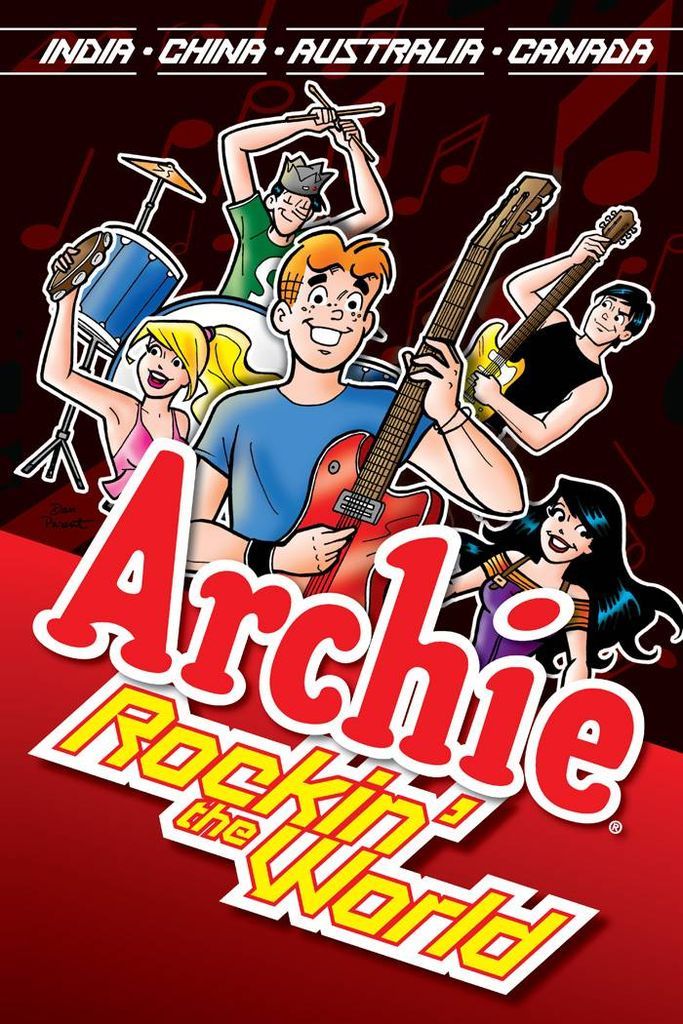 Archie: Rockin' the World hits shelves tomorrow! And since I am a huge Archie nerd, of course I jumped at the chance to preview the graphic novel and interview writer and artist Dan Parent about his brand new collection.
Archie: Rockin' the World collects issues #650 – #653, and follows The Archies as they hit hot spots all over the world along with Josie & the Pussycats, The Bingos, and the Madhouse Glads. And as with all our favorite Archie comics, there's plenty of laughter, drama, and romance to read about (and even a shenanigan or two).
The Archies have a blast traveling the world, learning about new customs and making new friends in places like India, China, Australia, and Canada. The question we're all left with is that once the tour is over, will these teens be able to give up the adventure and go back to Riverdale?
Check out this great preview, and then keep reading for an interview with writer and artist Dan Parent!
I loved the sneak peek we got of the drama that is sure to ensue in Archie: Rockin' the World. How did you choose the characters you did for this story? I mean, Valerie is back! What made you decide to write Archie and Valerie again?
Dan Parent: Well, this was easy! I tried to fit in as many Archie characters as possible, from Bingo, that Wilkin Boy, to Katy Keene, to a personal favorite of mine Brigitte Reilly. This was an anniversary issue ( starting with # 650) so it felt right to include so many characters in the Archie universe! And of course I had to get Archie and Valerie back together again. Their relationship has proved so popular, that it's a natural!
This isn't the first time The Archies have gone on a world tour. I remember them going to India when I was a kid (though that strip had turbans and elephants galore). How do you keep their dynamic and relationship with other cultures exciting and fresh?
DP: I find other parts of the world so fascinating, that the backdrop of exciting cultures just helps the stories become that much more interesting.
What was your favorite locale to write about out of all of the stops The Archies hit? How do you decide what you want to draw to reflect each city?
DP: Well, I go to Canada a lot, and Archie is hugely popular there, so I had a lot of fun writing about my favorite cities there. I try to include the main sites that are more familiar. But India intrigued me, and even though I hadn't traveled there when I wrote the story, I have since been there and loved it! I haven't been to Australia, but I'm up for it!
It's no secret that you are a great ally for diversity in the Archie universe, whether it's interracial couples, or the first gay character in Riverdale. Why do you think it's so important to have representations like these in Archie comics?
DP: I think inclusion is vital. Whether it be for more realism, or more entertainment , or maybe a little of both. I know that a lot of different people read Archie comics, and I want them to feel as if they would be welcome in Riverdale, regardless of ethnicity or sexual orientation. A diverse group of people have supported Archie comics all these years. It's time we support them back!
Ok, last question: If you could pick one non-Archie comic to work on, what would it be?
DP: Wonder Woman. Followed by the Legion of Super-Heroes. I'm waiting for the call!