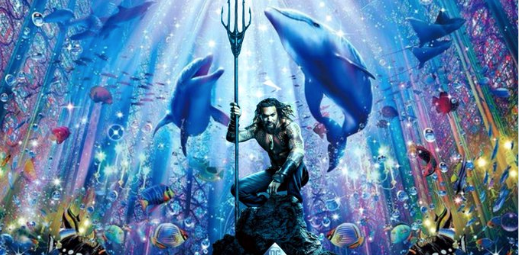 This content contains affiliate links. When you buy through these links, we may earn an affiliate commission.
So, there's new posters for Aquaman.
https://twitter.com/maria_giesela/status/1018910763757555712
HELLO LISA FRANK
Home is calling. #Aquaman – in theaters December 21. Watch the new trailer this Saturday. pic.twitter.com/ZTvO6qTxap

— Aquaman Movie (@aquamanmovie) July 16, 2018
HELLO JASON MOMOA NICE ARMS OOPS SORRY I FORGOT WHAT I WAS WRITING ABOUT FOR A SECOND (WHY DOES YOUR TRIDENT HAVE FIVE POINTS…YOU KNOW WHAT, I DON'T CARE)
Ahem.
Home is Calling
So I want to talk about the tagline? It's…interesting. My initial response was: Home is Calling sounds like they're trying to get the Adults Who Cry At Moana ticket sales???
Rioter Eileen Gonzalez: Home is Calling sounds like the tagline to a space alien movie. I'm thinking of Muppets from Space now.
Rioter Jamie Canaves: Home Is Calling is the sequel to ET.
So, okay. We agree that this tagline could have used some more workshopping. Chuck Wendig (author of Star Wars: Aftermath and many other books) thinks so, too.
I am pro SEXY AQUAMAN but that tagline, "HOME IS CALLING," is ass-bad. Proposed new tag lines:

– eat shit, LAND
– time to FUCK the FISHMAN (wait nm that's SHAPE OF WATER)
– the SEAMAN returns
– he's like BATMAN but wetter
– fuck you NAMOR pic.twitter.com/Xwu8IWp8ck

— Chuck Wendig (@ChuckWendig) July 16, 2018
more AQUAMAN movie taglines

– SEA no EVIL
– guess who WET the bed
– fish PEE in it but HE fights in it
– makin' WAVES… in your UNDERPANTS, splash
– honestly who cares you're here because Jason Momoa is allergic to shirts

— Chuck Wendig (@ChuckWendig) July 17, 2018
Rioter Anthony Karcz suggests: YES IT'S SCALY. NO YOU WON'T CARE.
Really, though. Home Is Calling is fine. It's not good, it's not bad. It's fine. But what about the movie? We don't know yet.
The DCEU has not exactly been hitting home runs so far, with the exception of Wonder Woman. Aquaman is the first non-white member of the Justice League to get his own movie (Justice League also featured Cyborg) ever. In that respect, the DCAU was slightly ahead, since it featured John Stewart, aka the best Green Lantern, while every other property has focused on Hal fucking Jordan. But I digress.
Anyhoo, the trailer is debuting at Comic Con tomorrow so it should be on the internet shortly.
Got Mermen?
Aquaman is probably the best we can hope for post–The Shape of Water, at least until we get either a) a sequel from del Toro, b) an adaptation of The Pisces, and/or c) that Channing Tatum–starring gender-flipped Splash remake we were promised. For the kids, there's Mermin, my tween's favorite. Or I suppose you could read Aquaman comics. Kelly Sue DeConnick was just announced as the next series writer, with art by Robson Rocha. Yes, please.
ICYMI
Jess Plummer agrees with me about Hal Jordan; she also has some ideas for DC's new plan to make "good movies."
Matt Grant rounded up some Aquaman t-shirts and I want all of them.