Lists
Anticipating 2012 in Reading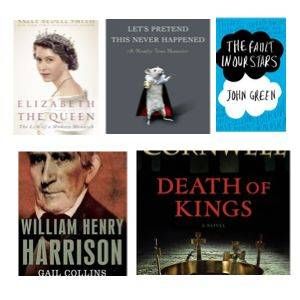 It's the end of the year, so it's no surprise that talk is mostly of what we loved most in 2011. But I have ADD and get bored very easily… I also have the memory of an ant – so unless something grabbed me by the horns and pulled me around the room, I tend to forget I encountered it (this happens with people too, which is why I can walk by someone I sat next to for 10 years during school and not know who they are). I prefer to look at this as more of a disability than coldness. Also (if we're going to be glass half full — and shall we please since it's almost the beginning of a new year?), to spin the aforementioned on a positive note, I like to use the excuse that I am often looking forward instead of backward. So while I will do a piece about my favorites of 2011 (several certainly deserve to be recognized), I'd like to highlight a few that I'm setting my sights on for next year; shiny, new 2012.
The Fault in Our Stars by John Green (release date: 1/10/12) :: Falling in love while terminally ill… this plot is sure to bring a tear to the eye, while possibly also being an invigorating reminder to those of us who are healthy and well to enjoy our lives and LIVE them.
This book is being called "insightful, bold, irreverent, and raw" by Barnes and Noble review– let's hope it is.
Elizabeth the Queen: The Life of a Modern Monarch by Sally Bedell Smith (release date: 1/10/12) :: During this
year's royal wedding mayhem (which, by the way, I ate up with a knife and fork thank-you-very-much), I learned a lot about modern royalty. Most didn't stick (see opening paragraph of this article) but I do recall hearing that Queen Elizabeth has never put her own toothpaste on her toothbrush, as she is of the old order of monarchs who wouldn't stoop so low. While I will be reading this biography for many other reasons, you can bet I will be keeping my eye open for those details. Mostly, though, I will be enthralled with learning more about this woman who has had lived her life for tradition and duty — two things that are fast becoming extinct.
William Henry Harrison: The American President Series: The 9th President, 1841 by Gail Collins (releasing 1/17/12) :: A.) I like Gail Collins and B.) I love history and I love politics; and I especially like US historical politics.
I am intrigued by a man who was only president for a month, but changed the way we elect the leader of our country. To read about his path to the White House and his influence over the political system will be enriching for me… though I can only imagine the let down of watching him reach his goal only to die thirty-one days into his term. I'll start with this one as it's newest and it's by Collins — but now that I know there is a whole series to read, my to-be-read shelf just got a little heavier.
Death of Kings by Bernard Cornwell (release date: 1/17/12) :: Honestly, I had no idea this series existed until I
saw this (the 6th book in the Saxon Series) as a new release for January.
Carrying on the story of Uhtred, a boy born into aristocracy of ninth century Northumbria, kidnapped by Vikings and taught their ways, this installment is sure to have as many fans as the five previous books in the series. This new-to-me author has a wide following, and looks promising to add to my list of favorite historical fiction authors.
Let's Pretend This Never Happened: A Mostly True Memoir by Jenny Lawson (release date: 4/17/12) :: The title
alone grabs me immediately — it's a statement I should probably use more often in my life. If I had some sense I might.
The creator of TheBloggess.com comes at us with a memoir that's (supposed to be) as irreverent and funny as her blog. I like people who can have a sense of humor about things that most people don't have a sense of humor about… so a whole book of it? Yes please, with a side of cookie dough and a warm blanket to snuggle under while reading it on a rainy April afternoon.
*****
Which books are you waiting to get your hands on?