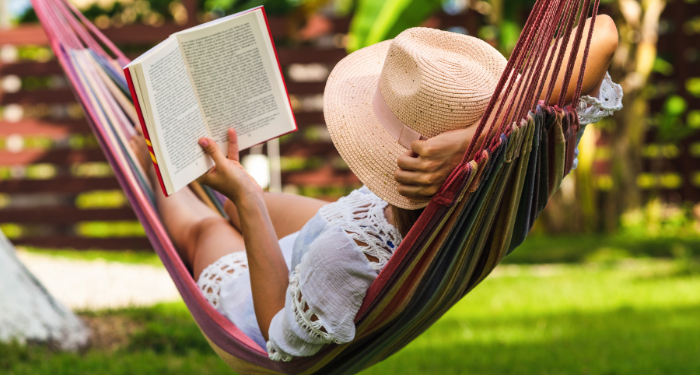 Nonfiction
9 Anti-Hustle Books for When You've Changed Your Mind About the Grind
This content contains affiliate links. When you buy through these links, we may earn an affiliate commission.
If anyone ever hears me say the phrase "rise and grind," please check on me. I've probably been body-snatched or something. I identify strongly with the meme using the image of a bear in its PJs snoozing in front of a fireplace: "Stop glamorizing the grind, start glamorizing the Sleepytime Tea bear."
Maybe your work ethic is still grinding you down to a nub and you could use some help on your journey with anti-hustle books. I'm here to help.
Capitalism is the air we breathe. It takes conscious thought to undo some of the so-called values a capitalistic mindset has instilled in us. We often look down on people who aren't ambitious in their careers. We rarely find satisfaction with what we have, and we are always striving for more. We're susceptible to outside pressures about what our dreams should be and what our lives should look like. And we are simply obsessed with productivity.
That obsession shows up everywhere. One of my favorite hobbies is knitting, which has been dubbed "productive fidgeting." I hate it! One of the points of knitting is to slow down and create fabrics with intention. Slowing down is frankly necessary for the future of humanity. If you're living in survival mode, do what you need to do. But if you are realizing it's time for a reset when it comes to productivity and establishing your self-worth outside of your career, here are some anti-hustle books that can help.
---
If you're looking for more anti-hustle books, we have a list of books about doing nothing. Bonus: no repeats with this list! What if you're looking for something more specific? Less academic and more self-help, perhaps. Or maybe something that centers disabled voices. There's a chance you're even looking for fiction, like the cottagecore cozy fantasy romance of your anti-hustle dreams. We can help with that! The dedicated bibliogolists at Tailored Book Recommendations will find you what you want.