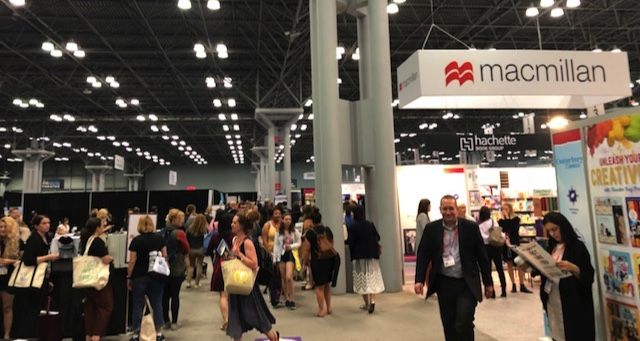 This content contains affiliate links. When you buy through these links, we may earn an affiliate commission.
This year I attended the last day of BookExpo. BookExpo is a magical land in the heart of New York City, at a place called the Javits Center. It is full of tote bags. So, so many tote bags.
At BookExpo, you can meet celebrities like John Cena and Lupita Nyong'o, both of whom have written children's books this year. It seems like that's the thing to do these days.
Or, you can meet Sean Penn, if that's the sort of thing you're into instead (Just a little joke, Sean Penn! You were great in Mystic River). I'm not sure exactly what Sean Penn was doing there, but he's probably also written a children's book.
Two years ago, I went to BookCon, which is apparently not the same thing as BookExpo, but they are related, which is confusing. BookExpo is more for industry "insiders" (fancy) while BookCon is more for the general public. Both are overwhelming and generally result in walking around in a daze, taking in the breathless sights of the sheer number of books in the world and the sad fact that even if you lived a thousand lifetimes, you would never have time to read all of them.
Some people do try, though. The sheer amount of checked rolling suitcases waiting to be filled with ARCs of new books is also staggering:
Even so, I have come to love this annual tradition. I got to see a panel of diverse middle grade authors talk about the importance of representation for middle schoolers. I picked up a large stack of books that I'm excited about diving into, particularly My Life As An Ice Cream Sandwich, from National Book Award finalist Ibi Zoboi, and I'm Telling The Truth But I'm Lying, a new essay collection by Bassey Ikpi.
I also got an ARC of the new adventure/graphic novel hybrid Cursed, by Thomas Wheeler with illustrations by Frank Miller. I really like Miller's artwork. Imagine my surprise when I brought it home to glance through it to see that most of the artwork wasn't even there. Curse you, Simon & Schuster Books for Young Readers Division! But really, it's on me, I guess. That's what I get for waiting for 45 minutes for an ARC!
But really, after several years now of covering the bookselling and book publishing world, what I have really come to have a great fondness for is the community. People say all the time that people in the book industry are some of the greatest in the world. At BookExpo, it really is true. I'm sure there are some bad apples, but if so I haven't met any yet.
My favorite thing about BookExpo is walking through the chaos of Javits, amidst all of the books and all of the promotional materials and advertisements, and seeing three or four people just sitting at a table, talking passionately together. Sure it can be mega-corporatized, but it's also great to see so many people converge on one place, all to share their love of books.
I wasn't kidding when I said it was a magical place.
Also, did I mention there were cool totes?