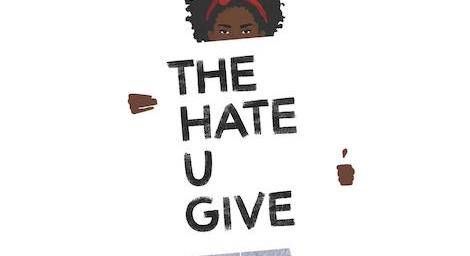 News
#AngieThomasAppreciationDay Roundup
This content contains affiliate links. When you buy through these links, we may earn an affiliate commission.
You probably know Angie Thomas as the bestselling New York Times author of The Hate U Give. You might also know it as the movie that's to be released later this year, starring Amandla Stenberg as the main character. The Hate U Give made quite a splash in bookish circles ever since it debuted, both because of Angie Thomas' skills as a writer and the important and timely topic of #BlackLivesMatter that the book tackles. In fact, The Hate U Give was one of Bookriot's Best Books of 2017.
Earlier this week, controversy arose when a video surfaced of the actor and YouTuber Kian Lawley using the 'n' word. It was especially controversial since Kian plays Chris in The Hate U Give movie. However, instead of holding Lawley accountable for his actions, many of his fans chose to attack Angie on twitter instead.
Thankfully, Angie has made such a mark on the book community, that people began to tweet their support for Angie through the hashtag #AngieThomasAppreciationDay. The tweets came from fellow authors, aspiring writers, and readers alike. Many of them recounted what Angie means to them, while many tweeted about what The Hate U Give means to them. I've rounded up a few of the best tweets here and I would remiss to not include my own tweet, considering what The Hate U Give and Angie Thomas mean to me, as a reader, writer, and a woman of colour in the book community:
The toxic friendship between Starr and Hailey in THUG is the first time I saw something like that on media. As someone who has had to make decisions about how to deal with racism in friendships, it meant a lot to me to read that. #AngieThomasAppreciationDay

— Adiba Jaigirdar (@adiba_j) February 5, 2018
https://twitter.com/brownbookworm/status/960534883410968577
So here for #AngieThomasAppreciationDay

Angie Thomas changed the course of my life.

She is the incredible human who made me believe my dreams were possible.

When I read the news about T.H.U.G. I literally thought "because of her I can."

When I feel down about the (1/2)

— Tomi Adeyemi (@tomi_adeyemi) February 5, 2018
https://twitter.com/ElleOnWords/status/960508918727434240
It's #AngieThomasAppreciationDay!
THE HATE U GIVE shows teens they are always main characters, no matter what others may say.
This book is everything YA should be: brave and powerful and full of heart.
Thank you @angiecthomas pic.twitter.com/hBxwqy9sfW

— Brooding YA Hero (@broodingYAhero) February 5, 2018
Look, @angiecthomas has made an asteroid-sized crater of a mark on this world. THUG will be taught in schools for decades. Her other books are going to be just as epic.

Your faves could NEVER. #AngieThomasAppreciationDay

— Phil Stamper (@stampepk) February 5, 2018
Angie Thomas opens hearts and minds. This weekend she gave a game-changing keynote speech at #NY18SCBWI about race, representation and children's literature. We are lucky to have her in our community! (Pic is Crystal Allen, Angie & me)#AngieThomasAppreciationDay pic.twitter.com/H2XQR0Ut98

— Laurie Halse Anderson (@halseanderson) February 5, 2018
Reasons to love Angie Thomas:
– Modern classic book at #1 on Times list pretty much since it came out.
– Best smile on a YA author I've ever seen.
– Loves her mama.
– Supports friends.
– Takes all the BS and keeps on shining.
#AngieThomasAppreciationDay

— Sandhya/Lily Menon (@smenonbooks) February 5, 2018
Angie was the first person in publishing to believe in my writing. Not only that, but she was one of the first times I really saw someone blacker than black living their authentic self & not hiding it. I owe her my professional & literary development. #AngieThomasAppreciationDay pic.twitter.com/414z0fsedq

— Kosoko Jackson (@KosokoJackson) February 5, 2018
Not only is THE HATE U GIVE a beautiful book written with humor and heart—it's also a reminder that yes, you can be a main character. Yes, you can use your voice to make a difference. And yes, you matter. Thank you for a book that's changed lives 💕 #AngieThomasAppreciationDay pic.twitter.com/RjpCvqTPgr

— Epic Reads (@EpicReads) February 5, 2018
For all the black kids that get to see themselves in literature and see someone like them succeed. To read a book and feel like you matter. To see a book about someone like them sit comfortably at the top of the NYT bestseller list.#AngieThomasAppreciationDay

— Liselle (LIZ-elle) (@LiselleSambury) February 5, 2018
This was 2 years ago. I was a newbie author who was at the crossroads of her pub journey: give up, or go for it. I told Angie a post of hers inspired me, & I never thought she'd reply. But she did, & I didn't chicken out. Thanks, Angie ❤️ #AngieThomasAppreciationDay pic.twitter.com/eg8IQjt9Zo

— Gail D. Villanueva ✨🇵🇭✨😷 (@gaildvillanueva) February 5, 2018
https://twitter.com/SierraWritesYA/status/960530142799060992
I asked her a question: How do you do what's necessary to write about something so powerful and emotional without losing your own sanity? I've used that to guide my work since.#AngieThomasAppreciationDay pic.twitter.com/H9WflHgZRJ

— tonia thompson (@missdefying) February 5, 2018
Angie Thomas is not only one of the strongest writers I know, but one of the strongest people. She has revolutionized YA as we know it with her talent, perseverance, and bravery. She deserves more than this world could ever give her.#AngieThomasAppreciationDay @angiecthomas

— ♡ k a v ♡ (@xreadingsolacex) February 5, 2018
It's #AngieThomasAppreciationDay! I'll never forget how @angiecthomas braved a snowstorm to have an open and honest conversation with my Philly students who loved THUG – including a girl who squealed, "She looks like ME!" when she saw Starr on the cover. It mattered.

— Jenny Perinovic 🌸 (@JennyPerinovic) February 5, 2018
I think it's fitting to have #AngieThomasAppreciationDay on what would be #TrayvonMartin's birthday.
Keep doing you, @angiecthomas. We need your voice.

— Robyn (@robyn_lucas) February 5, 2018
Angie has provided so much for teens, especially Black teens, with THUG. She's given us hope, representation, a damn mirror, acceptance, more pride and so much more.

I can never thank her enough for her writing.#AngieThomasAppreciationDay

— VIKA MANA / MELEIKA (@endlessyarning) February 5, 2018
The world tells us to push down our blackness, take up less room, & whisper not shout. I spent years doing that in my writing. So thank you @angiecthomas for being a constant reminder of the beauty of my blackness➖undiluted, authentic, whole ♥️ #AngieThomasAppreciationDay

— 𝔸𝕞𝕒𝕟𝕕𝕒 𝕁𝕠𝕪 is editing Book 2 (hiatus) (@amandajoywrites) February 5, 2018
As part of my workshop on writing cross-culturally, I read aloud THE HATE U GIVE so writers grasp the power of #ownvoices and of an artist drawing so deeply and truthfully from lived experience. I'm moved to tears every time.

Thank you @angiecthomas #AngieThomasAppreciationDay

— Tiffany Liao (@Tiff_Liao) February 5, 2018
All my son used to read were white characters by white ppl. I gave him #THUG, it's his favorite book. It became the gateway to "Long Way Down" and "Dear Martin".

Thanks, @angiecthomas for a gorgeous book that has impacted us more than you'll know. #AngieThomasAppreciationDay

— Fatin Marini (@FatinMarini1) February 5, 2018
Getting to read about simple things like soul food and having white friends as a black girl in a genre that I love for the FIRST TIME means more to me than words can describe.

Thank you so much, Angie.#AngieThomasAppreciationDay

— Jordyn ⭐️📚 (@jthebibliophile) February 5, 2018
During the first ever DVPit, Angie reached out to creators of color and offered to boost their pitches. She pays it forward in the community AND she's an amazing writer! #AngieThomasAppreciationDay

— Kat Cho 🦊👻👹🇰🇷 (@KatCho) February 5, 2018
Here's what Angie had to say as she saw the hashtag trending:
Omg, this hashtag 😭 #AngieThomasAppreciationDay

— Angie Thomas (@angiecthomas) February 5, 2018
This #AngieThomasAppreciationDay is so overwhelming in the best way 😭. Thank y'all for being a balm in the midst of a lot of pain.

Some good news: I just saw the final cover for #OnTheComeUp and 😭

— Angie Thomas (@angiecthomas) February 5, 2018
And if you want to support Angie and The Hate U Give, here's a great way to get the novel into the hands of kids from diverse backgrounds:
A great way to honor #AngieThomasAppreciationDay would be to get The Hate U Give into even more classrooms. I'm donating in the link below. Consider joining me or positing other projects like this that you can find!https://t.co/ADXD4teRU7

— B.D. Kennedy (@bd_kennedy) February 5, 2018