How To
The Anatomy of a Reading Nook
It's time for you to build the perfect reading nook you deserve.
I think that it's important to designate spaces in a home. The bed is for sleeping. The couch in front of your TV and other media is for entertainment. The desk is for work. Where to read, though? I generally snatch reading time where and whenever I can, but until recently I'd never had a specific place where I know that settling in means it's time to read. The couch can mean distractions, and the bed? Forget it. I fall asleep after a page.
So here's an easy 3-step guide to creating your reading space, based so very scientifically on my own experiences.
Step 1: Find the right space.
Find a nice corner, somewhere that isn't cluttered, where you can't be distracted by a TV, where there's good light, and enough room for the space you want to create. One of the most important things is to make sure when you sit your butt down on your reading chair, you get into your reading zone. Your reading nook should stand out as its own little oasis of bookish awesome.
Mileage varies for this part, but I'll talk a bit about the chair I have in my own reading nook. It's a pretty yellow wing chair from IKEA, which matches my purple wall in a pleasing way. The seat is firm, because I want to curl up with a book, but not literally. Can you say back pain?
I think it's important to have a chair that'll support your body for as little or as long as you want to sit on it, so smushy wasn't the way to go for me. Again, it's up to you, but these are things to consider. I also opted not to go for reclining because it would then take up more space. Instead, I got the matching footstool. As for why wing over regular straight-backed or even a low-back chair, it's because the wings are super comfortable for nuzzling, or leaning my head.
After you've got the perfect chair, it's time to make your space look cozy. I added a turquoise circle rug and a lamp, both of which were also purchased at IKEA, and a little art on the wall to cement the mood. The art on my wall is by Brian Kesinger, whose work I love, and I really think it helps tie everything together. I also threw in these lovely, chic pillows (purchased at Nordstrom) that make me smile when I look at that corner. Owls are my favorite, so that was an easy design choice, but you've got so many options. My alternate pillow looks like this, after all (purchased at TJ Maxx):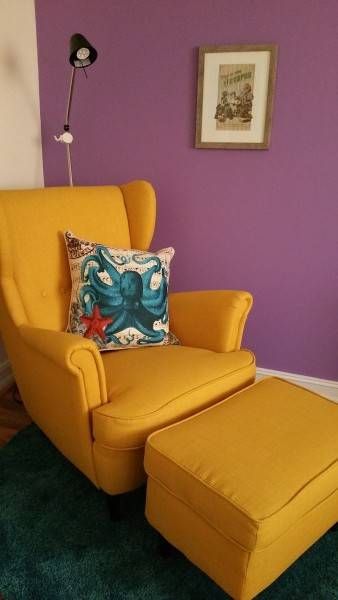 Everything about my nook works towards what I want out of a reading space. It looks cozy, it's pretty, and it has personal touches as well as more obvious signals as to what the point of it all is. I tucked it well away from distractions, but near a bathroom, and I can tell ya now the small comfort of a rug goes a long way. The only thing mine's missing is a small side table; I still haven't found the perfect one, but I'm looking.
Do you have a designated reading space in your home? I'd love to see it!
____________________
Follow us on Pinterest for drool-worthy covers, Book Fetish-y lit swag, bookish inspiration, and more!