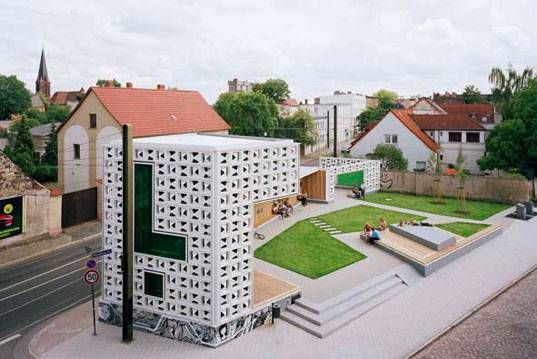 Much of the good ship Book Riot is off at Book Expo America this week, so we're running some of our best stuff from the first half of 2013. We'll be back with reports from BEA next week and our usual array of new book-nerdery.
____________________________
Frigid temperatures here in the Northeast have got me daydreaming about reading out in the sunshine. This open-air library in Magdeburg, Germany would certainly do the trick.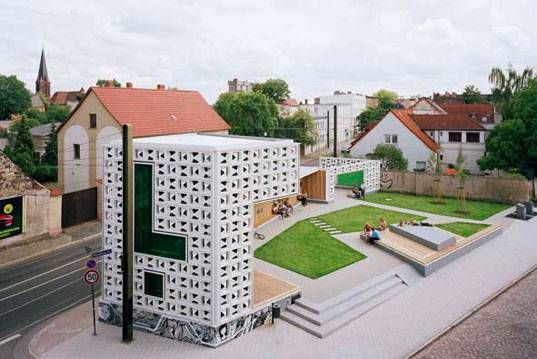 This industrial city was once part of Eastern Germany, and since reunification, its city center has had trouble recovering, with commercial vacancy rates of approaching 80%. So when local residents expressed interest in a low-cost, open-air concept for a new library, it took an extraordinary effort to get the project started.
The concept from Karo architects was assembled in a 1:1 scale out of donated beer crates to demonstrate to potential supporters that the library could work. After the community raised enough money to build a permanent version.
Being outdoors is not the library's only exceptional quality: no registration is required; books are taken and returned on the honor system; and it is open 24 hours a day.
Indeed, the library has been such a wild success that it has become a pilot program for studying how to reinvigorate other depressed areas and has won a raft of design and architecture awards. But perhaps nothing speaks to the library's success more than this: the library is completely staffed by volunteers who maintain the library's 20,000 volumes, for the love of books, reading, and of their city.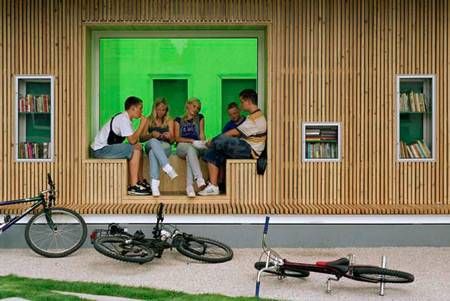 ____________________________
Sign up for our newsletter to have the best of Book Riot delivered straight to your inbox every two weeks. No spam. We promise.
To keep up with Book Riot on a daily basis, follow us on Twitter, like us on Facebook, , and subscribe to the Book Riot podcast in iTunes or via RSS. So much bookish goodness–all day, every day.