This is a guest post from Sharanya. Sharanya is an elementary school teacher in Washington, DC. When she's not running around after children like a madwoman, she likes to sit and inhale books and coffee. She's had a life-long love affair with middle-grade and YA lit, and hopes to write her own novel(s) in those genres some day. Follow her on Twitter @srsharms.
____________________
There are lots of reasons why I love being a teacher, but I confess: the reason I became one in the first place is probably books. The coolest people in books were — are — the teachers. There are no other characters like them. They never pull their punches. They don't take no for an answer. They light fires under peoples' butts, and they do it with aplomb and a dazzling dose of (acerbic) wit. They're the kind of people you want to stand up, stomp your feet, and cheer for loudly. So screw being a princess — being a teacher was clearly so much more effective, and so much more badass.
The first teacher who made me really sit up and pay attention was actually eleven years old when I met her. Her name was Anne (spelled with an "e"), and she was just like me. She paid attention to how language sounded (I will forever be convinced that the letter N is cranky). She showed affection and made genuine connections to everything around her, even trees (shout out to the Sugar Plum Fairy, still my favoritest tree). She also knew how to hold a grudge. But most important of all, she was overflowing with fanciful dreams and towering possibilities — and nobody really took her seriously.
So, Anne became a schoolmarm. But not just any kind of schoolmarm — she became the kind that talked to kids as if they were real people. That astounded me. An (almost) grown up, talking to insignificant little kids like we actually mattered? That defied every single experience I'd had with grown ups before. The adults in my family were never the type to sit down and take into consideration your feelings. Usually, the grown ups talked, and the kids shut up and did what was expected. No compromise. And yet, here was one of the Big Folks, who actually took in the perspective of other people regardless of age. Someone who realized that a person was always worth respect and honesty, whether they were six and wanted to say a really bad word, or nineteen and worried that they couldn't see The Rock People anymore. Anne showed me something as a teacher that many people forget when they shift from "child" to "adult" — that if you're going to ask someone to take risks, make good choices, and affect change, you need to treat them as someone who is capable of all of that in the first place.
That, I thought frequently, that's how you do the whole grown up thing right.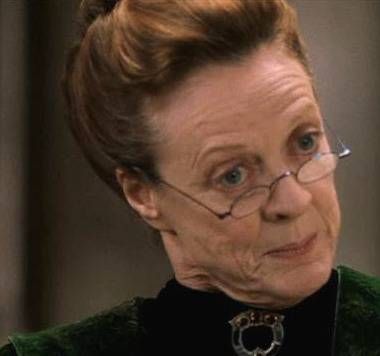 Weirdly, the other teacher who I want to be like most in the world was decidedly a Traditional Grown Up — or at least she seemed that way at first. Brisk, clever, demanding, and impatient, Minerva McGonagall was not interested in having a heart-to-heart chat with you about your feelings. She was here to make sure magical kids didn't grow up stupid because that would be bad for the world, and she was determined as hell that nothing would get in her way. McGonagall was not going to "firmly but kindly" explain to you why putting a dead rat in her desk is ungentlemanly behavior. If Anthony Pye had been in McGonagall's class, I imagine he would have almost instantly spent many hours in detention, cleaning out pickled rat guts from jars (and make no mistake — he would have deserved it, too).
Even as a kid who would have been more than a little afraid of her sharp tongue, I had to admit that she was…unquenchable. And like her students, I slowly learned to love that about her. She used every ounce of her spirit in service of those most important to her. She was unbelievably fierce about the power she had, and completely unapologetic about using that power to give her students — the people she cared about most — exactly the tools they would need and the knowledge to use them effectively. Her students were too important to let anything stop her — especially asininity, or worse, asininity in colleagues (because stupid grown ups are the worst). Who wouldn't want to be like that?
Even as a teacher now, I've learned quite a few things from McGonagall. Like: never underestimate kids' ability to act completely idiotic (HELLO, James Potter and Sirius Black), and while you (occasionally) secretly love that they can act utterly ridiculous, you also want to make sure they don't stay that way forever (because stupid grown ups are the WORST). And if you need to find yourself a Trouble Radar and cultivate a Dangerous Glint that easily transforms into a Scorching Glare in order to save the children from stupidity, so be it. (Because stupid grown ups…well, you get it).
Maybe that's why I made sure I included Harry Potter and Anne of Green Gables in my book talks this year. Because my 4th graders may not hear it from me…but these teachers will definitely make everyone sit up and pay attention. How could they not?
____________________
Get a box of YA books and bookish goodies in the mail every quarter with our new YA Quarterly Box! Sign up here.