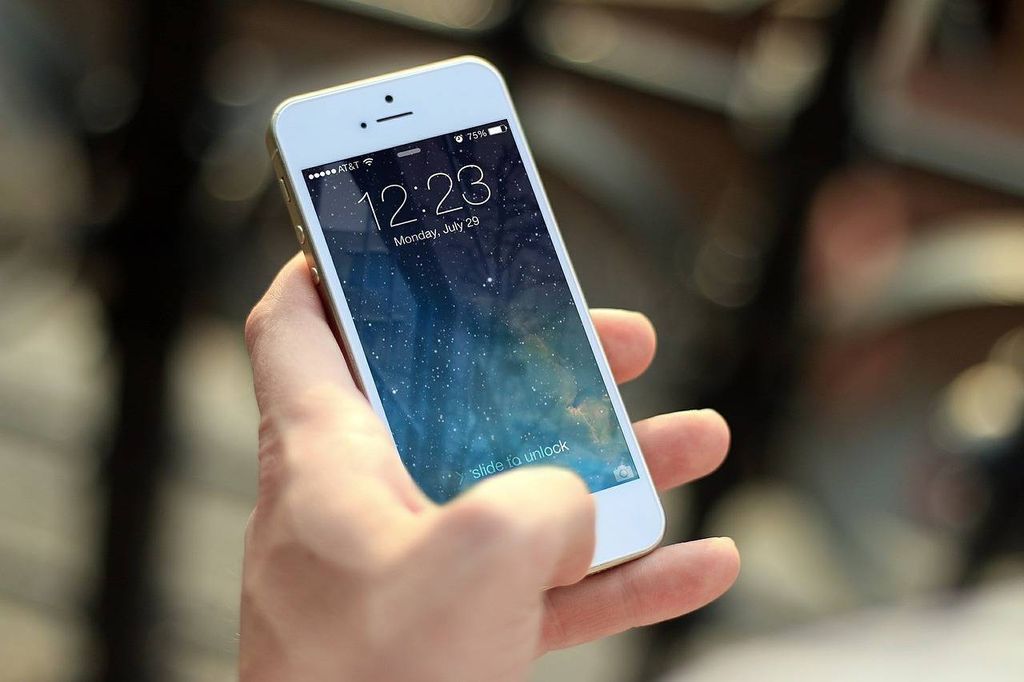 Interviews
An Interview with the Founders of INKLO, Your Next Favorite Reading App
Where will you be when Game of Thrones airs? What about a presidential debate? Or the night the newest season of Orange is the New Black drops on Netflix?
Our culture is no stranger to serial storytelling. In some ways, not much has changed since the nineteenth century, when Charles Dickens (and many other Victorian writers) released the latest chapters of his books one by one, causing mass hysteria as readers fought for a copy of the newspaper to read the newest installment. This phenomenon grips us to this day. The very name of NPR's cult classic podcast, Serial, makes its intentions known as a riveting story spaced out over several weekly installments. Back during the height of Serial Season 1, many people I knew waited for iTunes to refresh when the latest episode would go live.
And in this content-saturated world, where there are endless TV shows to watch, more books than you can possibly read published each week, and a backlog of podcasts, the communal feeling of a shared media event is a treasured, almost quaint, but definitely exciting feeling.
Now imagine that experience translated to reading. Your favorite authors publish bite-sized chapters and everyone gathers to read through it together. You can comment along with other readers live as you devour the latest segment, like a sophisticated Google Doc you edit at once. It's a story you love, and you share that experience with others, interacting with the author, too.
That's what the new app INKLO aims to do for readers.
The bookish brainchild of JP Lawrence and Adeeb Sahar, best friends since meeting at Stanford their freshman year, INKLO creates a shared reading space for readers through its app, currently available for iOS and Android users. Major writers, such as Rachel Van Dyken and Janet B. Taylor, are already publishing stories through the site. Browse through the INKLO library and sign up for as many stories as you want.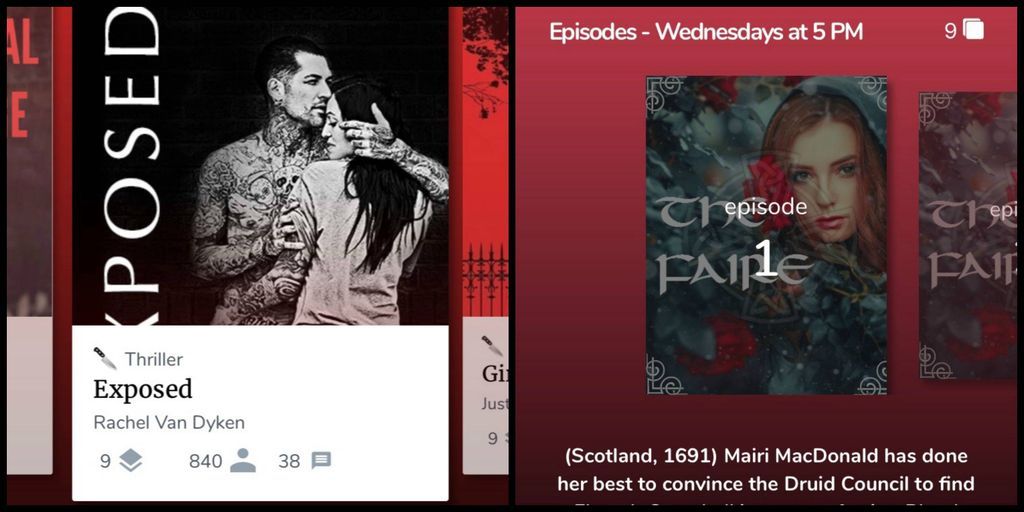 On the left, find stories by your favorite writers. On the left, sign up to be notified when new installments drop.
After you've added them to your shelf, get caught up with what's happened so far and then wait for a push notification when the author publishes a new installment. If you're a news junkie like me and already get alerts from top news outlets when a breaking story hits, you'll appreciate the clever way these push alerts tie immediacy to storytelling.
Another interesting and unique feature of INKLO is the collaborative reading experience. When you open up a segment of a story, you can see who else is reading the same installment. Real-time technology means you can comment directly on the story, sharing instant emoji reactions to moving quotes and passages. It's kind of like a living, comment-able Google Doc, but with the stories you keep in your pocket.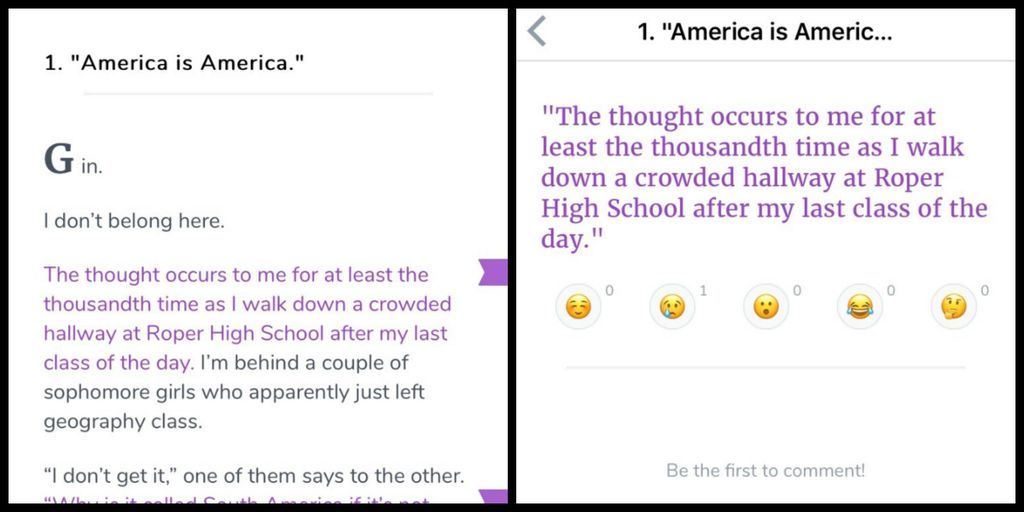 On the left, see favorite quotes highlighted within a chapter. On the right, provide your reaction with an emoji and even a comment.
INKLO is also selectively looking for new authors to submit exclusive stories. Since this is a new opportunity, writers can find an audience and connect with them in a fresh, publishing alongside other writers. You can find out more information on INKLO's website.
If you're thinking that sounds a lot like other collaborative, serial reading sites Wattpad and Swoon Reads, P and Adeeb were able to share more about what sets INKLO apart. These excerpts from our email interview has been lightly edited.
On INKLO's origin story…
JP: I've been in and around creative writing and publishing for years. Whether it was starting a lifestyle magazine at Stanford (where Adeeb and I met during our freshman year and have been best friends ever since) or interning at Issuu, another digital self-publishing startup, it's always been a big interest of mine.
Japanese manga has also been a pretty big part of my life ever since I can remember. Some of the most popular manga series are released on a weekly basis. When a new chapter was released on the internet, me and all my friends would race to be the first to read it, and then we'd talk about it all week until the next chapter came out. One day it all clicked – the "aha" moment – and I realized that there was no reason that experience couldn't be captured in an app, and with written stories.
So I pitched the idea to the director of Stanford's Creative Writing Program, Irish poet Eavan Boland. Professor Boland is actually a big proponent of infusing the industry with technology. Ultimately she and the CW program gave us $2,000 to test the idea. Adeeb helped me analyze all the data that came out of the test (he was a data analytics consultant right out of Stanford), and it became clear that this product and experience was something that both readers and writers desired. We teamed up, and it's been growing ever since.
On how INKLO's different from other social reading sites…
Adeeb: We get the "how are you different?" question a lot, and it's partly because reading apps are definitely having their moment! There's lots of familiar names in the game like Wattpad, Hooked, or Radish. All those platforms do amazing work, but we're different in a lot of key ways.
At its core, INKLO is a viral media platform. INKLO is the Instagram for written stories and their authors. In the same way photo sharing services existed before Instagram, Flickr for example, Instagram created an entirely new social experience around pictures that caught fire with millennials. INKLO does the same thing for written stories and their authors.
The social experience on INKLO is built from the ground up to empower indie authors to build a millennial audience and go viral, like Instagram celebrities. INKLO is like having a Game of Thrones viewing party on your phone – you and all your friends reading and talking about the same story at the same time.
We've done a lot of market research to figure out exactly what kinds of stories succeed. Before we opened on the App Store, we ran a beta with students in 20 universities across the United States, including Columbia, UC Berkeley, Princeton, Stanford, Emory, and UCLA. Students LOVED it. They loved the way they were left in suspense at the end of every episode, and that they could chat with their friends in real-time about the addicting stories they were following together.
On what genres work best for INKLO authors…
Adeeb: Our first stories at launch have been in the YA and NA genres. We'll be bringing on another wave of writers very soon with stories that run the gamut – everything from romance to crime to paranormal thriller. Any well-written story can be successful on INKLO, although we find the most followed stories are those which leave their readers in suspense at the end of every episode and are written by authors who use the social and branding tools on INKLO to keep readers coming back.
On what features are on the way…
Adeeb: We have lots of exciting features coming soon! The social reading experience on INKLO is one of a kind, and it's growing by the day. We're going to do everything we can to allow authors to connect with readers and to allow readers to connect with their fellow readers. You'll just have to download INKLO and stay tuned to find out ;).
For more information about how to download INKLO and connect your writing to INKLO's readers, visit INKLO's website and find them on Facebook.