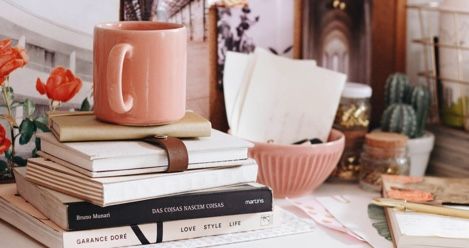 An Illustrated Look Inside Writers' Cribs: Critical Linking, September 19
Sponsored by The 7 ½ Deaths of Evelyn Hardcastle by Stuart Turton.

---
That cottage is now Jane Austen's House Museum (also known as Chawton Cottage), home to a library that includes an original manuscript handwritten by Austen, early editions of her novels, and works by other women who either inspired Austen or were inspired by her.
Take a peek into the homes and work spaces of some familiar writers through these delightful illustrations.
---
Pennsylvania's Department of Corrections is planning to ban free book donations to inmates by mail, claiming that this is a "primary avenue for drugs" to enter prisons. But the move coincides with a renewed push to get prisoners buying into a pricey prison eBook system that offers low-end tablets for $150 and eBooks no cheaper than $3 a read.
---
Miranda said the province is committing $300,000 in annual funding over the next four years for Alberta book publishers and stressed the importance of supporting arts industries.
He said the funding will help local publishers share Albertan content with the world and create jobs and "diversify our economy."
When books are recognized as important tools of growth and culture.