Lists
Your Ultimate Guide To Reading Amy Tan Books
This content contains affiliate links. When you buy through these links, we may earn an affiliate commission.
Best known for the novel-made-film The Joy Luck Club, Amy Tan is a California-born Chinese American author. She has published works in long and short form, both fiction and non. Amy Tan books explore relationships between mothers and daughters, between sisters, between female friends, and among families. They also focus on struggles pitting tradition against modern beliefs, especially for Chinese and Chinese American families. Here's where to get started with the best Amy Tan books.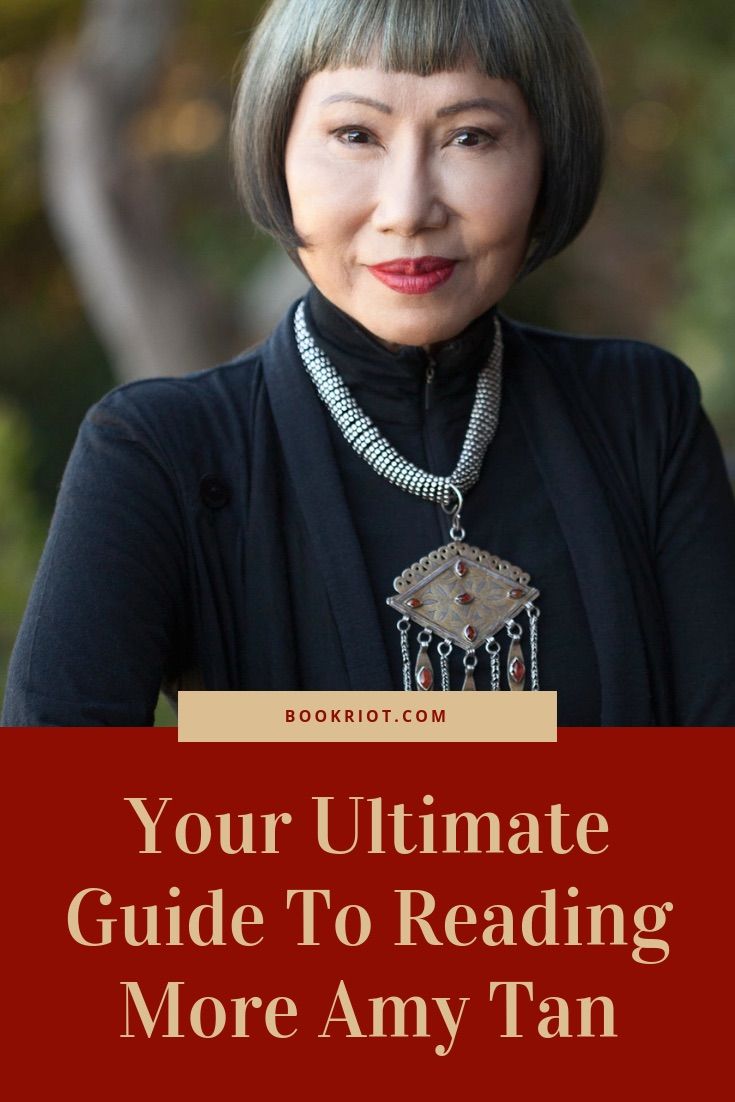 Who is Amy Tan?
Born to Chinese immigrants John and Daisy Tan in 1952, Amy Tan lived with her parents and brothers in Oakland, California. She felt unhappy about not fitting in when she was in school because she was the only Asian student. In 1966, her father and older brother both died from brain tumors. Soon after these sad passings, Tan's mother moved her and her younger brother to Switzerland.
She and her mother did not get along while she was in high school. Many challenges between them were rooted in Amy Tan's rejection of Chinese culture. In 1969, the family returned to San Francisco, where Tan could go to college. She majored in English after deciding pre-med was not for her. (That decision, along with Tan's decision to move with her boyfriend, caused a wider rift between the mother and daughter).
Tan's family's rich heritage and raw struggles inspired her to begin writing. Before marrying John Tan, Amy Tan's mother Daisy survived an abusive relationship with a previous husband. She left three daughters behind in China when she left the relationship. In addition to family woes, Tan found herself struggling with health; for years she suffered from pain and seizures not knowing why. She finally received a diagnosis of Lyme disease. (She then cofounded LymeAid 4 Kids ).
In 1996, Tan was inducted into the Academy of Achievement, receiving the Golden Plate Award. She's been a finalist numerous times for the National Book Award, the National Book Critics Circle Award, and many other literary prizes. Additionally, she's a rock star, kind of (more on that later).
Where to start with Amy Tan books
Tan's debut novel stayed on the New York Times bestseller list for nine months. It received the Los Angeles Times Book Award, the Commonwealth Gold Award, and the Bay Area Book Reviewers Award. In 1993, Tan co-authored an adaptation screenplay for the film that would be critically acclaimed. In this book, Chinese American daughter June takes her mother's place in the social club she formed. Through storytelling flashbacks with the "Aunties" and other daughters, a rich history about tradition and family emerges.
The foundation for this novel lies in Daisy Tan's divorce and subsequent loss of her three daughters to her abusive ex-husband.
For shorter fiction, these 43 pages offer courtesans in Shanghai in 1912. This novella is said to be a bit sexier than the usual Tan fiction appears.
Also, read the short story "A Pair of Tickets," which you can find in many anthologies. The story follows a woman and her father visiting their relatives in China after her mother has died in San Francisco.
Nonfiction Amy Tan books
Next, dive into Amy Tan's nonfiction for the real stories behind the fictionalized versions.
Start with the often-anthologized essay "Mother Tongue." It explores the role of the English language across the world.
This autobiography explores her childhood, both fun and dark memories. She also speaks of ghosts in her computer and her experience with Lyme disease.
This autobiography reveals the roller-coaster relationship Tan had with her mother among other life lessons.
children's books by Amy Tan
6. The Moon Lady (1992), illustrated by Gretchen Schields
This is a simple tale that focuses on a wish for rain. It's a gorgeous book.
This Amy Tan book follows a white kitten named Sagwa who lives with a greedy magistrate. The kitten's naughty ways cause a permanent change in the path of all future Chinese cats. You can watch the animated series on PBS.
Where do we go from here?
If you want more long fiction, the list of Amy Tan books and novels doesn't disappoint.
Sisters appear at the forefront in this work. With one born in China and the other born in the United States, the sisters learn to navigate American culture together.
Here, a mother and daughter dynamic develops once again. The daughter in this story cares for her mother who has Alzheimer's disease. This novel was adapted into an opera in 2008 with the San Francisco Opera Company, composed by Stewart Wallace with Amy Tan as the librettist.
Also check out this book in which we can discover Myanmar (Burma) and China through the eyes of tourists and an art dealer from San Francisco.
Other Amy Tan books and art
The Valley of Amazement (2013) is the novel from which Rules For Virgins was excerpted. Go deeper into the brothel life in this one.
For more nonfiction, climb into the archives of The New York Times circa 2013. Tan wrote an essay about living with Lyme disease.
And now for something completely different—and my personal favorite Amy Tan find.
Grab your ereader and queue up the Rock Bottom Remainders. Here's a band made up of a bunch of best-selling authors, including Amy Tan, Stephen King, and Barbara Kingsolver. Hard Listening: The Greatest Rock Band Ever (of Authors) Tells All (2013) is an interactive ebook of essays, email chains, stories, music, videos, and quizzes co-authored by some of the group's writers.
If you have a favorite Amy Tan piece, please share, of course.
For more about Amy Tan's books and others like them, shuffle through the gems listed here.