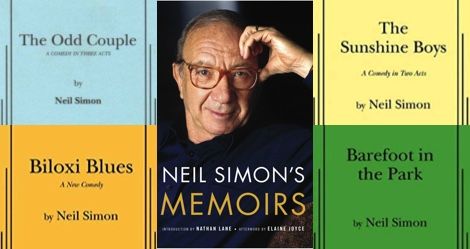 News
American Playwright Neil Simon Dies at 91
This content contains affiliate links. When you buy through these links, we may earn an affiliate commission.
Neil Simon, beloved and lauded American playwright, has died at the age of 91. According to his long-time friend and publicist Bill Evans, Simon died early on August 26th, surrounded by family after being hospitalized for complications from pneumonia.
One of the most celebrated playwrights and screenwriters of the 20th century, Simon received three Tony Awards, a Pulitzer Prize, two Emmy Awards, and a Golden Globe Award. Some of his most well known plays include The Odd Couple, Barefoot in the Park, Sweet Charity, Brighton Beach Memoirs, Biloxi Blues, and Lost in Yonkers. He was also the author of two memoirs, 1996's Rewrites and 1999's The Play Goes On, later combined into one book titled Neil Simon's Memoirs. In 1983, he became the only living playwright to have a Broadway theatre named after him.
Much of his work focused on middle-class, urban families, drawing on his own upbringing in the Bronx during the Great Depression. His plays and movies often brought humor to serious subjects and familial conflict. In a 1992 interview with The Paris Review, he commented, "I don't write social and political plays because I've always thought the family was the microcosm of what goes on in the world."
Many other writers, directors, actors, and others in the theatre and film industry have shared their grief over Simon's death.
Playwright and actor Harvey Fierstein shared a moment from the first time he met Simon:
Neil Simon – gone! A loss 4 the entire entertainment industry.
He could write a joke that would make you laugh, define the character, the situation, and even the world's problems. First time I met him he looked at me and said, "Where the hell did they find you?" What a gent.

— Harvey Fierstein (@HarveyFierstein) August 26, 2018
Actor and author Mayim Bialik said that Simon "defined a generation of comedy."
The most famous playwright in American history has died. From humble beginnings in the Bronx, Neil Simon defined a generation of comedy and reflection on what it means to be human. He was an extraordinary writer and force in the world of theater. Thank you, Neil. pic.twitter.com/GNlpqlbRac

— Mayim Bialik (@missmayim) August 26, 2018
Actor Josh Gad cited Simon as one of the "primary influences on [his] life and career."
To say that #NeilSimon was one of the primary influences on my life and career would be an understatement. His work, as both a participant and audience, has defined and shaped me on my own journies and carr@eer trajectory. RIP to another lost legend.

— Josh Gad (@joshgad) August 26, 2018
Writer Jamil Smith gave thanks for Simon's body of work.
Neil Simon's body of work spoke to American experiences that were wholly foreign to me—and yet, they remain intimately accessible through the wit, pain, and laughter of his characters. I am thankful for him. Condolences to all who loved Simon and his work. https://t.co/eqyZHFrxW2

— Jamil Smith (@JamilSmith) August 26, 2018
Actor Henry Winkler recognized Simon as "one of the most prolific playwrights in history."
We lost a giant .. one of the most prolific playwright s in history . THANK YOU Neil for a life changing experience.
REST IN PEACE in your brilliance #neilsimon

— Henry Winkler (@hwinkler4real) August 26, 2018
Simon was a remarkably industrious writer, creating more than 30 plays, plus several produced screenplays, many of which were based on his plays. During a Washington Post interview in 1997, he was asked what inspired him to continue writing. "I know that I have reached the pinnacle of rewards. There's no more money anyone can pay me that I need. There are no awards they can give me that I haven't won. I have no reason to write another play except that I am alive and I like to do it."