This content contains affiliate links. When you buy through these links, we may earn an affiliate commission.
Gabby Rivera, the writer of Juliet Takes a Breath and the ongoing America series for Marvel, visited my university last week to give an incredible talk on radical creativity. While she was in town I had a chance to sit down with her and discuss America, one of the most powerful and inventive comic books of the last decade.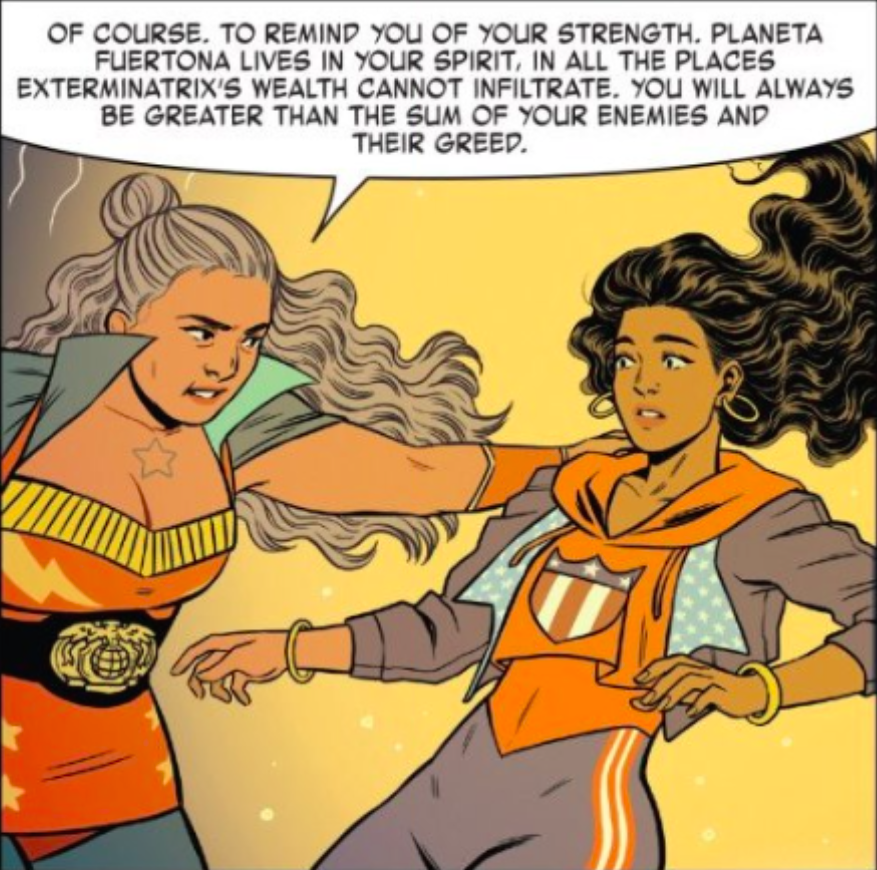 I want to talk to you about Sotomayor University, the setting of most of America. Compared to other comic books, Sotomayor is an incredibly radical vision of a superhero school. The Teen Titans or the X-men, for instance, never had a class on Intergalactic Revolutionaries. What was most important to you in creating Sotomayor University?
Well, when we kicked the idea of America going to college, I'm new to comics, this is my first comic, and so I was just a little stuck. Will Moss, the editor at Marvel was like: well what's your dream school? And that's when I was like, Bam, I would want to go to intergalactic Sotomayor University. Justice Sotomayor is a huge inspiration to me, and when I was first starting out, I read her book, My Beloved World, over and over again. I thought, what better place to explore the ancestry of black and brown intergalactic folks? Aliens and other worlds, imagine if there was a university that had all of that and was in its own separate part of the multiverse.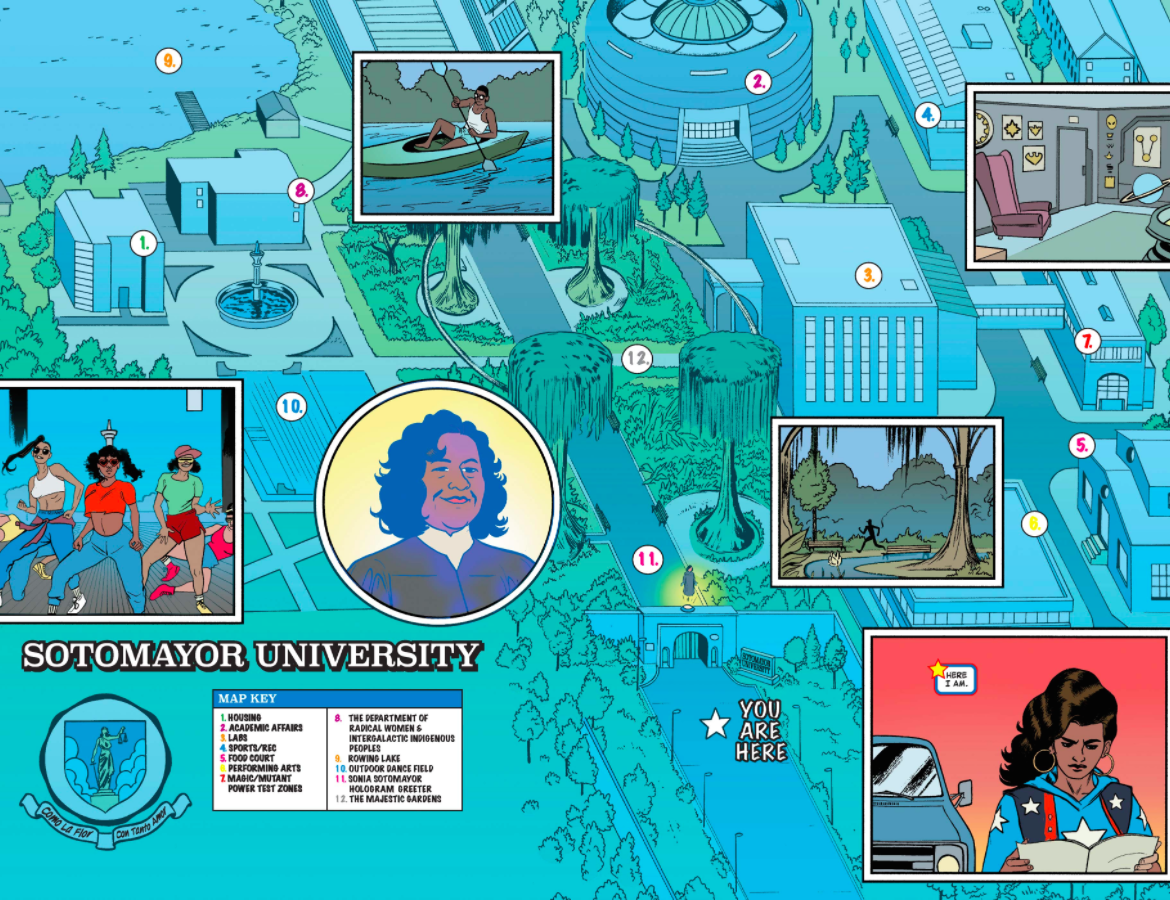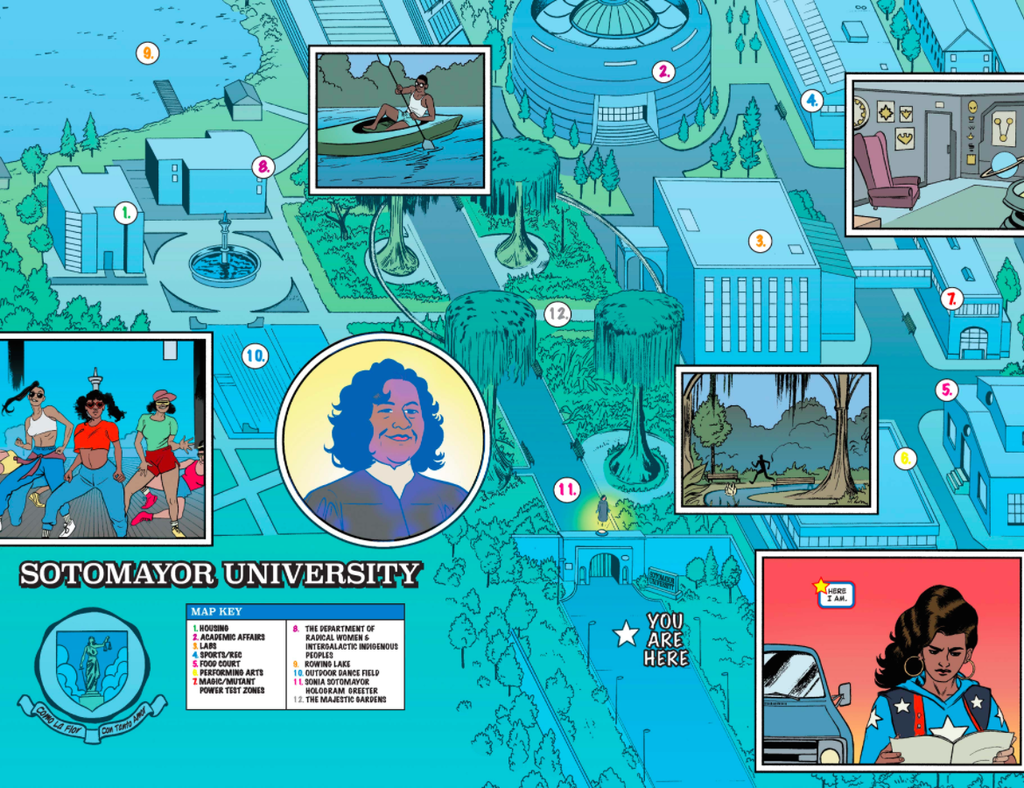 How early did you have that map of Sotomayor University?
Oh my goodness. That map is so beautiful. Joe Quinones did an excellent job with that map. Besides the covers of America, that was one of the first visuals for the number one, and it was just gorgeous from the start. I had looked at some images online. I googled "sci-fi gardens." I looked for stuff that looked like it incorporated the earth, that it wasn't just all tech and metal and inorganic things, that it was trees, and of the ground. Something natural, but also super sci-fi.
When did you know there was gonna be a hologram of Sonia Sotomayor?
That was there from the beginning. I was like, it would also be dope if Sonia was there just greeting people the whole time. And, tidbit: Justice Sonia Sotomayor recently reached out . It must have trickled her way that there was a university in the America comic named after her. So we sent some copies to her office, and I was like (laughing): Dear Justice Sotomayor, will you adopt me please?
In the latest issue, X'andria and Prodigy hold a rally where they call for policy changes to the university, such as open portals. How does their struggle coincide or relate to the struggles of actual college students? What work is left to be done at SU, and at real life universities?
One of the beautiful things about America is that she can punch portals. For a Latina to not have any restrictions on where she can travel is revolutionary. There's no borders for America Chavez. She can go wherever she wants to go. The fact that Exterminatrix was trying to thwart that really rallied the students, and you also get a little sense of the divide, even with students. There's some racism at play, white supremacy. And also this idea that in order for places to be safe, like a campus, you have to give up your anonymity, you have to give up your autonomy, you have to let people surveil you at all times. I remember even when I was in college, that was something students never really were down with. So what is it like when there's a school that's predominately intergalactic students of color, and here comes Exterminatrix, trying to surveil them, control them? Prodigy has his own surveillance, and then realizes later on, like, hey maybe that's not the way to do this. Maybe we can build safety in our community without, you know, snitching on each other, basically.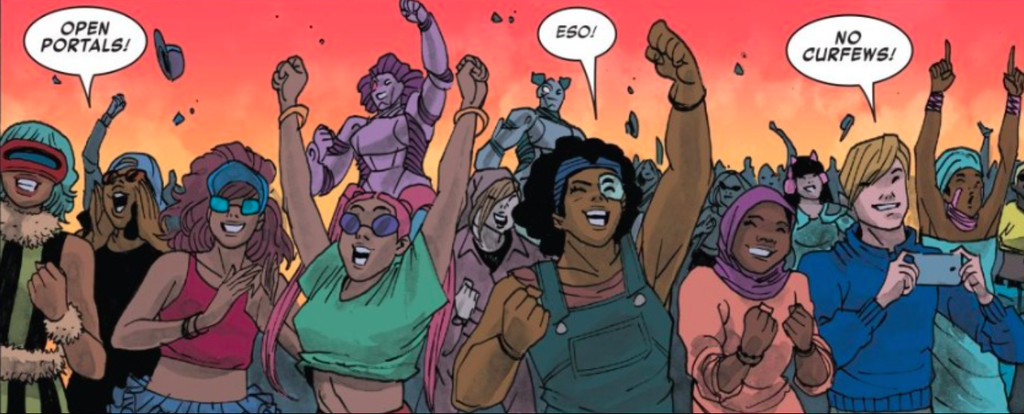 I wanted to ask you about the white supremacy that we see a little bit in the background. In several issues, you have white male students missing the point. Real life white boys have also missed the point of America sometimes. When I was doing research for this interview, I came across some really ignorant stuff.
There's a lot of hate my way.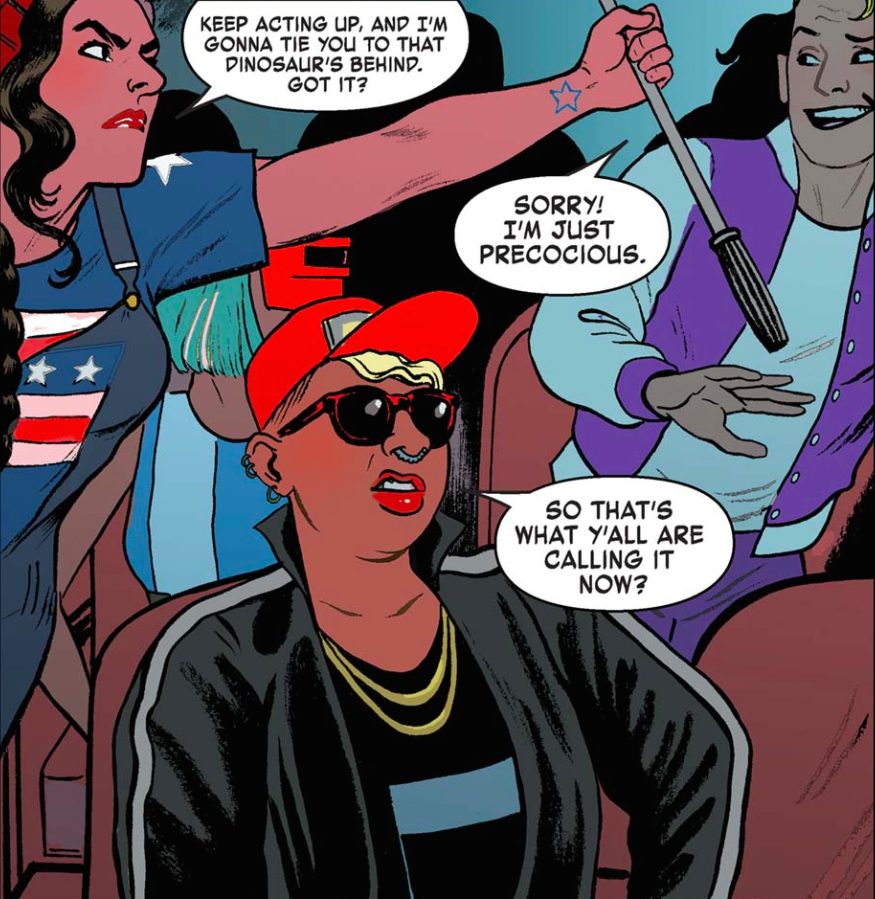 A lot of crazy stuff!
Let me tell you something—there has been—it's been very challenging. The world in general isn't necessarily the safest place for queer women of color, but it seems that the comic world has got its own challenges. Here's the thing. It's less about me having an issue with individual white guys. Will Moss, editor of Marvel, is a white guy. And in fact, I think he did an excellent job of showing how you can utilize your power for good. Instead of him kicking the job [of] America to someone already in the ranks, he did his work, and found me. So there's that. In a lot of media people of color are demonized and criminalized. We're seen as thieves, or people running and stealing jobs. So I thought it'd be fun to play with the innocence awarded white folks. If these young guys are here in this college, and instead of rallying behind America they see her as an illegal, as a threat, and they use tiki torches, then they're mimicking what is literally happening in our country right now. It's kind of also a little bit of a reflection like, hey, I'm not necessarily twisting your actions or your words, I'm just showing you what it looks like from our perspective. This is what you're actually doing.
Have you felt that hatred or violence differently or more strongly from the comic book community than the YA world that you're coming from?
One hundred percent. But also, I don't want to focus so much on that, because I don't want to fuel anything. I do want to say what's been really nice about the comic community is that there's a lot of support, and a lot of folks experience harassment and stuff, so there's a lot of support internally from all types of folks. Creators of color, white guys who are like, this is dumb, I don't like that they're doing this. I think it's super sweet to see Latino families coming out and cosplaying as America and Prodigy. Different types of comic fans embracing America.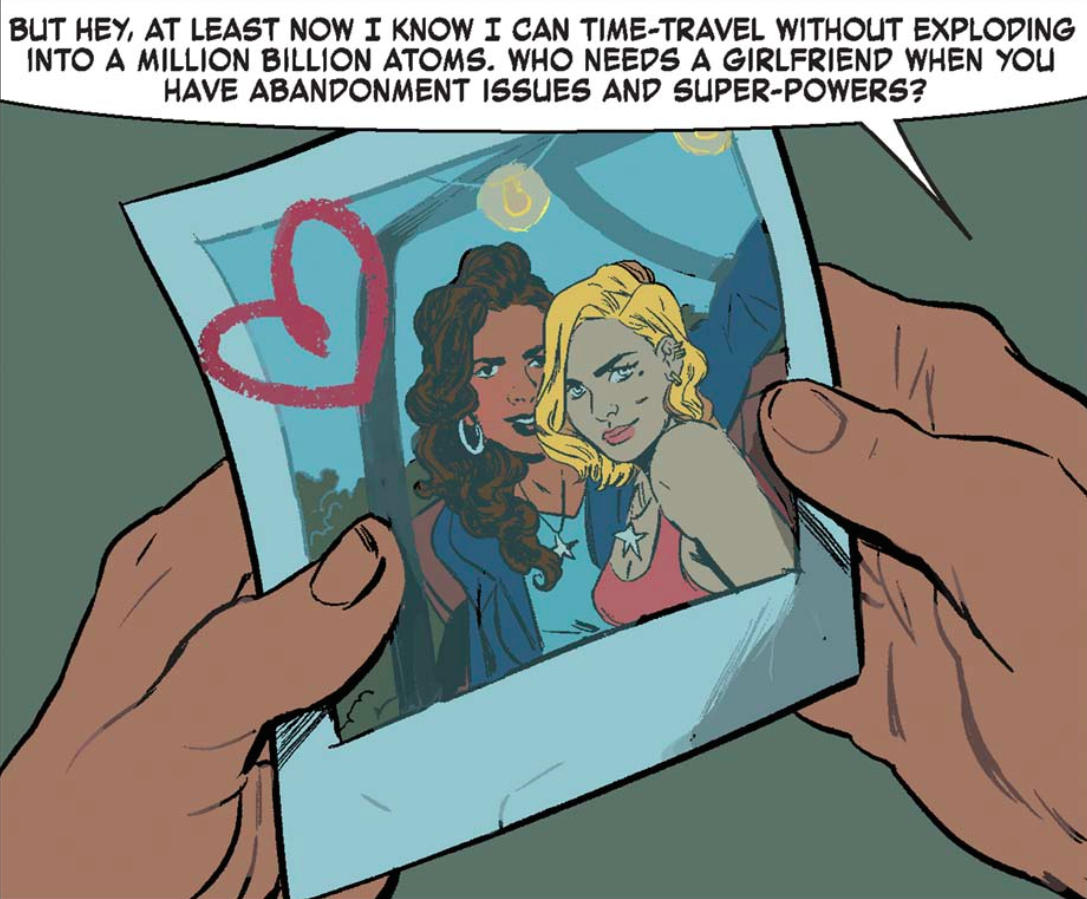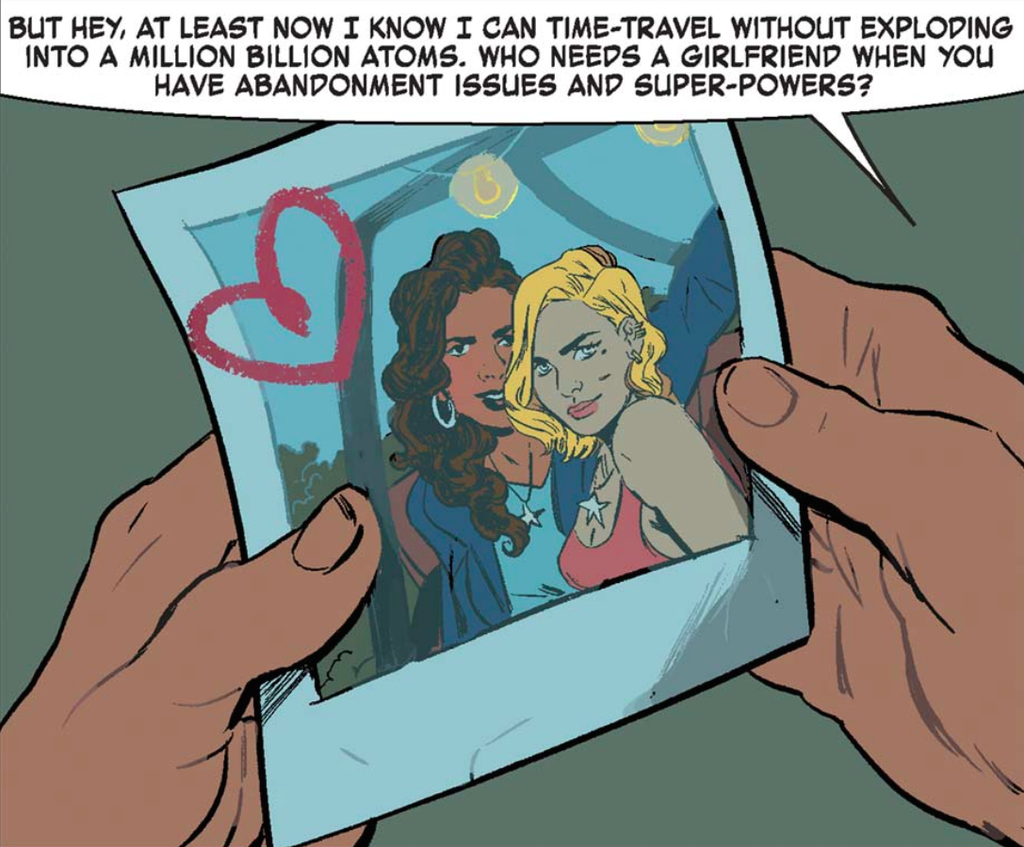 America has had a lot of flirtations over the series, but no serious romantic relationships. In an interview early on, you mentioned that America was kind of deciding whether she even wants a romantic partner right now. Do you see her love life as becoming more central, or is it important to you that the romantic stuff stays on the back burner?
I was really invested in the breakup in the beginning because I feel that breakups are beautiful, but also heart wrenching ways to learn so much about yourself. If it's a really hard breakup, you will be reborn. It was important for her to have that freedom, to be on her own. A lot of times narratives that are centered on women are centered on women and their husbands, or women and the men that they supported, and we lose the actual energy and the merits of those women. I didn't want to do the queer version of that and give her a ton of random girlfriends, or a new girlfriend. I wanted to her to just be out in the world and focused, and show that love can sometimes be the quest for family, and not the quest for a lover.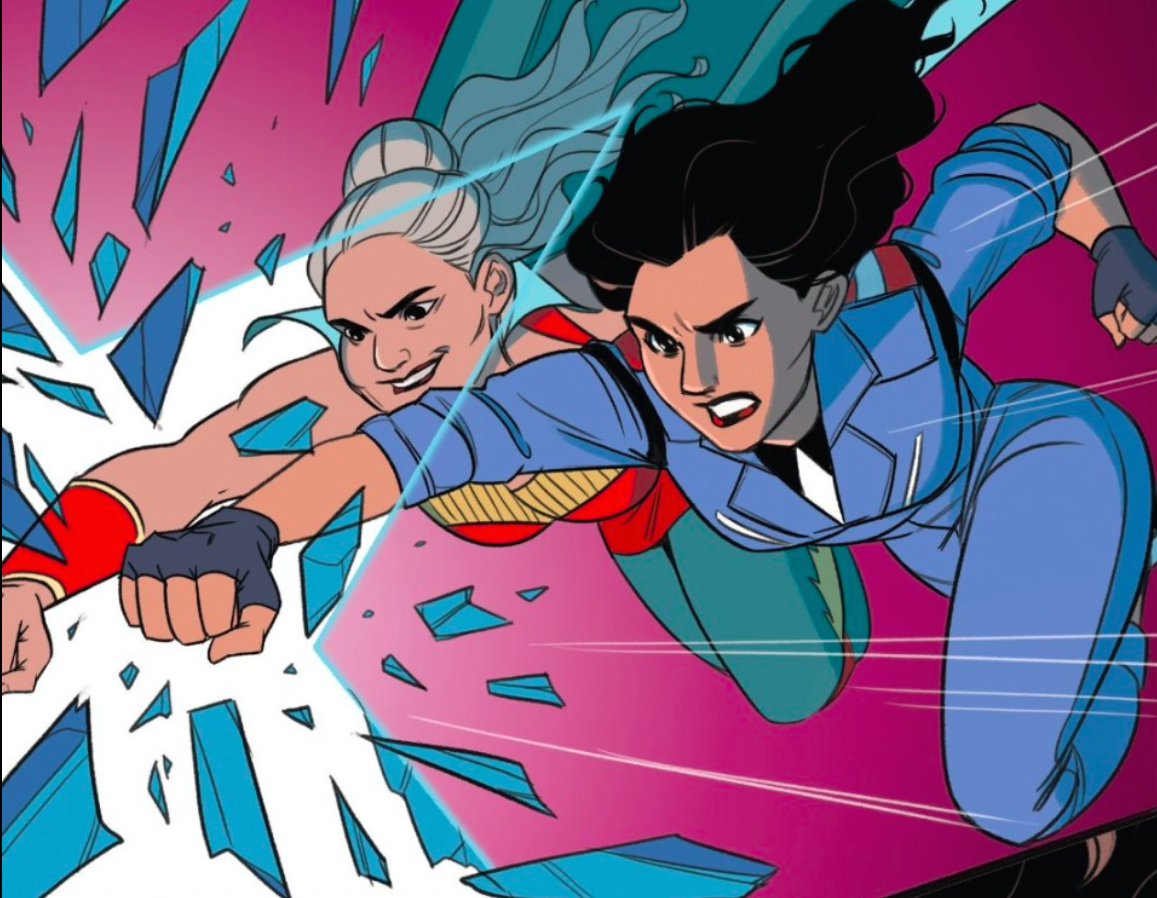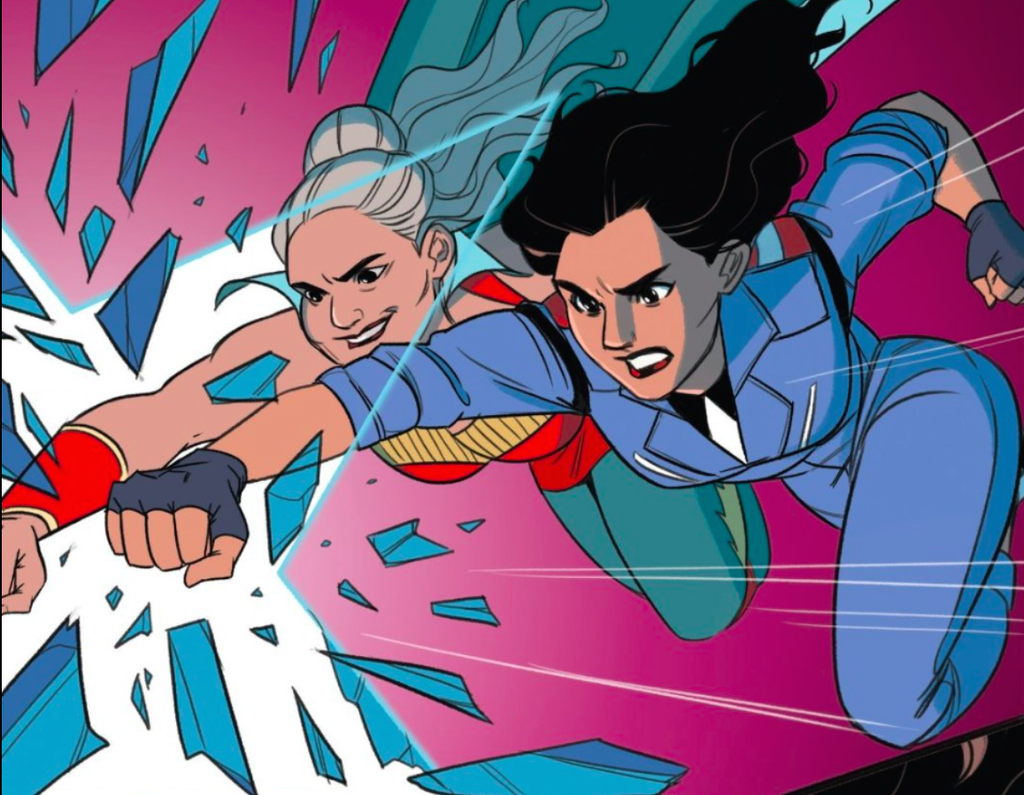 Madrimar is pretty unique in the mainstream comic world, as an older latinx/fuertona woman. How did she come to be? What was most important to you in building her character?
Listen, my grandmothers are my souls. They're no longer with us, but they impressed upon me tremendous love for family, tremendous respect for myself, integrity, to always be the best at whatever I'm doing, and not in a way that harms anyone else, in a way that uplifts the community. When I read through America's story, and I saw that she didn't have family, it kind of gutted me. Family is central to so many Latinx communities, whether its because we pool our resources and everyone thrives, and we all live together, or someone's cooking so everyone can go there, whatever it is. The fact that she didn't have family, I just felt like, we have to reconcile that. And what better way to bring her family then to give her a grandmother. And that's when I was like: I don't think I know of any badass marvel superhero luchador grandmas. Let's bring it. If she's gonna have a grandma, she's gonna have the most epic grandma ever. That was the feeling behind Madrimar, and that is like: mother and ocean. This constant presence that centers you and brings you home.
Gabby Rivera is a queer Latinx writer living in Brooklyn, NY. She is currently writing America, America Chavez's solo series, for Marvel.