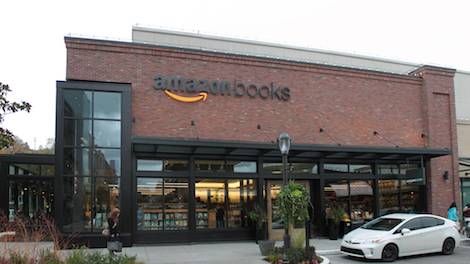 News
The Amazon Books Store Experience – What's the Point?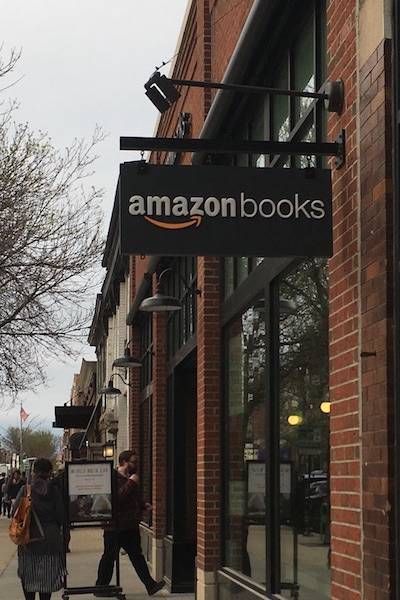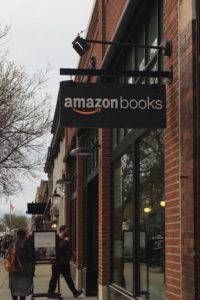 In 2016 the first Amazon Books, a physical bookstore, opened in Seattle. Since then, Amazon has slowly rolled out more locations across the country. In March, Chicago got its own Amazon Books. Just off the Southport train stop on the north edge of Lakeview, a popular area for young professionals and new families, the brick and mortar store sits under a small, modest sign. For a few blocks in either direction the street has the freshly renovated look of an outdoor mall, complete with hip shops and upscale chains. Steps away are a LUSH, a spacious J. Crew, and a clothing boutique that, apparently, sells local small-batch donuts.
On entering, multiple staff are ready to greet customers, Kindle Fires in hand. To one side there is a small cafe with a sleek, modern design. The majority of the Chicago Amazon Books is arranged like most chain bookstores, though a little over-crowded and smaller than you might expect. One area stands out, spacious, well lit, and filled Kindle products and Amazon-specific technology. This is also where several other electric items, like a nice lamp in the middle of one display, sit above signs with their name and price, but not actually available to purchase in-store.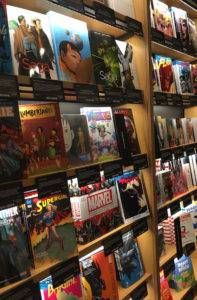 The big design 'innovation' that Amazon Books is boastingly proud: all the books are facing outward. All of them. There are no books turned to the side, spines tightly packed amid others of the same title, genre, or topic. This design is meant to be a more consumer friendly experience, allowing you to easily see every book as you browse. It really does make a difference, too, dictating several of the defining experiences of visiting the store. Some areas, like the graphic novel section, are absolutely gorgeous, more like art displays than bookshelves. Others, though, blur into towering walls of backlit covers arranged with no discernible order. This placement scheme also means the actual stock is pretty limited. Shoppers who want to browse for a hidden gem in their favorite genre or pick up a book from halfway through a series will be much better off at Amazon.com than Amazon Books.
It is also hard to know where to look for specific things, as the groupings are, at best, unclear and, at worst, downright confusing. You might find the how-to section but there will be an anime drawing manual next to a book about knitting next to a book about decorating. Browsing these particular shelves is a lot like browsing a messy stranger's home bookshelves. There is an inexplicable display of toys related to the Fast and Furious movies, four non-consecutive installments of a popular young adult series, and cookbooks absolutely everywhere.
Even with all these quirks (or failings, depending on who you ask), it is not an unusable store. A passing shopper, casually looking for a new read can easily find something interesting. Contrary to Amazon's rosy assertions of magical book serendipity, their store is not unlike an expanded airport bookstore. It is well prepared to provide a reader-in-need with a bestseller or common crowdpleaser. The very first display is comprised of books with rating no lower than 4.8 stars, essentially offering 'sure things' (even though at least a third of them are cookbooks).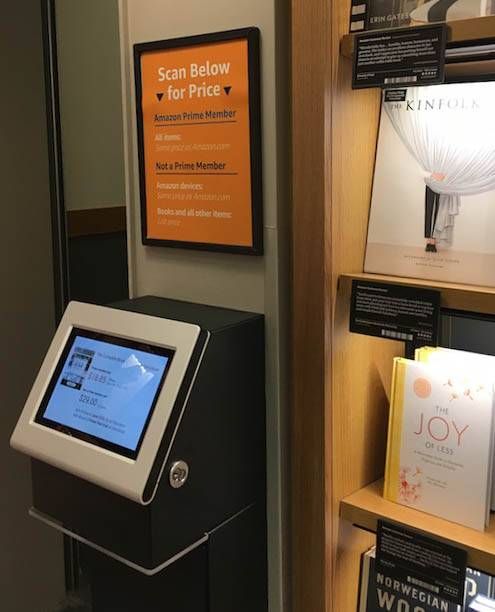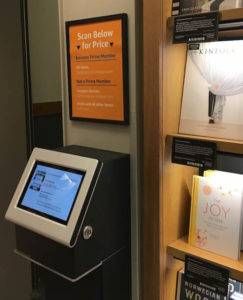 It's in the details, though, that things really start to fall apart. Placards below books display a single Amazon customer review, the equivalent of asking a stranger off the street to help you choose a book. Some sections are proudly labeled with the strangely impersonal declaration that they were chosen through "customer ratings, pre-orders, sales, and popularity on Goodreads – Plus books we love!" (The first four things in that sentence make it hard to believe the last thing.) The pricing and checkout models are determined to make purchasing as hard as possible. To learn the price of a book, customers must take it to a price scan kiosks, where they'll see the regular price and the much lower Amazon Prime price. Customers can't pay with cash at all, and if they want the Prime price they must pay with a card that is linked to their Prime account. The supposedly user-friendly, casual book exploration transforms quickly into a nightmare that has you wondering why you bothered.
The question about Amazon Books that comes up over and over is 'Who is it for?' Before I ever had the chance to visit one, I assumed the answer was that they were just for show. They made a certain amount of sense as an attempt to counter the view of Amazon as an amorphous, soulless, thing. These physical locations could be a way to invite people in and offer a personal, memorable experience that would infuse their entire perception of the company. I expected something vaguely resembling the huge, slightly ridiculous but utterly joyful American Girl stores, or at least like the two-story Starbucks nestled among Downtown Chicago's more high-end shopping, with it's topnotch staff, cocktails, and coffee 'experience' bar. After visiting, however, I am deeply confused about their goals. Instead of a dynamic, experience focused response to their critics, Amazon Books feels like it was generated, start to finish, by a computer algorithm. The only thing that is clear is that if Amazon hopes to create community connections or a new kind of customer loyalty, they've got a long way to go.