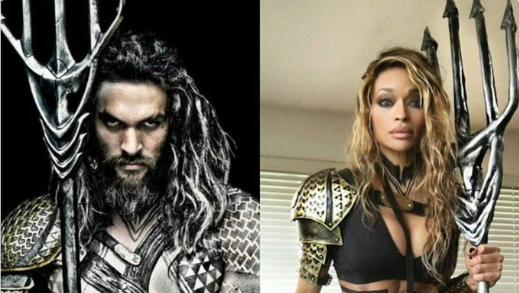 The #28DaysofBlackCosplay hashtag has become one of my favorite ways of celebrating Black History Month. I love being a blerd (black nerd) and I love seeing other blerds represent their creativity and passion through cosplay. I highly recommend you check out the hashtag yourself on Twitter because I can't possibly include all the awesomeness in this one post. Here are some of my favorites from the past few weeks:
This crossplay of Jason Momoa's Aquaman is so incredibly fierce:
This lady is FOINE! #28DaysOfBlackCosplay #AquaWoman #BlackGirlMagic #BlackGirlsRock @BlerdsOnline @brothascomics @BlackGirlNerds pic.twitter.com/YhxIDV1PwR

— Black Narcissus (@AtlBlerd) February 24, 2017
Okay so this doesn't have the #28DaysofBlackCosplay hashtag but I just gotta include black Hermione Granger:
Me as Hermoine ✨

Artwork by @marianne_khalil pic.twitter.com/IvbNeS61iZ

— Kiera Please (@Kieraplease) February 17, 2017
I admit, I've fallen out of love with Rat Queens but Dee always holds a special place in my heart:
#Repost @amalgamphilly
・・・#28daysofblackcosplay Day 8. Mad props to @blackbettiecosplays … https://t.co/CVLd82LANP pic.twitter.com/ZmF6HYwYYj

— NubiaOne (@NubiaOneSpeaks) February 8, 2017
This Missandei from Game of Thrones is A+:
Just saw the #28DaysOfBlackCosplay tag going around! Here is when I went to DragonCon as Missandei from GoT. 😅 pic.twitter.com/1SH57T7u6N

— Tonji says BLM & Love is Love (@tonjibyrd) February 7, 2017
This right here has convinced me that I need some Steven Universe in my life:
#28daysofblackcosplay my favorite ever. I felt powerful pic.twitter.com/nQMv0h7yHW

— Kiera Please (@Kieraplease) February 4, 2017
You cannot mention black cosplay and not make note of Black Panther and Storm:
Featured cosplayers: princessangelinacosplay & fusecosplay https://t.co/NA9Bi7nQn4 #28daysofblackcosplay #blackpanther #storm #marvel #xmen pic.twitter.com/olejiiyD4K

— We Are Wakanda (@WeAreWakanda) February 15, 2017
Or Miles Morales, for that matter:
#Repost @amalgamphilly
・・・#28daysofblackcosplay Day 9. @nextgenspider as #milesmorales #s… https://t.co/YdxpE6PU0Z pic.twitter.com/okitTT360B

— NubiaOne (@NubiaOneSpeaks) February 10, 2017
Everybody sleeps on Disney's version of Esmeralda and they shouldn't:
Day 4 #28daysofblackcosplay is #radiant. I'm going to go with my #Esmeralda #cosplay ♡ She's one of my favorite #disney girls #disneycosplay pic.twitter.com/DkKYmX5W6V

— Coco (@C0C0Cosplay) February 14, 2017
I am here for every version of Lady Loki forever and always:
Check out this #gorgeous #Loki we shot at @OakCityComicon for #28DaysofBlackCosplay and for #ValentinesDay#Cosplay #BlackCosplay pic.twitter.com/AD3SRHPYkQ

— The Variant @BreadCon2020 (@the_variant_) February 14, 2017
Love this shot of Green Lantern:
https://twitter.com/CatladyShazza/status/831310916151078913
Goddess:
#28DaysOfBlackCosplay Day 9 representing #TrinidadandTobago @panterona868 is an amazing Wonder Woman. pic.twitter.com/By4B1bFtoO

— MeltingMirror (@MeltingMirror) February 9, 2017
Catwoman forever. For. Ev. Er.
Did someone say Bold? I think Catwoman certainly fits the description😽 #28DaysOfBlackCosplay #cosplay pic.twitter.com/EHDU8e4uan

— Super Fit With Ree Cosplay (@superfitwithree) February 8, 2017
This old school Luke Cage is killing me:
Featured cosplayer: cagednerd https://t.co/Yu6yqVXOZS #28daysofblackcosplay #lukecage #powerman #cosplay #heroesforhire @LukeCage pic.twitter.com/woZ9S2pS3d

— We Are Wakanda (@WeAreWakanda) February 7, 2017
Honestly, I think this Doc McStuffins wins the whole month:
Okay, so this sweet baby dumplin is officially the cutest part of #28DaysOfBlackCosplay 😍I LOVE HER. @chrisdocnee look! #docmcstuffins pic.twitter.com/P844TKgCIQ

— ☆ Chaka @ Amethyst 🌴 ☆ (@princessology) February 16, 2017