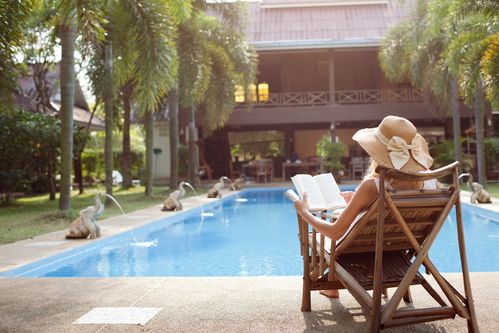 Fiction
Alternative Reads for a Long Hot Summer (When It's 95 Degrees in the Shade)
This content contains affiliate links. When you buy through these links, we may earn an affiliate commission.
Britain's in the grip of a heatwave at the moment. We don't do heat very well, because we don't get it that often and so nobody really quite knows how to handle it. I know that there's this thing called Summer but that only lasts a couple of weeks here at the best and then it's Autumn, and everything's kind of perfect. A British summer, and especially one that doesn't involve rain, involves an odd sense of unease and the need to re-pattern your entire behaviour. Pub lunches. Pub suppers. Pub breakfasts. And in between that, you have long discussions about the rain with people at the bus stop (though to be fair, we'll talk about the weather with anybody). The grass is getting browner. I think I've forgotten what a sweater is. Basically, it's the perfect time to talk about summer reads.
But when I say 'summer reads', I mean summer reads of a very particular sort. I'm not going to talk about beach reads and sunshine; I'm going to talk about those books where people do what they wouldn't normally do. I'm going to talk about those books where the weather and the world takes people somewhere they might never have expected to be…
"I write this sitting in the kitchen sink." Set between April and October, 1930, this is a story of love and life over a few months that change everything. It is rather, utterly, perfect, and if you needed further persuasion, here's a recipe for the Midsummer Cake that features.
It's London, the summer of 1976, and Robert Riordan – husband, father – goes to buy a newspaper and doesn't come back. This is a tightly wound story all about family, secrets and lies, set against the claustrophobic backdrop of a heatwave.
Epic, raw, and written with a fiercely lyrical precision, Salvage The Bones tells of the impact of Hurricane Katrina on a family just trying to survive. Ward's writing is spectacular, as is her embrace of mythology, humidity and heat.
"When I go, I want to punch a hole in the sky." Sometimes summer can be a memory of the times before it all changed. Before the world changed. But Emily, the scarred and troubled protagonist of Heart-Shaped Bruise, is bigger than the world, and she's desperate to just matter in it…
"It was a queer, sultry summer, the summer they electrocuted the Rosenbergs, and I didn't know what I was doing in New York." It's hard to know how to describe The Bell Jar, but when you have a beginning as good as that, then that's a sign for me to shut up and just direct you straight to the book.
Want some more summer reading tips? Here's a quiz to pick out your next summer read, or a classics-themed reading list…