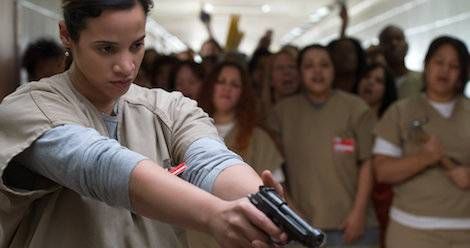 Lists
All the Books Seen in 'Orange Is the New Black' Season 5
This content contains affiliate links. When you buy through these links, we may earn an affiliate commission.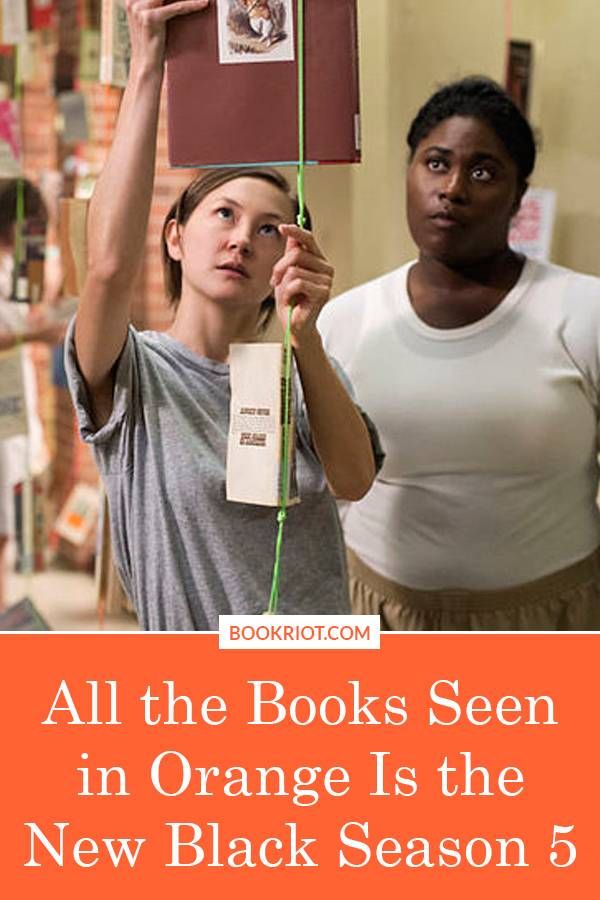 I just finished binge-watching the fifth season of Orange Is the New Black. I won't spoil anything for you but I will say that I did not think it could get any crazier than season four–and I was dead wrong. Season five was not only crazier but also more booktastic than any season prior.
Season five takes place over the course of a three-day riot at Litchfield. One of the more productive ways the women exercise their newfound freedom is by building a library-cum-art-installation as a memorial to Poussey Washington, who was tragically crushed to death by a guard at the end of season four. If you haven't seen this season yet, look for the memorial library's unveiling in episode seven. Here are the books I spotted in shots of the new Litchfield library:
To Kill a Mockingbird by Harper Lee: The beloved story of a white lawyer who defends a black man accused of rape in 1930s Alabama.
A Man's Right to Wealth by James B. Cooke: A guide on "how to master every situation and prosper on a grand scale." So, is there a Women's Right to Wealth? Because I think that would be more appropriate for a women's prison.
Karen by Marie Killilea: The true story of a girl with cerebral palsy, written by her mother.
The Essential Haiku by Robert Hass: Fresh translations by an American poet of the poems of Matsuo Basho, Yosa Buson, and Kobayashi Issa–three of Japan's greatest Haiku masters.
The Silence of the Lambs by Thomas Harris: A classic horror story about an FBI trainee who interviews a former psychiatrist/cannibalistic serial killer in the hopes that he will help her catch another serial killer.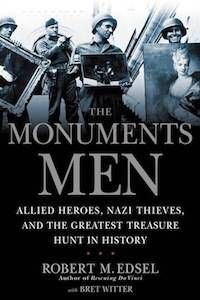 The Monuments Men by Robert M. Edsel with Bret Witter: The true story of "a special force of American and British museum directors, curators, art historians, and others" who saved some of the world's greatest masterpieces from the Nazis during Word War II.
The Handsome Road by Gwen Bristow: The story of a plantation mistress and a poor seamstress in Civil War-era Louisiana. This is the second novel in Bristow's Plantation Trilogy.
The Name Is Archer by Ross MacDonald: A collection of hardboiled detective stories about an ex-cop private investigator working in southern California.
Find a Victim by Ross MacDonald: In this novel, Lew Archer picks up a bloody hitchhiker and then finds himself "caught up in a mystery where everyone is a suspect and everyone's victim."
Cathedral by Raymond Carver: A short story collection that was a finalist for a Pulitzer. The title story is about a man whose wife is old friends with a blind man.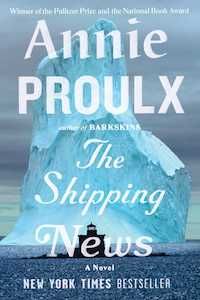 The Shipping News by Annie Proulx: A Pulitzer Prize-winning dark comedy that explores the life of a contemporary family living on the coast of Newfoundland.
Breaking Down the Wall of Silence by Alice Miller: A nonfiction book in which the author uses "psychohistorical analyses of Hitler, Stalin, and Ceausescu to reveal the links between the horrors of their childhoods and the horrors they inflicted on the world."
The Other Side of Midnight by Sidney Sheldon: The story of "an innocent American girl" who becomes a "pawn in a game of vengeance and betrayal" as she is "caught in a web of four lives intertwined by passion as her handsome husband pursues an incredibly beautiful film star."
A Handbook to Literature by William Harmon: This handbook "provides an alphabetical listing of more than two thousand important terms and facts in literature, linguistics, rhetoric, criticism, printing, bookselling, and information technology."
The Case of the Counterfeit Eye by Erle Stanley Gardner: A wealthy businessman kills himself, or so it seems at first glance, but to Perry Mason the evidence seems like overkill and he must "piece together the missing parts of this fatal" puzzle.
The Graveyard Book by Neil Gaiman: The story of a boy who lives in a graveyard and is "raised from infancy by ghosts, werewolves, and other cemetery denizens."
Self Hypnotism by Leslie M. LeCron: Pretty much what the title says. They really need to bust this one out and have a scene where some of the Litchfield ladies try to hypnotize each other.
The Oxford Book of English Ghost Stories, Chosen by Michael Cox & R.A. Gilbert: An anthology of forty-two of the best English ghost stories, written between 1829 and 1968.
The Flawless Skin of Ugly People by Doug Crandell: The story of Hobbie, who "has been banished to homely man exile in the North Georgia Mountains" because of his chronic acne, and his obese common-law wife, Kari, who "has gone AWOL at a weight-loss clinic in North Carolina."
The Nun's Story by Kathryn Hulme: Based on the life of a real nun, this book tells the story of Gabrielle Van der Mal, the daughter of a famous Belgian surgeon, who becomes a nun in the early twentieth century but struggles to become obedient in the way her strict convent requires.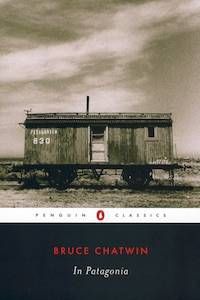 In Patagonia by Bruce Chatwin: The classic 1977 travel memoir about the author's experiences in Patagonia.
The Conscious of a Conservative by Barry Goldwater: The book that "reignited the American conservative movement" and helped "lay the foundation for the Reagan Revolution in 1980."
Day of the Guns by Mickey Spillane: One in a series of novels featuring Tiger Mann, a counterspy "who smashes into a Communist conspiracy involving UN delegates, CIA agents, ex-Nazi spies," and "a bold-bosomed, no-good beauty who's so kissable and so killable…" You get the picture.
A Scientific Theory of Culture and Other Essays by Bronislaw Malinowski: In this book, Malinowski "analyzes the functional principle that culture is an examination of the fundamentals of anthropology for the purpose of constructing a general system to explain the facts of culture by this principle."
It's Hard to Be Hip Over Thirty and Other Tragedies of Married Life by Judith Viorst: A collection of "wickedly funny poems by Judith Viorst, who was looking forward to orgiastic Village pot parties and fleeting moments of passion, but wound up, instead, in the suburbs with a washer-drier, a car pool, and Gerber's strained bananas in her hair." (If you want a beautiful, newly-printed edition of this book, you can buy one from Persephone's Books.)
Dear Life by Alice Munro: A Nobel Prize-winning short story collection that pinpoints "the moment a person is forever altered by a chance encounter, an action not taken, or a simple twist of fate."
Emma by Jane Austen: The classic tale of a meddlesome young English socialite whose matchmaking hobby grows out of hand.
There are also a number of books to be seen in scenes outside the library.
Just Give Me a Cool Drink of Water 'Fore I Diiie by Maya Angelou: At a seance/impromptu memorial service for Poussey, Cindy reads from "Poor Girl," one of the poems in this collection.
The Gifts of Imperfection by Brené Brown: A book about cultivating a feeling of self-worth in a world that seems to expect perfection.
Cooking for One by RbeeqRbeeq (or possibly RheeqRheeq) Chainey: This is Red's cookbook in the show but for the life of me I cannot find a trace of it anywhere on the Internet. I'm not even sure if it's a real cookbook or one invented just for the show. If you've heard of it, let me know in the comments below!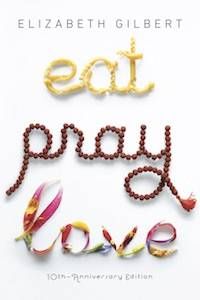 Eat, Pray, Love by Elizabeth Gilbert: The much-loved and much-hated memoir about the authors spiritual journey through Italy, India, and Indonesia.
Alice's Adventures in Wonderland by Louis Carroll: POUSSEY'S FAVORITE BOOK. Excuse me while I go cry in the corner.
Call It Sleep by Henry Roth: The story of a "'dangerously imaginative's child coming of age in the slums of New York."
The Official Scrabble Players Dictionary: Some of the ladies can be seen referencing this while playing a word game in Frieda's bunker during the riot.
The Black Stallion by Walter Farley: A classic children's story about a boy and a wild horse who first meet on an ill-fated ship and go on to have many adventures together.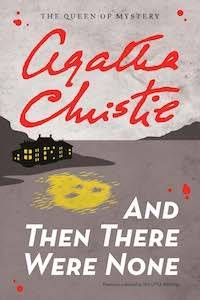 And Then There Were None by Agatha Christie: Alex can be spotted reading the ultimate locked-room mystery in which "ten strangers are lured to an isolated island mansion off the Devon coast" and each is accused of having a guilty secret.
A few books were mentioned but not seen.
The Life-Changing Magic of Tidying Up by Marie Kondō: Piper mentions this book when discussing Alex's preference for clutter.
Harry Potter by J.K. Rowling: During a discussion among a few Litchfield residents in Caputo's office during the riot, it is revealed that Piper is a Slytherin according to what looks like a BuzzFeed quiz. I'm not saying I trust BuzzFeed quizzes but I think it's spot-on in this cast.
A Midsummer Night's Dream by William Shakespeare: I can't give this reference context without spoiling part of the show's plot, so you'll just have to watch and see for yourself!
Save
Save