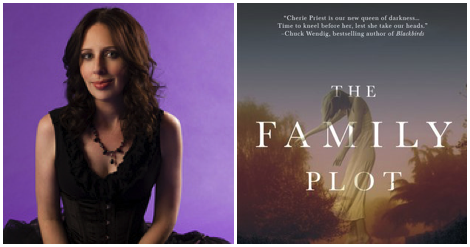 Fiction
"All I Had to Do Was Add the Ghosts": An Interview with Cherie Priest
This content contains affiliate links. When you buy through these links, we may earn an affiliate commission.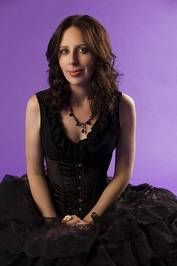 Few things are more satisfying to me than discovering a new favorite author through work they've done in other genres. I have my love of YA fiction to thank for leading me to Cherie Priest's books, through the stunning novel I Am Princess X. Since then, her steampunk series The Clockwork Century and short stories have made a home on my TBR pile, and I couldn't be more excited to continue reading. Her newest novel, The Family Plot (out from Tor Books in September), deals in mysteries, just with an added twist of horror to keep you reading well into the night.
I had the wonderful opportunity to chat with Cherie about the history that feeds The Family Plot, and the particular stories and relationships that interest her most in her writing.
How did you start crafting the narrative of The Family Plot? Did the house or the characters come first?
I'm a big DIY/HGTV nerd, and I wondered if the folks who do all this great work in all these old buildings have any good ghost stories to share. After all, it's well known lore in ghost-hunting circles that remodeling can stir up spirits – what would a straight-up demolition do? So The Family Plot began with the broad idea of a crew of a mom-and-pop salvage company and a creepy old house with plenty of ghosts to pester them.
The details of the house are gorgeous rendered on the page, and are more than enough to see it in your mind's eye as you read. Were there specific things you wanted to include, and how have the places you've lived influenced the house?
First of all, thank you – and the "Withrow house" is (very, very) loosely based on a real house in my own neighborhood. (A historic district in Chattanooga, TN.) All the bits about the family business and the secret cemetery were basically true, though of course I changed the family name and a whole lot of details. Some of those folks still live in the area, and I didn't want to ruffle any feathers.
Family dynamics and dysfunctions are the storm clouds that surround Dahlia as she and her team try to salvage the old Withrow house. We also get hints of Dahlia's own raw personal wounds throughout the novel, and they seem to be reflections of the house's manifestations. How did you develop these two threads, and was one easier to write than the other?
Without resorting to spoilers, there's a lot of mirroring going on with the "family" theme. Music City Salvage is a family business on the brink and likewise, the Withrow house is a family home (somewhat more concretely) on the brink. Dahlia's relation to her crew is a tricky balance between family duties and grudges, and Ms. Withrow's relation to the house is a strained sense of both family nostalgia and horror; and so forth, and so on.
In short, I suppose, I tried to start with the tension between adults who were children together—those loyalties and those resentments that pile up in time. A historic family home like the Withrow house is (in essence) the physical embodiment of all those things, collected over generations. All I had to do was add the ghosts.
Fans of gothic romances will likely find much to recognize and love in The Family Plot. What were your biggest influences while writing? Do you have a favourite ghost story?
DIY network and Ted Raimi.
And as for a favorite ghost story, I could never pick just one!
In an interview with Apex Magazine, you mentioned that you "don't write very much short fiction at all" and that longform writing is much more your wheelhouse. Is there a difference in how you begin writing a short story versus a novel? If not, where do these forms begin to diverge for you in the writing process, besides length?
I'm honestly not sure how to answer this. I think perhaps…my short stories tend to be more like vignettes—snapshots, or fragments of something larger that's been left unwritten. The longform fiction is where I get to dig in for the long haul and show the whole thing.
I loved I Am Princess X, and the intense, devoted friendship at the novel's core. Are there particular relationships you enjoy writing more than others in your novels? Have there been relationships that were challenging to write?
I really enjoy writing boys/girls (or men/women) who are just friends. I've always had plenty of dude friends, and I know plenty of guys with women friends. Harry and Sally be damned, platonic pals of the opposite sex are common in real life—but for some reason, I find that they're rarely portrayed in pop culture.
On the flip-side of that, I don't often write romantic relationships. Once in a while, of course. But I always feel like I'm sounding cheesy.
What kind of stories might we see from you in the future? Are there any projects you're especially excited to work on?
Next year will be a busy publication year for me: in April(?) I have a 1920s spiritualist camp mystery called Brimstone coming out from Ace; another YA project (and haunted house story!) from Scholastic called The Agony House arriving in the summer(?); and sometime in the fall(?) there will be another book from Tor called The Toll, about a "rural legend" in the Okefenokee swamp. I love each of these projects dearly, and for different reasons!
As for what comes after that…I haven't quite decided yet. I have a couple of projects bubbling on the back burner. I'm sure one of them will hijack my imagination before long. I never go very long between projects; I'm almost always working on something.