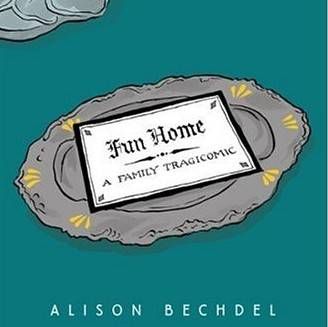 I'm late to the party of Alison Bechdel, of the long running strip Dykes To Watch Out For and to the graphic novel as a genre. It's hard for me to read (read? look? read?) graphic novels. I'm easily distractable (hey, there's cake!). However I read (looked, read) Bechdel's Fun Home: A Family Tragicomic in an afternoon, with a lump in my throat, led on by Bechdel, who works the razor's edge.
I'm always looking for dad-books, because, you know, Father's Day is such a hard holiday to buy for. What do you buy for the man who has everything? Fun Home, that's what, if you want to have a long, drawn-out, and difficult conversation with your papa.
I'm not gay, my father's not closeted, but there we were on the page. Bechdel has captured the universal tug-of-war between fathers and daughters, between closeness, sameness, and otherness, and distance.
Bechdel and her father bond over books. In addition to running a funeral home decorated in Victoriana and flocked wallpaper (hence the tongue in cheek title Fun Home,) Bechdel's father is a high school English teacher. There is quoting of Colette, and the frames are littered with New Yorker magazines.
When Alison comes out in college (via letter, this is a highly literate family) her father alludes to his affairs with men, and the pull of of this, his unlived life. Alison makes a connection between his obsessive interior decorating, gardening, antiquing, and sunbathing, and sadness.
He remains closeted, and dies months afterwards, felled by a Sunbeam bread truck in what remains unclear, a suicide or an accident. Bechdel's sketches of the Sunbeam truck, with it's logo of a happy blond toddler girl are cruel in their cuteness.
As she deals with her grief, Bechdel lurches in one frame from the absurdity of it (a friggin' Sunbeam truck!) to laughter (my father's dead!) to terror (my father's dead.) It is wrenching. Raw. And real. (To employ the words most frequently used to describe Bechdel's work.)
I choked up on the last drawing: a young Alison leaping into her father's waiting arms. The caption: "He was there to catch me when I lept." Papa's gone. The king is dead, long live the king.