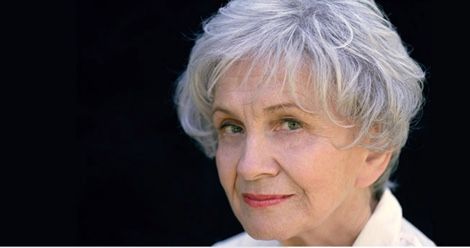 Fiction
15 Alice Munro Quotes for All Situations
This content contains affiliate links. When you buy through these links, we may earn an affiliate commission.
Today, beloved Canadian writer and Nobel Prize laureate Alice Munro turns 87. Although she is retired from writing (sadly for us), Munro is still one of Canada's best-known and loved literary figures. Munro is known for her short stories, which often jump decades in time and are long enough that they stretch the definition of a "short" story. I love everything about Munro's writing: her narrative leaps through time and across countries; her sharp, ambitious, watchful female narrators; her ability to write essentially the same story over and over again and make it new every time. (She's said that herself, I'm not being rude.) Munro is from the same part of the world—rural southwestern Ontario—where my mother grew up and where I've spent a lot of time, so I also love how real and immediate her writing feels to me.
But most of all, I just love how good she is at writing. Yes, that sounds super obvious, but few writers can craft sentences like she can. She is truly a master. She will devastate you in the most quietly precise way.
Here are some of my favourite Alice Munro quotes in honour of her birthday. Happy 87th, Alice!
(Note that I've tried to list specific stories for each quote below, but in some cases I've included only the title of the collection.)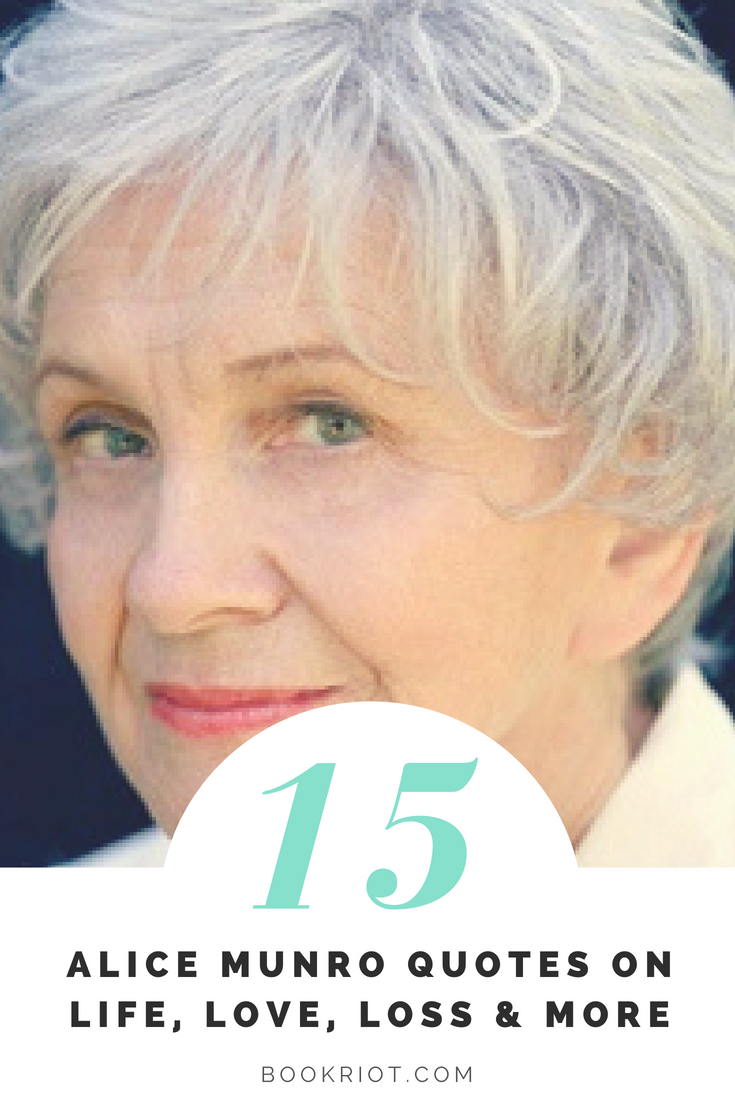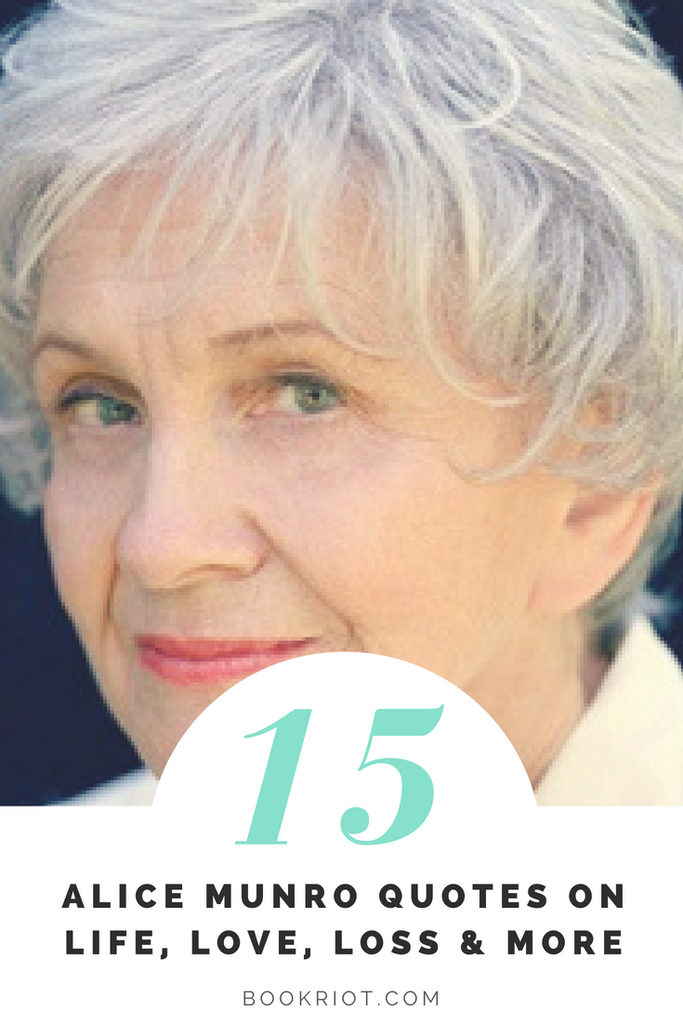 Alice Munro Quotes ON LIFE
"In your life there are a few places, or maybe only the one place, where something happened, and then there are all the other places." —from "Too Much Happiness" in Too Much Happiness
"People's lives, in Jubilee as elsewhere, were dull, simple, amazing, and unfathomable—deep caves paved with kitchen linoleum." —from Lives of Girls and Women
"Nobody knew the sober, victorious feeling she had sometimes, when she knew how much she was on her own." —from "Rich as Stink" in The Love of a Good Woman
"She was learning, quite late, what many people around her appeared to have known since childhood, that life can be perfectly satisfying without major achievements." —from Too Much Happiness
Alice Munro Quotes On Family
"You cannot let your parents anywhere near your real humiliations." —from Open Secrets
"There was a danger whenever I was on home ground. It was the danger of seeing my life through eyes other than my own." —from "Family Furnishings" in Hateship, Friendship, Courtship, Loveship, Marriage
This Alice Munro doll would be a good gift for your Munro-loving friends, no? Available from Etsy seller UneekDollDesigns: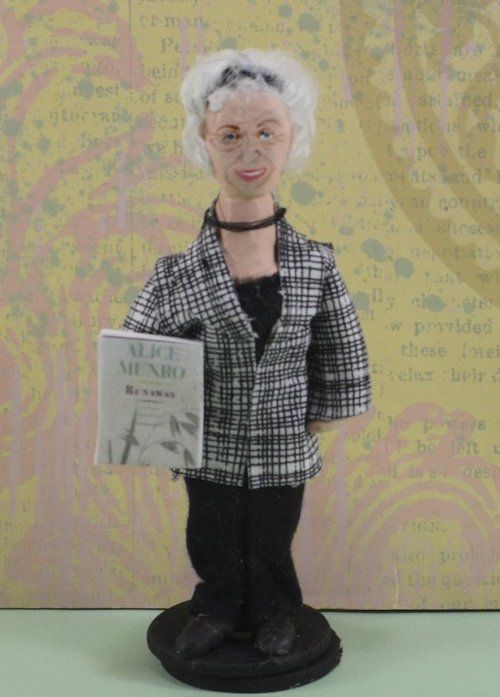 Alice Munro Quotes On Love and Loss
"Because if she let go of her grief even for a minute it would only hit her harder when she bumped into it again." —from "The Bear Came Over the Mountain" in Hateship, Friendship, Courtship, Loveship, Marriage
"This is what happens. You put it away for a little while, and now and again you look in the closet for something else and you remember, and you think, soon. Then it becomes something that is just there, in the closet, and other things get crowded in front of it and on top of it and finally you don't think about it at all.
"The thing that was your bright treasure. You don't think about it. A loss you could not contemplate at one time, and now it becomes something you can barely remember." —from Runaway
"It would be the same old thing, if we ever met again. Or if we didn't. Love that was not usable, that knew its place. (Some would say not real, because it would never risk getting its neck wrung, or turning into a bad joke, or sadly wearing out.) Not risking a thing yet staying alive as a sweet trickle, an underground resource." —from "Nettles" in Hateship, Friendship, Courtship, Loveship, Marriage
"She hopes as people who know better hope for undeserved blessings, spontaneous remissions, things of that sort." —from "Silence" in Runaway
"His face contained for me all possibilities of fierceness and sweetness, pride and submissiveness, violence, self-containment. I never saw more in it than I had when I saw it first, because I saw everything then. The whole thing in him that I was going to love, and never catch or explain." —from Lives of Girls and Women
Alice Munro Quotes On Writing
"Who can ever say the perfect thing to the poet about his poetry?" —from Dear Life
This t-shirt, available from Etsy seller HelloImMaddie, features Alice Munro in company with writers like Zadie Smith and Maya Angelou:
Want more Alice Munro? My favourite of her collections is Hateship, Friendship, Courtship, Loveship, Marriage, with The Beggar Maid a close second. As for individual stories, I'm partial to "Family Furnishings," "The Bear Came Over the Mountain" (adapted into the movie Away from Her), "Fits," "A Wilderness Station," "The Albanian Virgin," "Open Secrets," and "Royal Beatings" (which is a story many Canadian teens read in high school, but don't let that bias you against it). Check out the Book Riot guide to getting into her writing for more suggestions.
[Ed.'s Note: Alice Munro's age was corrected from 86 to 87.]