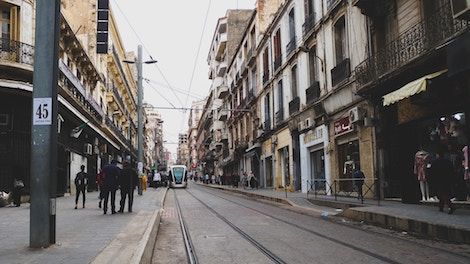 This content contains affiliate links. When you buy through these links, we may earn an affiliate commission.
My favorite Algerian book critic, Dr. Nadia Ghanem, has put together an overview of who's who—and what's what—when it comes to Algerian literature in English.
In total, she found around 100 books. The first French translation of an Algerian literary work was published in 1956. After that, the first Arabic translation—of Taher Wattar's The Earthquake—came in 2001. As of yet, no full-length Tamazight translation has appeared. In general, there is little Tamazight work in translation. "The work of the Kabyle poet Ahcene Mariche is an exception," Ghanem says, "thanks to friends who regularly translate his collections into English."
Ghanem's 99 books represent novels, memoirs, and poetry collections. Among these, a third have appeared since 2010.
A Few More Observations
Arabic literature in Algeria is vibrant, but severely underrepresented in English translation. While both genders are under-represented in Arabic, things get ridiculous when it comes to women's writing. Only one woman's full-length works have been translated from Arabic to English: those of Ahlam Mostaghanemi. We did find another woman, Zhour Ounissi, who has a translated essay in a collection.
Assuming you won't read all 99, Dr. Ghanem and I put together this list: a six-book start on Algerian literary prose. For a start at poetry, check out Words Without Borders' January supplement, ed. Marilyn Hacker.
1. The Earthquake by Tahar Wattar, tr. William Granara
Dr. Ghanem says: anyone interested in 1960s and 1990s Algeria should read The Earthquake by Tahar Wattar and The Star of Algiers by Aziz Chouaki.
2. The Star of Algiers by Aziz Chouaki, tr. Ros Schwartz and Lulu Norman
The Star of Algiers is set in Algeria in 1990–91, just on cusp of the Algerian civil war.
3. Morituri by Yasmina Khadra, tr. David Herman
Yasmina Khadra is by far the most translated into English, and the works are…uneven. Indeed, Ghanem calls choosing among his works "a game of Russian roulette." But, she adds, his Inspector Llob series, starting with Morituri, is "exceptionally well constructed and thoroughly entertaining."
4. The Obstinate Snail by Rachid Boudjedra, tr. Leon Stephens
This is one of my favorites, brilliant absurdist humor.
5. Tomboy, Nina Bouraoui, tr.
According to Dr. Ghanem, Algeria's only out lesbian writer.
Last, stories from the internationally acclaimed, unmissable Djebar. Ghanem told me to choose "anything of Djebar's," so these seven short stories are it.