I love vacation, but every time I travel I feel compelled to take in the local culture and spend most of my time adventuring and exploring. This is supposedly the purpose of a vacation, but sometimes I dream of a vacation in which the extent of my exercise is moving from couch to bed to reading chair, a vacation in which I only traveled as far as is required to get the best coffee, and a vacation in which I can make a serious dent in my to-be-read pile.
I've scoured all 50 of our states and found an Airbnb worthy of the most majestic of reading retreats. Will I ever try them out for myself? Who knows—but I hope one of you will.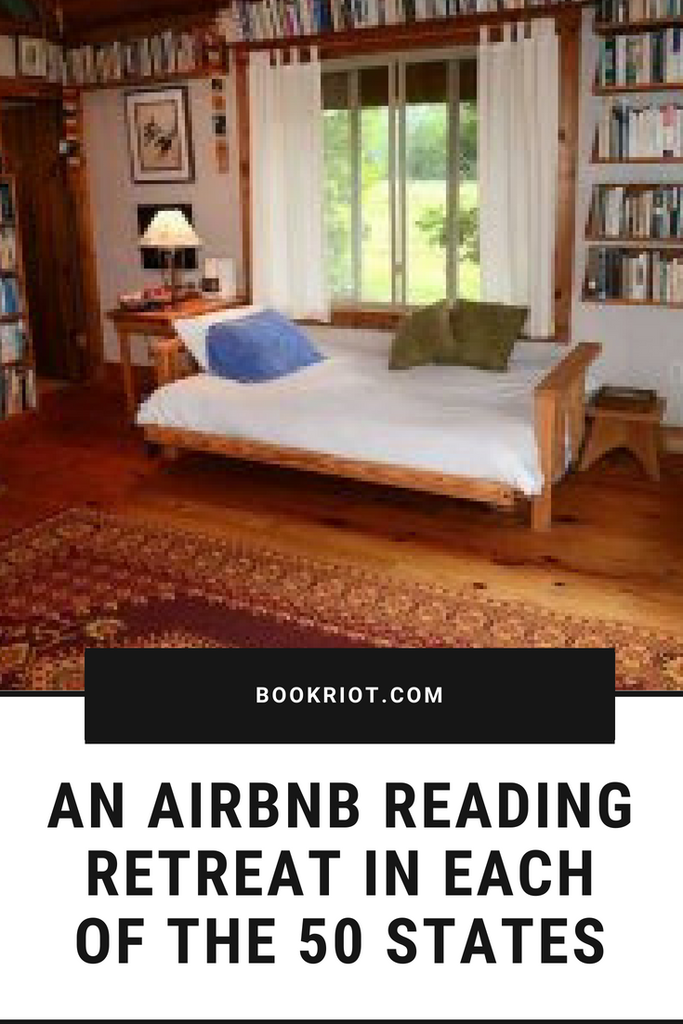 Reading Retreats | bookish airbnbs | us travel" srcset="https://s2982.pcdn.co/wp-content/uploads/2018/07/airbnb-reading-retreats-in-each-state-683x1024.png 683w, https://s2982.pcdn.co/wp-content/uploads/2018/07/airbnb-reading-retreats-in-each-state-200x300.png 200w, https://s2982.pcdn.co/wp-content/uploads/2018/07/airbnb-reading-retreats-in-each-state-100x150.png 100w, https://s2982.pcdn.co/wp-content/uploads/2018/07/airbnb-reading-retreats-in-each-state-33x50.png 33w, https://s2982.pcdn.co/wp-content/uploads/2018/07/airbnb-reading-retreats-in-each-state.png 735w" sizes="(max-width: 594px) 100vw, 594px">
Alabama Airbnb reading retreat
For those whose perfect reading retreat would more likely be called "simple" rather than "sumptuous" the Serene Studio Library Retreat is perfect. Located near the artsy, eclectic city of Mentone, Alabama, the cabin has a simple futon with cozy linens, walls and walls of books, a desk, and a few other furnishings. It's even near the Southern Literary Trail.
Alaska Airbnb reading retreat
If you've ever wondered what it would be like to read with a moose, then Alaska Annie's Vacation Rental in Homer Alaska may be the spot you've been craving. There isn't a book to be seen but you will see incredible mountain views, a hot tub that seats eight people (no word on how many moose it can fit), a fire pit, and a huge yard. The owners have their own private space on the property, so if you've got a plot point you just need to hash out (and the moose is no help) then you may have someone to bother. And of course, when you're ready to prepare, we have you covered with Literary Tourism: Alaska and an article on the tie between moving to Alaska and reading more.
Arizona Airbnb reading retreat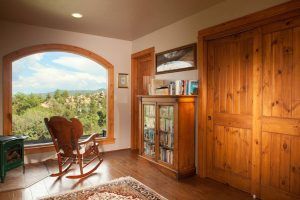 An incredible, full-sized view of the sunset, 19th century bookcase, and antique rockers in front of a woodfire stove are just a few things that scream LET'S GET READING about this guest cottage in Prescot, Arizona. If you're up for a drive, consider our 2014 Literary Tourism: Phoenix, Arizona or the updated 2017 Literary Tourism: Phoenix Metro Area, AZ.
Arkansas Airbnb reading retreat
You may have to bring your own books to this English Cottage in the Ozarks, but you'll be set with everything else you need: Gorgeous views, beautiful flowers, geese, fire pit, pond(s!), a sink full of clay pots (for some reason?), cozy beds, vintage kitchens—and on and on! If you can't make it for a UK reading retreat, this may be the next best thing.
California Airbnb reading retreat
When the owners describe this spot as having a "large library and office," they are not telling jokes. There's also tons of room to sit outside and enjoy the San Diego weather, or you can grab a bag of books and take them a few blocks down to read at the beach. Visiting in the winter? You can do something that's nearly alien to Southern California: Read in front of a toasty indoor fireplace. When you're done, be sure to consider Alison Peter's advice for a Book Lover's Guide to Road Tripping up California's Coast.
Colorado Airbnb reading retreat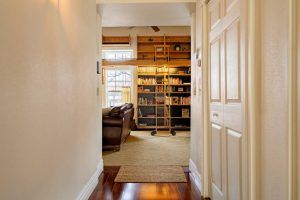 I'm on my way to any Airbnb that includes a sentence that begins with, "Take a library ladder to the East bedroom loft…" Um, twist my arm? Not only does the Library Loft in Downtown Old Colorado City have one library ladder, it has TWO library ladders! The well-equipped balcony has incredible mountain views, there's an actual, in-use marionette theater next door, and the retreat is located across the street from Magic Town, an incredible tiny-sculpture gallery.
Connecticut Airbnb reading retreat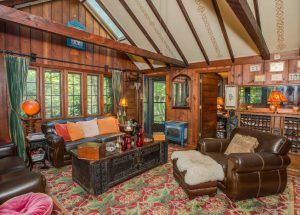 If overstuffed leather chairs, dark woods, and cozy corners are your must-haves for a reading retreat then Stepping Stones the Candlewood Lake Cottage in New Milford, Connecticut should top your list. This leaves you less than an hour from parts of the Baby-Sitters Club Pilgrimage Tour and less than an hour from Julia Pistell's Literary Tourism for Hartford, Connecticut. When you get back from your exploring, grab your favorite book to enjoy one of the three bedrooms, or hop in the hot tub for true relaxation.
Delaware Airbnb reading retreat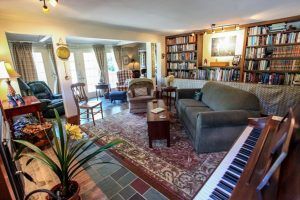 For book lovers who are equally passionate about farms, animals, and farmer's markets, there may be no better choice than the Black Hog Farmstead B&B. The reader gets four rooms to themselves in this working farm, and said rooms are surrounded by gardens, both those for commerce and those for fun. When it's time for a reading break (I don't know what that is either but someone mentioned it to me idk) you're within easy access to beaches, a state park, restaurants, craft breweries, and a lot more.
Florida Airbnb reading retreat
Eclectic art and furniture, murals, a refreshing swimming pool, and a private bedroom that doubles as the owner's personal library all await you in the Library Room, Miami, Florida. While you're there, be sure to check out Erika Harlitz-Kern's post on the books and beaches in South Florida.
Georgia Airbnb reading retreat
Located in Macon within walking distance of the Tubman Museum, the Luxury Suite at Old Macon Library has it all. The bright, airy interior includes a brick-exposed dining room perfect for two, classic, majestic furniture, and a private jacuzzi tub. The suite itself is the third floor of Macon's first public library and offers views of idyllic Mulberry Street.
Hawaii Airbnb reading retreat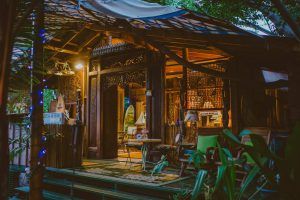 Bring your own books to this piece of paradise. While there are a few to be found in the bedroom, the highlight of this unique space are the numerous spots to put your feet up and read, including three outdoor areas (a porch, gazebo, and backyard table), the sitting room with cozy chairs, the dining room with its old-world ambiance and surfboards overhead, and the romantic four-poster bed. When you need to take a break from the world, just set off for a short hike with your snorkeling gear and you'll be splashing with the fishes in no time.
Idaho Airbnb reading retreat
Honeymoon, vacation, escape! it says, and I say, "Yes, let us escape with our books and hang out in this lush garden!" And while we're at it, might as well check out some tips from Kay Taylor Rea's Literary Tourism: Idaho.
Illinois Airbnb reading retreat
This Chicago pied-a-terre only has a few books for your enjoyment but it's got a ton of other amenities that make it work recommending. It is within walking distance of two farmer's markets, the beach, Loyola University (and library!), and the fantastic Heartland Café. You've got a few couches to hang on, a cozy looking bed, and a beautiful patio that includes twinkly lights for reading by. Of course, Rioters have you set with plenty of bookish spots to visit in and around Chicago: Off-the-Map Bookish Tour of Chicago, Murals of Adorable Oak Park, IL, and 7 Cozy Chicago Bookstores.
Indiana Airbnb reading retreat
The curated library in this Modern Country Escape! includes a few dozen books with plenty of shelf space for you to unpack your own TBR when you check in. Sit at home and read in front of the fire, head out on one of the many nature trails, or stay in bed with a cuppa the whole time—I'm not here to judge you.
Iowa Airbnb reading retreat
As a current resident of Iowa City, I was positive I'd be sending you to an Airbnb in my fine town, one of only a few UNESCO Cities of Literature in the country. But then it turns out Cherokee, Iowa really loves you and offers a Library Loft Apartment that is located on top of an indie bookstore…that sells wine. While you're here though, check out some of the amazing literary spots in Iowa.
Kansas Airbnb reading retreat
Where can I find you in this Treehouse Wilderness Retreat in Leavenworth, Kansas? Hanging out by the koi pond? Chilling on the dock? Taking a hiking trail to find your favorite reading spot? Or snuggled up in the king size bed you'll have all to yourself? No matter where you do your reading at this retreat, you'll be less than an hour from the super-literary Lawrence, Kansas.
Kentucky Airbnb reading retreat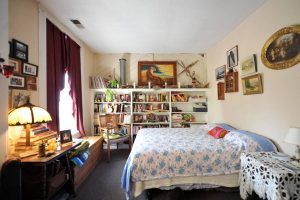 The Cozy, Unique Library + Bedroom in Louisville, Kentucky, is a great option for a reader who doesn't mind shared spaces and wants to find a super-affordable option. When you need a break from reading, check out their collection of VHS tapes (I recommend their copies of the beloved TV show M*A*S*H*) or take a literary tour of Louisville.
Louisiana Airbnb reading retreat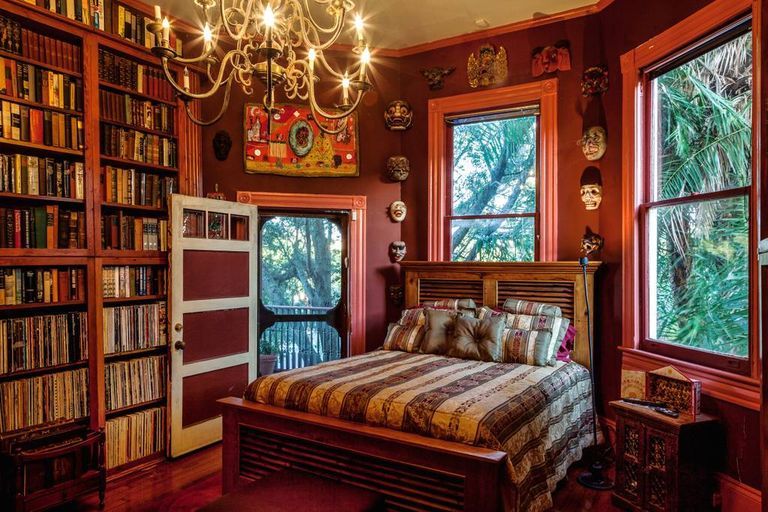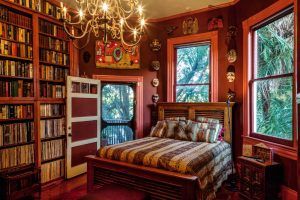 Hundreds of books in the bedroom? Check. Stuffed alligator on the foot of the bed? Check. Private balcony and cozy leather chair? Check and check. In addition to your private room in the Parks-Bowman Mansion, you get access to a bonkers-amazing kitchen, two cuddly pooches, a pool—not to mention you're in New Orleans and book Riot offers not just Literary Tourism of Bookish Places In New Orleans, Louisiana, but a Book Lover's Guide to New Orleans, Louisiana, too.
Maine Airbnb reading retreat
Hipsters get ready, this Classic Maine Summer Cabin with Ocean View Deck has a commons area with tons of books, a pool, a hot tub, ocean views, a record player, and records. Our Literary Tourism: Maine post has some helpful tips on spots not to miss, too.
Maryland Airbnb reading retreat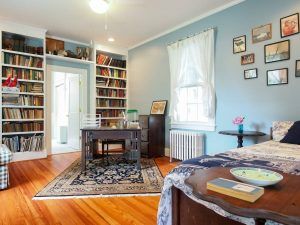 I'm so excited about the Library Bayfields that I may throw up. The owners suggest that it is well equipped for people in wheelchairs; it not only includes a huge library within the bedroom but a great work space for those of us addicted to our work; there's a window seat with water views, a screened in porch with comfy-looking couch, horses, a pool, a firepit, and—get this—a solarium with two-person hot tub and sauna. When's the last time you read in a solarium? Never! Located in Harwood, Maryland, this spot is about an hour from Baltimore's literary treasures.
Massachusetts Airbnb reading retreat
There's a lot to explore in Boston but you'll have a hard time leaving the house if you rent this incredible Victorian that's clearly owned by a book lover. There are bookshelves and books in just about every room and plenty of cozy spots to read them.
Michigan Airbnb reading retreat
When the owner called this a Unique and Amazing Library bed they were not lying and how dare you accuse them of doing so. If your idea of the perfect library is less light-airy-tea and more dark-curious-coffee, this homestead is likely a great spot for your library retreat.
Minnesota Airbnb reading retreat
The Unique+Historic Mansion Near U of MN and Downtown is another great option for folks who want to bring a dozen of their best friends on their reading retreat. This super-clean, fun space has plenty of couches and beds to read on, along with an enormous screen for checking out your favorite book-to-movie adaptions.
Mississippi Airbnb reading retreat
The bright colors in the Delta Bohemian Guest House should be enough to keep you awake through a massive read-a-thon, and the weird art will help keep you occupied in those rare reading breaks you take. Not to mention what the hosts swear is an "eclectic library of books, DVDs, and albums," and the (BONUS!) tire swing.
Missouri Airbnb reading retreat
When you stay at the Historic District Library Suite in Hermann, Missouri, you'll be surrounded by beautiful brick, have all the comforts of home, and be within steps of restaurants and museums. If you need more than that then I'm afraid I can't help you.
Montana Airbnb reading retreat
Start or end your trip by checking out our favorite literary places in Bozeman, Montana, take a day trip to Yellowstone National Park, relax in your cozy cabin, and make your meals in the huge kitchen—or take a short walk to several cafes. This cabin in Quiet, Clean, Downtown, Bozeman is the epitome of a cozy retreat.
Nebraska Airbnb reading retreat
I love every Airbnb on this list but I'd worry that some of them that I'd have too many distractions to properly do a reading retreat. That's not an issue with the perfectly appointed Chic Tiny House in Omaha Nebraska which has everything you need, plus numerous bookshelves with a few options but plenty of space to store your own books.
Nevada Airbnb reading retreat
Reading retreat + friends + gambling = this house just two minutes from The Strip. If you can tear yourself away from reading next to what is possibly the greatest pool in the world, check out our literary tips for visiting Las Vegas.
New Hampshire Airbnb reading retreat
Are you interested in a reading retreat but you don't like the idea of being alone? Do you want some company between books or some folks to share breakfast or a morning cup of coffee with? Then the D Acres Organic Permaculture Farm – Library Loft looks like a pretty fantastic choice. There are even barn dances, which I didn't know where a thing outside of my fair (cold) state.
New Jersey Airbnb reading retreat
Calling a room the Loft & Library Suite in Peaceful Country Farmhouse tells me just about everything I need to know about a spot, though you may be interested to know that there are indeed many books plus an old indoor fireplace for those winter reading months. Don't forget to check out the best bookish spots in Montclair, New Jersey while you're in the Garden State.
New Mexico Airbnb reading retreat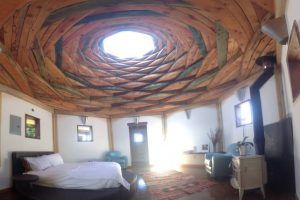 Head to the Auromesa Retreat Hogan for incredible views of the mountains, a truly unique skylight and couches scattered throughout the home, all settled within a meditation center. I'd consider it perfect for anyone who wants to relax with their books, but those seeking a meditative bookish experience are likely to love this spot even more. And as it turns out, there are literary adventures to be had in Taos.
New York Airbnb reading retreat
You will be shocked to learn that there are many, many bookish Airbnb's in New York but this Charming Private Library-Room stole my heart. It's nothing fancy—just a daybed located in the library of a shared apartment—but the backyard is a community garden and I'd get to sleep surrounded by hundreds of books. That's enough for me.
North Carolina Airbnb reading retreat
Are you fancy? Then you'll love the super-fancy Andon-Reid Inn B&B – Grand Library Suite. You've got your own private bathroom with both spa tub and fireplace, you've got a fancy-ass free breakfast every morning, baked treats in the afternoon, a fire-lit patio for nighttime reading, and a guest lounge with extremely comfortable looking chairs. You'll need to bring your own books to sit by the fireplace in your reclining leather chair located within your suite. Take a 40 minute trip to check out the top literary spots in Asheville, NC while you're there.
North Dakota Airbnb Reading Retreat
It used to be a church. Now it's a house for rent on Airbnb. If you've ever looked at bunkbeds and thought, "Naw, not hardcore enough," then you'll love the triple bunks in this house, which, a birdie just told me, now number two—that means a total of six bunks. That's a lot of bunks! There are also a lot of books, a lot of space, and a ton of beautiful stained glass windows.
Ohio Airbnb reading retreat
I'm getting to be an Old so the tons of natural light in this Loft in the Springs appeals greatly. So much light, so much space, so much lovely wood, so many spots to read—including the beautiful backyard garden.
Oklahoma Airbnb reading retreat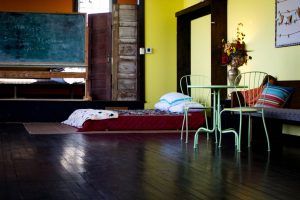 If there's a better place than an old one-room schoolhouse to unplug and read for a few days, I don't know if I could handle learning about it. True, there's a lot of empty space in here—all the better to practice your bookish dance moves—and the shower is outside, but if you can handle an unconventional spot you'll likely be rewarded.
Oregon Airbnb reading retreat
If your childhood involved climbing trees to read books—or you wish it had—then the Library / Treehouse Guest Suite in Eugene, Oregon, is for you. The front porch and surrounding trees are amazing but I agree with you—the fake books on the first floor need to go. The good news is that there are actual books in the loft area and near the dining nook—and of course you have plenty of your own books to bring as well! Eugene is also a few hours from one of the best cities in the country for readers: Portland.
Pennsylvania Airbnb reading retreat
Here's a secret: Every Airbnb on this list is my favorite but this Library Room is my biggest favorite. The queen-size top bunk is great, but then they get rid of that stupid bottom bunk because I'm not sharing on my reading retreat, oh no! They replace said stupid bunk with two reading chairs complete with reading lights. The place has a piano, free made-to-order breakfast, incredible views of Pittsburgh, records, and weird art of dogs with bad haircuts—watch out, I'm coming after you Pittsburgh!
Rhode Island Airbnb reading retreat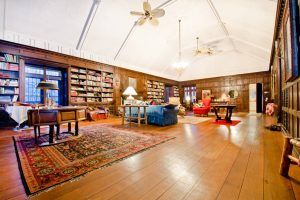 You get your own bedroom, bathroom, and fireplace in this incredible Historic Stone House but how you'll stop yourself from spending 24 hours a day in the incredible library I will never understand. If you somehow manage to tear yourself away from the entire house, the literary gems of Providence are just 30 minutes away.
South Carolina Airbnb reading retreat
Okay, I've having trouble breathing again because there is not only a PRIVATE ISLAND! for rent in South Carolina, it is actually called Goat Island. The sleeping situation is just a one-room cabin, though it has plenty of modern conveniences. Your reading spots are aplenty, including a dock that frequently has porpoises swimming up to it, the requisite hammock, lots of chairs in shaded areas, etc., plus: did I mention you are on a PRIVATE ISLAND!
South Dakota Airbnb reading retreat
Head out to pheasant country in this secluded Micro-Cabin with windows galore, cozy spots for reading, and a lovely porch for gazing out at the landscape and wildlife.
Tennessee Airbnb reading retreat
Memphis's Queen's Library Downtown Apt with balcony not only comes with snacks but the library room itself has its own cocktail cart. Plus, the space is gorgeous and the building is listed on the National Historic Registry of Homes. And then there's the whole literary scene in Memphis. All in all, a solid spot for a reading retreat.
Texas Airbnb reading retreat
Yee-haw*, you're in for a unique experience sleeping on a Futon in the Library in the #RookeryDallas. You'll not get a speck of privacy, considering that you're really just sleeping in a large room with curtains separating you and other guests, but you will have lots of folks to talk books and shop with. There are dozens of seats in the living room, a communal kitchen to make and eat food at, and generally just a great spot for an extroverted type who wants to get away for a reading retreat.
*Do you think Texans loved it when I said yee-haw? I'll bet they did(n't).
Utah Airbnb reading retreat
If your interest in Utah is partially fueled by its natural wonders, then you'll love the library at the Boulder Cabana. It's full of field guides and info on local favorites of naturists. The cabin itself includes a wood fireplace, a cozy bed, and unbelievable sunset views.
Vermont Airbnb reading retreat
Head to Vermont and sleep in the Historic 1909 Library, which today is a lovely home complete with clawfoot tub, original fireplace, and original hardwood floors. There are of course many bookshelves, with a wide array of books available. Curl up in the cozy bed, the comfy window seat, or visit any one of the numerous lakes, falls, or streams within a mile. If you want a longer trek, check out our Literary Tourism: Vermont post.
Virginia Airbnb reading retreat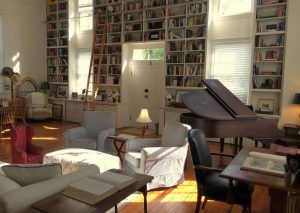 Virginia is on point with its reading retreat options and I had a tough choice to make. In the end, I had to go with this Unique Restored Church in Waterford partially for the space itself, partially for the fantastic library, but mostly for that damn library ladder—fantastic!
Washington Airbnb reading retreat
Pack up your favorite seafaring novels for a trip to the Waterfront Sea Captain's House – library. Bring your eyeballs not just for reading but for bald eagle spotting, and bring your appetite for dining at the beautiful outdoor banquet space.
West Virginia Airbnb reading retreat
If you prefer comfort over style, you want to be truly secluded, and you want to be able to take a 15-minute walk to read by yourself at a waterfall, then this West Virginia Rustic Mountain Retreat Cabin is not going to disappoint. If you're driving, check out these literary spots while Traveling Through West Virginia.
Wisconsin Airbnb reading retreat
When the owners called this The Library Room at Star Hawk Springs Chateaux, they didn't just throw up a few books and call it a day. They say: "Hundreds of books, a hideaway bed and the most comfortable armchair ever, this room is a Bibliophile's dream!" which already had me sold but then I saw the bookish shower curtain and I was booking my plane ticket.
Wyoming Airbnb reading retreat
Ending our list, the Peaceful Ponderosa Retreat in Wilson, Wyoming, is just a few miles from Teton National Park and has awe-inspiring mountain views to prove it. The space itself is pretty simple, but the owners were wise enough to use some of it to create a reading nook. Of course, while you're in there, we have a little Wyoming literary advice.