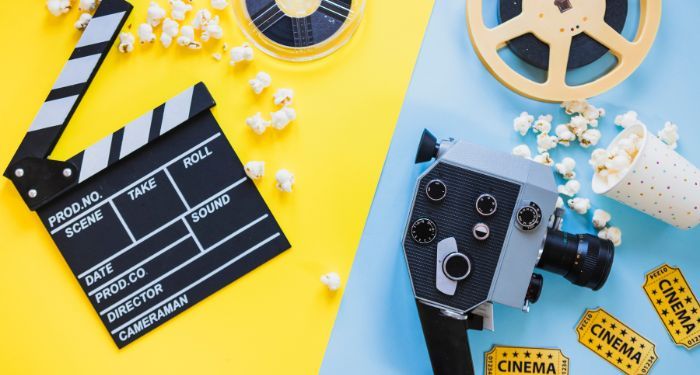 This content contains affiliate links. When you buy through these links, we may earn an affiliate commission.
How do you begin with Agatha Christie movies when there are so many to choose from? Agatha Christie is known for her work as a mystery novelist, short story writer, and playwright, and Guinness World Records lists Christie as the best-selling novelist of all time. So of course, her works have been adapted for television and film many, many times through the years.
So which ones are worth watching and which ones should you skip? Over the past four weeks I have watched (and rewatched) 25 of the most notable Agatha Christie movies. What follows is my ranking of them, from worst to best.
25. Ten Little Indians (1989)
One of the most-adapted Agatha Christie novels is her 1939 mystery And Then There Were None. It's been adapted for television, film, the stage, radio, and there is even a Wii video game based off of the story. 1989's Ten Little Indians, however, is a film only worth watching if you're a And Then There Were None completest. Otherwise, there are other versions of this film further up this list that are more worthy of your time and attention.
24. Chorabali (2016)
Chorabali, or Quicksand, is a 2016 Bengali film loosely based on Agatha Christie's Hercule Poirot novel Cards on the Table. Major changes have been made to the plot in this adaptation, which isn't necessarily a bad thing, but overall the film just seemed a bit sloppily made—as in it is badly acted and filmed. This one's another deep cut, and probably not worth your time.
23. Gumnaam (1965)
We've already made it to our second And Then There Were None adaptation on this list, and Gumnaam (meaning "anonymous") is more notable than the first because the music in this Bollywood adaptation is memorable. So memorable, in fact, that the opening number "Jaan Pehechan Ho," sung by Mohammed Rafi, was featured in the film Ghost World and a 2011 Budweiser commercial. Try to listen to that song and not dance. I dare you. 10/10 for the music, and maybe 6/10 for the actual movie.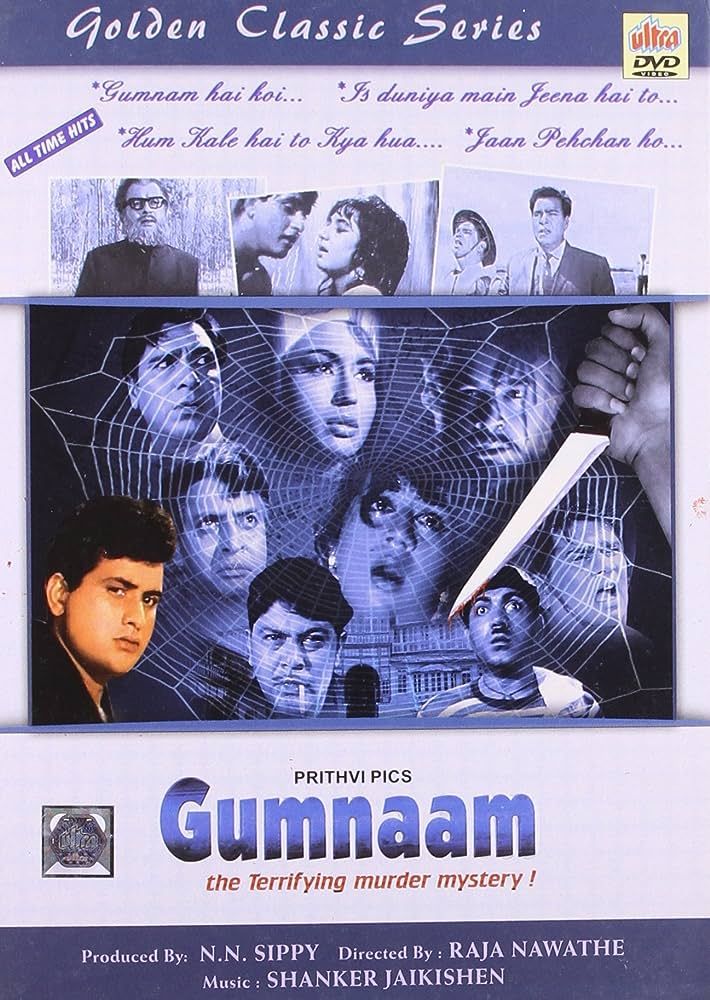 22. Le Crime Est Notre Affaire (2008)
Le Crime Est Notre Affaire, or Crime is Our Business, is a French adaptation of Christie's 4.50 to Paddington, but with some major changes. Most notably, Christie's popular amateur detective Miss Marple is replaced with Tommy and Tuppence. This movie is a more comedic take on the novel as well, which some people seemed to have enjoyed, but the comedy in this film never really landed with me.
21. Lord Edgeware Dies (1934)
In this film, actor Austin Trevor reprises his role of Hercule Poirot for the third time, this time in an adaptation of Christie's novel Lord Edgeware Dies. Trevor also played Poirot in the 1931 films Alibi and Black Coffee, but as those two movies are now pretty much impossible to find anywhere, if you want to see Trevor's Poirot, Lord Edgeware Dies is the movie for you.
20. Appointment With Death (1988)
Appointment with Death is a star-studded adaptation of Agatha Christie's Hercule Poirot mystery Appointment with Death. This film marks the final appearance of Peter Ustinov as Hercule Poirot, and you will see some of his better movies further up this list. Despite the impressive cast list in this film, this is a mediocre entry into the world of Agatha Christie film adaptations, and this movie bombed at the box office.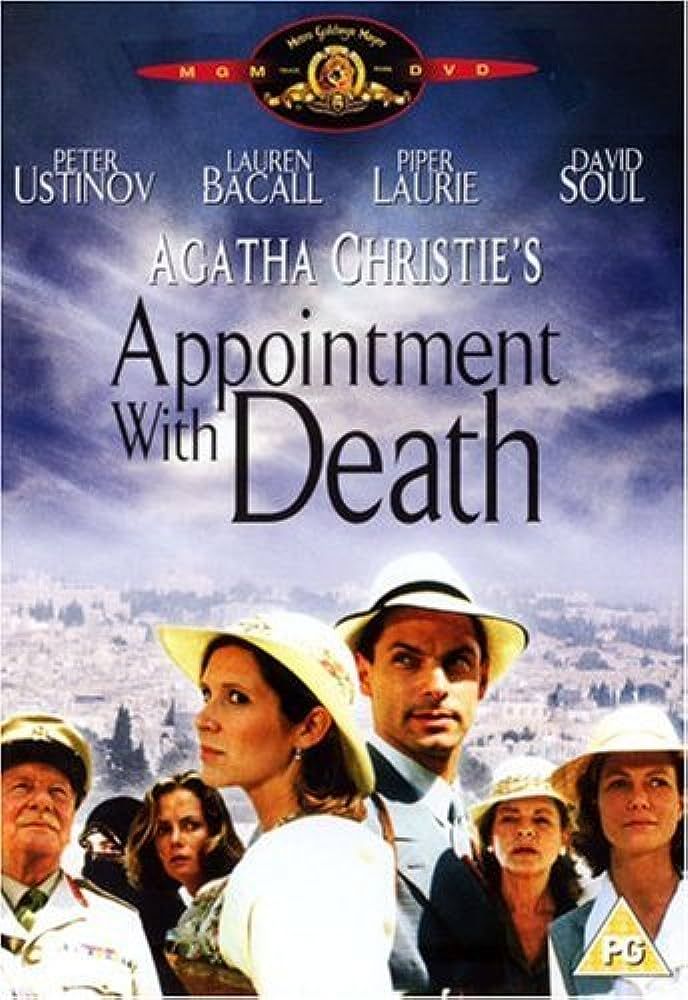 19. The Alphabet Murders (1965)
Based on the Hercule Poirot novel The ABC Murders, the 1965 film The Alphabet Murders is a comedic reimagining of the murder mystery. Production was delayed on this particular film because Agatha Christie disapproved of the script, and it's easy to see why. This film reduces Poirot to a buffoonish character, bearing a closer resemblance to detectives like Inspector Jacques Clouseau in The Pink Panther than any rendering of Poirot in Agatha Christie's imagination.
18. Ten Little Indians (1965)
We have arrived at our third adaptation of And Then There Were None on this list. 1965's Ten Little Indians takes place in a remote mansion in the mountains rather than on an island (as in other versions and in the book). The mountain setting lends a dark and creepy vibe to this adaptation, but overall this film felt extremely dated and unimaginative.
17. Murder on the Orient Express (2017)
2017's Murder on the Orient Express was the most hyped Agatha Christie film adaptation in recent memory, and it's also one of the most forgettable. There's nothing inherently terrible about this movie. The cast is generally talented, and at least Johnny Depp isn't on screen for too long; however, director/star Kenneth Branagh seems far too in love with his own interpretation of the Hercule Poirot character, often pulling focus away from the actual murder mystery and other talented actors. Of course, this movie is based on Agatha Christie's Hercule Poirot novel of the same name: Murder on the Orient Express.
16. Ten Little Indians (1974)
I promised that there were going to be a lot of And Then There Were None adaptations on this list, and here is yet another one. This version takes place not on an island or in the mountains but rather in an elegant hotel in the middle of the desert. Despite the interesting setting, this version has pacing issues, and yet it's still of better quality than the '60s version.
15. Crooked House (2017)
Based on the Agatha Christie novel Crooked House, this 2017 movie of the same name features a talented cast of actors, including Glenn Close, Gillian Anderson, Max Irons, Terrence Stamp, and Christina Hendricks. While the film is incredibly stylish, it felt a little slow-paced. Still, this movie is based on a lesser-adapted novels that also happens to be one of Agatha Christie's personal favorites of all of her works. So that fact in addition to the visual appeal of the film and the cast makes for a worthwhile watch. Fans of Downton Abbey should enjoy this one.
14. Love from a Stranger (1947)
Love from a Stranger is a movie based on a play based on a short story written by Agatha Christie called "Philomel Cottage" in the short story collection The Listerdale Mystery. Are you still with me? Good. Overall, this movie is interesting enough, but still fairly predictable. It's pretty short though, so if you can hang with it for its 81 minute run time, it makes for a quick and entertaining (if utterly forgettable) thriller.
13. Desyat Negrityat (1987)
Yes, this is yet another adaptation of And Then There Were None, and this one is a Soviet adaptation that stays very true to the dark material in Christie's original novel. While many of the other film adaptations of And Then There Were None are primarily based on the stage version (which lightens the material notably and has a happier ending), this movie opts for the sinister ending of the novel. Many people consider this the best adaptation of all the Ten Little Indians/And Then There Were None movies.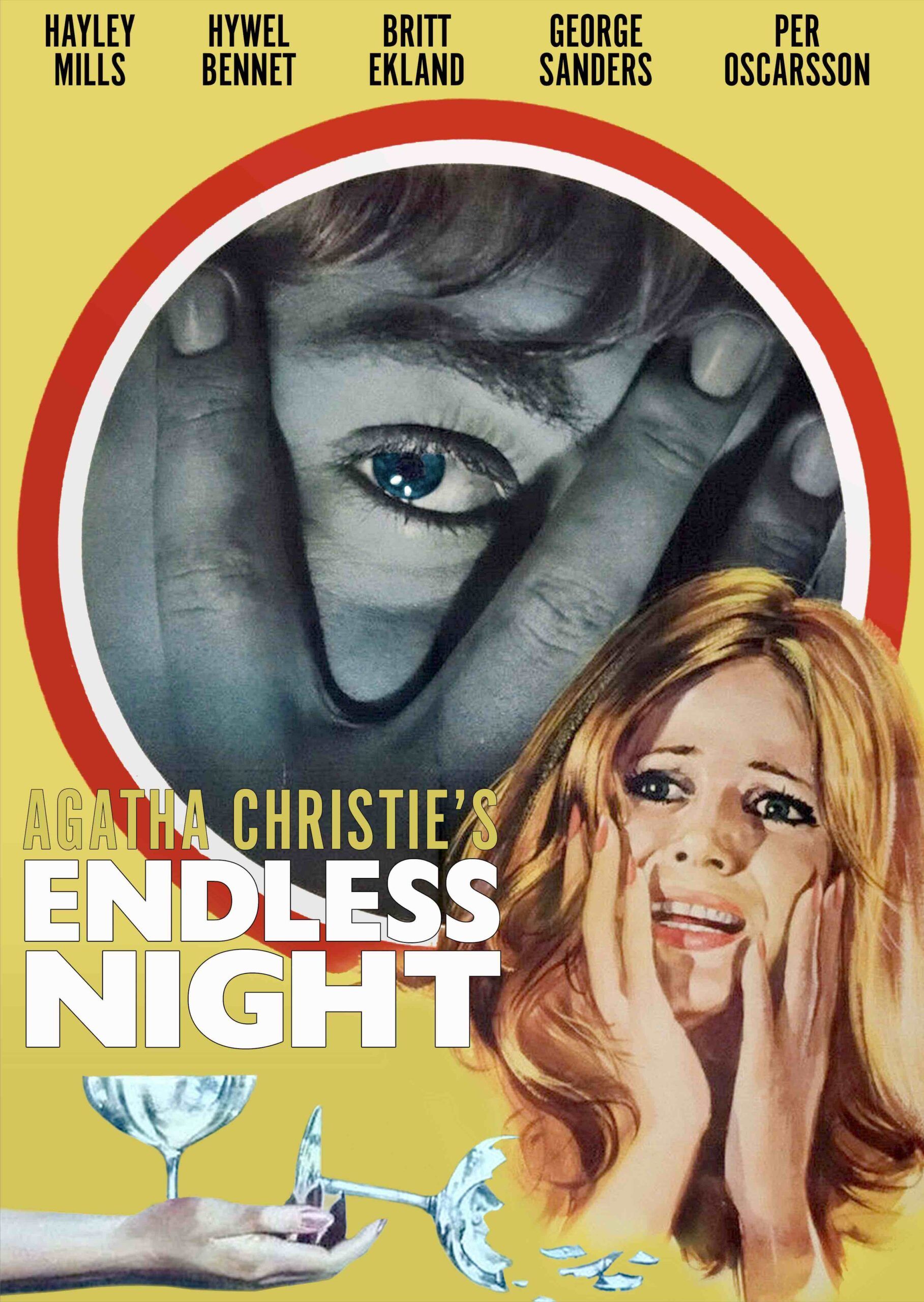 12. Endless Night (1972)
Based on one of Agatha Christie's later novels, also entitled Endless Night, this movie feels different than the usual Agatha Christie fare. It's a dark romance with little of the wit and dry humor her detective fiction is commonly known for. Some people love this movie, and some people hate it. Most people agree that it just doesn't feel like an Agatha Christie story, for what it's worth. I'm placing it squarely in the middle of this list because it's not the worst Agatha Christie adaptation out there, but it's not the best either.
11. Chupi Chupi Ashey (1960)
Chupi Chupi Ashey (or Silently He Comes) is an adaptation Agatha Christie's highly successful play The Mousetrap, which has been running in London's West End since 1952, making it the longest running West End show. This film doesn't seem to have been remastered at all since its initial release, so the audio and visual quality is a little subpar, but the film itself is well acted and held my interest for the two-hour run time.
10. Dhund (1973)
Dhund is a Hindi film based on the Agatha Christie play The Unexpected Guest. As we reach the top ten Agatha Christie movies, we're finally hitting "worth seeking out" territory. While this film feels a little dated, the story will hold your interest and the music is fun.
9. Murder at the Gallop (1963)
Murder at the Gallop is another Miss Marple mystery, starring Margaret Rutherford as Miss Jane Marple. This is the second time Rutherford played the role of Agatha Christie's Miss Marple, with the first performance appearing later on this list. This adaptation is based on After the Funeral, with some liberties taken with the general plot. At least Miss Marple wasn't replaced with a different detective entirely in this one!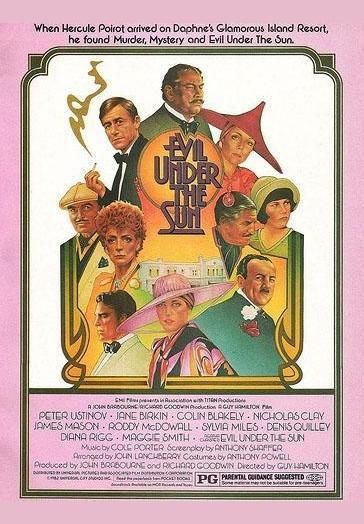 8. Evil Under the Sun (1982)
This film, based on the novel Evil Under the Sun, marks Peter Ustinov's sophomore appearance as Agatha Christie's beloved detective Hercule Poirot. This film also stars Maggie Smith (pictured above), Diana Rigg, and James Mason. Ustinov is arguably the best Poirot, and Evil Under the Sun is a great example of the actor making the character his own. More Ustinov films will be forthcoming on this list.
7. The Mirror Crack'd (1980)
Angela Lansbury stars as Miss Marple in this 1980 film based on the Agatha Christie novel The Mirror Crack'd from Side to Side. With an impressive cast list, including Rock Hudson, Elizabeth Taylor, Kim Novak, Tony Curtis, and Pierce Brosnan in his film debut, The Mirror Crack'd is worth a watch.
6. Murder, She Said (1961)
Murder, She Said is another adaptation of Agatha Christie's The 4.50 from Paddington, but unlike the French film mentioned earlier in this list, this version gets the humor of the story just right. In addition, Miss Marple is present and played by Margaret Rutherford. This was Rutherford's first time playing the amateur detective, and her performance was so well received that she came back to play Jane Marple three more times.
5. Murder Most Foul (1964)
Murder, She Said is commonly listed as Margaret Rutherford's best Miss Marple movie, but I find 1964's Murder Most Foul more entertaining. Rutherford plays Miss Marple for the third time and really finds her stride here. This movie is actually based on Agatha Christie's Hercule Poirot novel Mrs. McGinty's Dead, but obviously in this movie Miss Marple replaces Detective Poirot.
4. Death on the Nile (1978)
Peter Ustinov plays Hercule Poirot for the first time in Death on the Nile, a movie based on the Agatha Christie novel, yes, also called Death on the Nile. This movie launched Ustinov's Poirot for a reason; he is excellent in this movie, and it's highly entertaining. Plus, the cast is just insane. Hello, Maggie Smith, Mia Farrow, Bette Davis, Angela Lansbury, and so many more.
3. Murder on the Orient Express (1974)
The 1974 Murder on the Orient Express was a success both with critics and at the box office, and it received six Academy Award nominations. Ingrid Bergman won an Academy Award for Best Supporting Actress for this film. Like the 2017 version, the passengers on this 1974 Orient Express are a star-studded cast of some of the most notable actors of the era: Lauren Bacall, Ingrid Bergman, Sean Connery, John Gielgud, Vanessa Redgrave, Michael York, Jacqueline Bisset, Anthony Perkins, and Wendy Hiller. If you only have time in your life for one adaptation of this Agatha Christie novel, this is 100% the one to watch.
2. And Then There Were None (1945)
Finally, we reach the most successful adaptation of Agatha Christie's novel And Then There Were None. The 1945 film is not as dark as the aforementioned Russian adaptation from 1987, but this adaptation wins out on critical acclaim. This is for good reason. The pacing is just right, creating a more suspenseful film than the versions that followed, despite this one's happier ending.
1. Witness for the Prosecution (1957)
The best Agatha Christie movie is more of a courtroom drama than it is a suspense film or mystery, and it doesn't include either of her most famous detectives, Poirot or Marple. Still, Witness for the Prosecution, based on Christie's play of the same name, wins out in part because the story still feels fresh after so many years. The script is well written, the characters are expertly acted, and the twist (if you haven't been spoiled already) is actually surprising.
And there you have it! 25 Agatha Christie movies, watched and ranked so that you can get your priorities straight. Note for this list, I focused on feature-length films. If you are interested in another post about Christie's television shows, let me know! Did I miss your favorite Agatha Christie movie? Let me know in the comments. Want some Agatha Christie books to read? We got you.