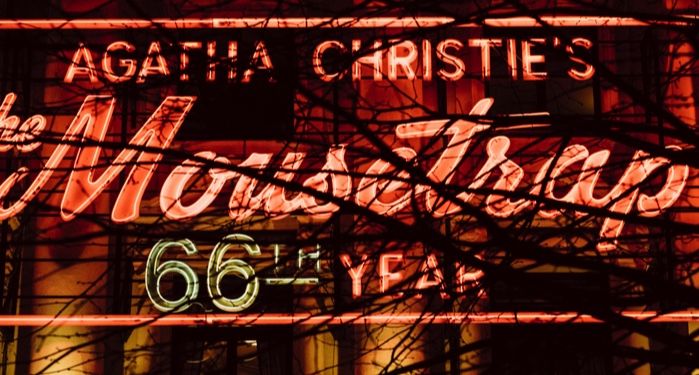 Genre
Clue Attitude: Agatha Christie in Contemporary Literature and Pop Culture
This content contains affiliate links. When you buy through these links, we may earn an affiliate commission.
For all you mystery fans at home keeping score, Agatha Christie would have been 131 years old on September 15 this year. (Well, okay, probably not, seeing as how people don't live that long.) But still, in honor of her birthday, it is my great pleasure to share with you some of the best references to Agatha Christie in contemporary literature and pop culture!
In case you are the rare person who isn't familiar with Christie, allow me to fill you in. She is considered the Queen of Crime, and her most famous characters are the detectives Hercule Poirot and Miss Jane Marple. She is one of the best-selling writers of all time, with 66 mystery novels and 14 short story collections translated into over 100 languages. Her works have been adapted into dozens of films, television movies and series, and even one of the longest-running plays in history. And she is credited with influencing hundred of writers to this day.
I myself am a huge fan of Agatha Christie, having read all her books several times, so it was only natural that I write this post. When I was a weird kid (as opposed to a weird adult), I convinced myself that I must have been Christie reincarnated, because I loved her books and was great at guessing the killer. And I loved learning about Ancient Egypt, just like she did. To this I now say: LOL. (As they say in Bull Durham, why are people only the reincarnation of famous people?)
So for all you other Christie fans out there, or for anyone who is interested in seeing some of her influence and mentions in our world today, here is a post about some of the best references to Agatha Christie in contemporary literature and pop culture!
Agatha Christie References in Movies, Television, Books, and More
Agatha Christie Appearances in Contemporary Literature
---
Bonus reading: Reading Pathways: Where To Start with Agatha Christie, 10 Mystery and Thriller Authors Like Agatha Christie, and Annotated Agatha Christie BINGO.