Children's
9 Bookish Role Models for Your Toddler After They've Binged the New She-Ra
This content contains affiliate links. When you buy through these links, we may earn an affiliate commission.
At a time when my 4-year-old daughter is suddenly leaning hard into culturally prescribed gender norms—"I can't be friends with boys because boys are wild," she says, flipping her hair with one sparkle-bedecked fingernail because she needs to look pretty, for god's sakes!—it's a relief to be able to bond over the new Noelle Stevenson–created She-Ra. As a child, I revered the princess of power for her strength and rebelliousness. Now, my daughter has the opportunity to experience an awesome reboot, and she is absolutely loving it.
The She-Ra reboot is amazing for a number of reasons. Beyond the fact that it was created by one of my favorite comic writer-artists, I appreciate its embrace of a diverse range of body types and gender and sexual expressions, the complexity of its character development, its focus on friendship, and its sense of humor. Gone is the She-Ra with the cleavage-baring leotard and the shortest miniskirt ever (who I still loved anyway)! With this new She-Ra, my daughter can no longer argue that "princesses don't wear shorts."
My daughter and I already have plans to attend next year's Comic-Con as She-Ra and Catra. 😻 But until then, I'm focused on inundating her with books that have similarly kick-ass female role models. Especially since the new She-Ra Golden Book isn't out until July.
Olivia by Ian Falconer
Olivia—a young, female pig who puts her poor mom through a lot—is a real piece of work. And that's probably why I love her so much. With her strong spirit, her endless curiosity, her creativity, and her strong sense of self-confidence, she reminds me of all the best bits of my own daughter, the bits I hope she never loses. At the end of the very first Olivia book, her mother reads her a book, gives her a goodnight kiss, and says, "You know, you really wear me out. But I love you anyway." Same, Olivia's mom. Same.
In this visually stunning graphic novel, a young girl creates drawings that come to life. Unfortunately, in retreating into the world of her drawings, this young girl allows herself to become quite isolated. And then someone with questionable motivations enters her life, someone who attempts to lure her deeper into this fantasy world. In the end, the young artist at the center of this book is able to use her gifts to banish this sinister being and embrace a world that has room for every part of her. It's pretty dark, but still a good pick for my young artist.
The Princess in Black by Shannon Hale, Dean Hale, and LeUyen Pham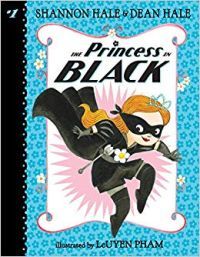 We started reading the Princess in Black books earlier this year at the recommendation of a friend who tends to have impeccable taste. She did not steer us wrong. From the very first book—in which we learn that (spoiler alert!) Princess Magnolia is also secretly a superhero who kicks serious monster butt—my daughter was hooked, and now often pretends to be the princess in black. I'm relieved this book has taught her that there's no one right way to be a princess.
Hilda by Luke Pearson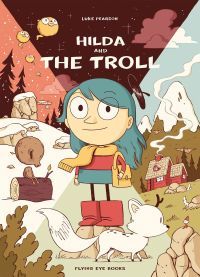 We came to these graphic novels via the fairly new Netflix series, which we may or may not have binge-watched all in one weekend, despite my fairly strict screen time rules. Hilda is a fearless and endlessly curious young girl who lives for adventure, and who has a knack for befriending even the oddest of creatures. Her willingness to give others the benefit of the doubt, even when they are feared and maligned by others, is admirable.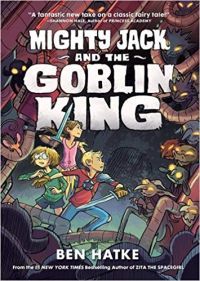 Though Hatke has also penned the female-led Zita the Space Girl series, my daughter is partial to this Mighty Jack sequel, in which Jack and his new neighbor Lilly venture into an alternate dimension in order to rescue his little sister, Maddy, who has been kidnapped by an ogre. While there, the two become separated and, by the end, the swashbuckling Lilly has been named the new Goblin King, which thrills my daughter to no end.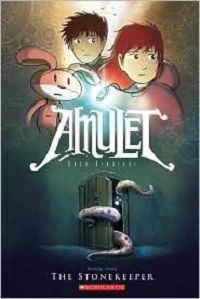 In the first book in Kibuishi's Amulet series, two children—a brother and a sister—follow their mother into a shadowy underworld after she has been lured there by a sinister creature. Emily, the sister, finds herself forced to step up in order to rescue someone she loves. Again, it's a bit dark for my 4-year-old, but she loves getting into stuff intended for those who are older, and I imagine that her appreciation of this series and others on this list will transform and grow over time.
Lumberjanes by Noelle Stevenson, Grace Ellis, Brooke Allen, Maarta Laiho, and Aubrey Aise
Okay. I'm now actually 1o volumes into the Lumberjanes series, and Stevenson is no longer on the creative team, but the comic that turned me on to comics in the first place is still completely delightful—and my daughter agrees. Every time I finish reading a new trade paperback containing the latest tale of this tight-knit group of cabin-mates at a summer camp for hardcore lady-types, she insists on flipping through afterward. I imagine she'll love this series forever, with its strong friendships, feminist puns, and supernatural hijinks.
Henderson has recently been replaced by artist Derek Charm, but the solid and strong Squirrel Girl Henderson first brought to the page will always live on in my heart. In addition to her depiction of Squirrel Girl, I also adore this quirky superhero's positivity, empathy, and self-confidence, all characteristics I'd love for my daughter to emulate. Her sense of humor is also top-notch. This is another comic my daughter loves reading over my shoulder and, sometimes, when she's lucky, I read out loud to her. Em has also had the pleasure of appearing on the comic's Letters page.
Ms. Marvel by G. Willow Wilson, Adrian Alphona, Ian Herring, and VC's Joe Caramagna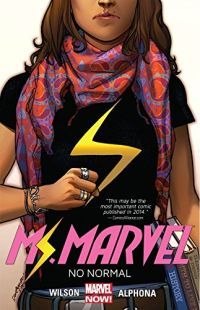 Finally, we have my favorite local superhero, who hails just a few towns over from us (albeit in a fictional universe). My daughter already knows that Ms. Marvel/Kamala Khan is badass. What she'll grow to learn once she's a little bit older is that she also has a deep sense of responsibility and commitment to both community and family, plus a whole lot of heart. And I dig that she's an unapologetic geek. This is just one more series I'll be reading to my daughter, eventually passing them on to her when she can read them for herself.
Who do your kids look up to in the books they're reading?