Lists
20 Must-Read African Fantasy Novels
This content contains affiliate links. When you buy through these links, we may earn an affiliate commission.
This list of must-read African fantasy novels for World of Fantasy Day is sponsored by Kingdom of Copper by S.A. Chakraborty.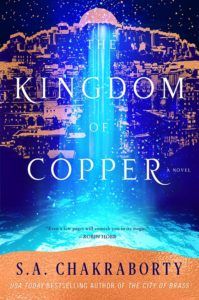 In Daevabad, djinn summon flames with the snap of a finger, blood can be dangerous as any spell, and a clever con artist from Cairo will alter the fate of a kingdom in the thrilling sequel to THE CITY OF BRASS. As Nahri carefully navigates life in the dangerous royal court, Ali has been exiled and must rely on the frightening abilities gifted to him by unpredictable spirits in order to survive. A new century approaches, but as the djinn gather for celebrations, a threat brews unseen in the desolate north, one that seeks the aid of an ancient warrior trapped between worlds.
---
One of the main joys of reading fantasy is experiencing entirely new worlds and ideas and magic. But when every fantasy novel is based on a pseudo-medieval Europe, it kind of defeats the point. That's why I seek out fantasy from around the world.
These 20 African fantasy novels explore entirely new worlds, utilize fun and inventive magic in our own world, and/or add surrealist twists to an otherwise normal setting.

Classics of African Fantasy
The Famished Road is Nigerian author Ben Okri's most well-known work and won the Man Booker Prize in 1991. It's the first in a trilogy of books from the perspective of an abiku, a spirit child, who can travel to the spirit world while living in our reality. Combining political commentary with fantastical elements, this isn't a book that builds on a plot, like most fantasy novels. It's much more recursive and metaphor-driven. Songs of Enchantment and Infinite Riches complete the trilogy.
Only published in 2006, Wizard of the Crow by popular Kenyan writer Ngũgĩ wa Thiong'o has already become a classic in African translated literature. Surreal describes Wizard of the Crow better than fantastical, but where there's a wizard, there's magic. And if you're a fan of created mythologies, you're going to love this one. It's a complex read full of political satire, philosophical meanderings, and commentary. It'll take you a while to finish it, but it will give you lots of food for thought.
Several books by Nigerian author Amos Tutola could be considered fantasy, but My Life in the Bush of Ghosts is the best fit. When a young boy flees from slave traders, he finds refuge in the African bush, but the bush is inhabited by ghosts; not only ghosts in our meaning of the word, but strange magical creatures as well. The longer he stays, the more he changes, eventually taking animal form. Written originally in English, Amos Tutola writes almost like he's recounting an oral folktale, so the narration style can be a bit jarring at first, but this quick read is well worth it.
Born in Nigeria, Helen Oyeyemi bases The Icarus Girl on a combination of Nigerian and Greek mythology. Her first book, she wrote this when she was only 19. It combines horror with the fantastic in an imaginary friend named TillyTilly, whose friendship to 8-year-old Jess becomes more and more sinister as the novel progresses. While not as coherent as her later works, The Icarus Girl still displays Oyeyemi's superior writing.
Contemporary African Fantasy
Nnedi Okorafor was born in the United States to two Nigerian parents, the African country where she also sets Akata Witch. Akata Witch is often described as an African Harry Potter, but more than a mere emulation of Harry Potter, it feels like a response to HP and similar British, middle grade fantasy. With juju knives, spirit faces, and Nigerian festivals, it's a unique creative YA fantasy that's so much fun. Be sure to also read Akata Warrior.
Tade Thompson grew up in Nigeria, the setting of Rosewater, and his parents are Yoruba. Rosewater is more science fiction than fantasy, but it definitely has a fantastical feel to it. An alien biodome mysteriously appears in Nigeria, healing some when it opens, but also reanimating corpses. Kaaro is a reluctant secret psychic agent, and as his fellow psychics start dying of a mysterious illness, he becomes enmired in something he doesn't understand but must figure out. This is a trippy and compelling start of a trilogy. Book 2—Rosewater Insurrection—is out March 12th.
While Karen Lord is from Barbados, the inspiration for Redemption in Indigo comes from a Senegalese folktale, "Ansige Korumba the Glutton" (which you can find in The Cow-Tail Switch and Other West African Stories). Told in a storyteller's voice, this short novel is funny, ludicrous, insightful, and fable-like. As Paama struggles to feed her glutinous husband despite her marvelous cooking, djombi (gods) decide to step in and "help," (in other words, create absolute mayhem). It's a fun, quick read.
According to her website, Akwaeje Emezi is "an Igbo and Tamil writer and video artist based in liminal spaces." Even though Freshwater was published last year and is a debut novel, I think it will become a classic in African surrealist fantasy. Freshwater explores multiple personalities, surviving after sexual violence, mental health, and gender identity through the lens of Nigerian mythology. It's an incredibly personal novel.
Zoo City By Lauren Beukes
Set in present-day Johannesburg, Zoo City is a South African urban fantasy written by popular South African author Lauren Beukes. You gotta love this premise: those with criminal backgrounds are suddenly, magically "gifted" with animal familiars that they immediately love and are completely bound to. If their animal dies, so do they. The main character, Zinzi, is paired with a sloth! All the sloth heart eyes over here. I can't believe I haven't read this yet.
Set in the Belgian Congo, Everfair is a steampunk alternate history that asks, what would've happened if the Congo people had known about steam technology before the Belgian colonization? I didn't know anything about this atrocity before reading Everfair. Informative and well-researched, this is the kind of alternate history I want to see more of.
A gender-twisted retelling of "Beauty and the Beast" from a South African author, unlike the other choices on this list, this book still feels pretty Western. But it is a lovely fairytale that will delight young adult and adult readers alike.
Blackass by A. Igoni Barrett
"White skin, green eyes, red hair…" Ummm. Ha! This is definitely more on the surrealist end of fantasy. The first novel by Nigerian writer A. Igoni Barrett, Furo Wariboko is black until he mysteriously turns up at a job interview as a white man. Except for one little area—his black ass. What possibilities will open up to him as a white man in Nigeria? This has got to be one weird satirical book.
A contemporary retelling of the "Orpheus and Eurydice" myth set in Nigeria written by a Nigerian, this slim novel holds similar themes to fellow Nigerian Ben Okri's work. With a fable-like narrative voice, Atogun's work is lovely and under-read. His second novel, Wake Me When I'm Gone, is equally good, with Nigerian folklore woven throughout.
An urban fantasy police procedural set in Ghana by a Ghanian writer, Tail of the Bluebird combines science with magic. But Western science can't explain the supernatural underpinnings to a series of mysteries in provincial Sonokrom. With lyrical prose and use of dialect, it's a classic detective novel steeped in both setting and the supernatural.
Epic African Fantasy
According to his website, "Born in England to South American parents, Evan Winter was raised in Africa near the historical territory of his Xhosa ancestors." I have yet to read this one, but I have an egalley from Orbit for its July release (there's a Kindle-only version you can purchase on Amazon). I mean, it's got dragons, and I'm always in need of a good dragon read.
One of the most popular YA books of 2018 and already in the works for a movie adaptation, Children of Blood and Bone not only utilizes Nigerian mythology in its magic system and secondary-world history, but it also provides commentary on current social injustices in the United States. As a Nigerian American, Tomi Adeyemi is uniquely situated to do all of these things. Yet while the book is weighted with a lot of heavy themes—genocide, atrocities, racism—it's also a fast-paced, high-action epic fantasy. It's popular for a reason.
Another YA fantasy by a Nigerian American author, Beasts Made of Night features mythical creatures made from sin. Taj is a sin-eater, indentured to a mage to slay the sin beasts. Most sin-eaters eventually go mad. Beasts Made of Night is full of political intrigue and injustice.
Marketed as an African Game of Thrones and set to release on February 5th, this is Jamaican and Man Booker prize winner Marlon James's first foray into fantasy. In an interview with The Guardian, Marlon James says the book is specifically influenced by The Epic of Son-Jara and The Epic of Askia Mohammed, and is set in several ancient African kingdoms, including Kush and Songhai. Everything I read about this book makes me more and more excited for it.
My favorite epic fantasy writer, N.K. Jemisin's most African-influenced work is a fantasy duology based on an imaginary Egypt, which begins with The Killing Moon and ends with The Shadowed Sun. Much like Ursula K. Le Guin's work, this is anthropological fantasy that deals with how characters adapt to cultural collisions. With sacred assassins and dream magic, Jemisin builds a complex and beautiful world that I cannot recommend enough. As a warning, Book 2 is a difficult read, as it deals with rape culture.
Olondria by Sofia Samatar
Another beautiful fantasy duology that begins with A Stranger in Olondria and ends with The Winged Histories. Samatar's father is Somalian, she's a professor of African languages and literature, and she has extensive work experience in Sudan and Egypt. All of this plays a significant part in the world building and plot of the Olondria series. I could tell you what the series is about: A merchant's son dreams of Olondria while loosing himself in Olondria's literature; when he finally travels across the ocean to visit the culturally superior (in his mind) Olondria, he encounters a ghost; four women become integral parts of a violent rebellion in vastly different ways. But none of this really gives you an idea of this series, which is so lyrical and lovely, a series about literature and culture itself.
And if you're looking for more in African SFF, the best place to look is the African Speculative Fiction Society. You can also check out Strange Horizon's special report: 100 African Writers Of SFF, Part 1 and Part 2. Book Riot also has a list of Afrofuturism works.