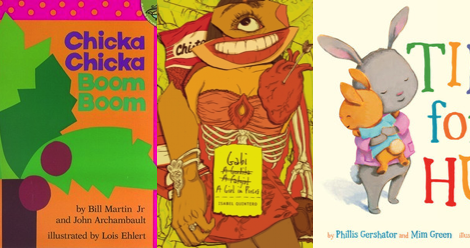 Children's
Adult Pairings For Baby's Board Book Library
This content contains affiliate links. When you buy through these links, we may earn an affiliate commission.
Next to the glider in my baby's room, there sits a small plastic bin full of board books. These are his "before sleep" books, the ones we read him to calm his little body and brain, to coax him off to sleep. And in the same way that the songs from Sesame Street and Daniel Tiger get stuck in my head after watching them with him, these stories stick with me too. (I can't tell you the number of times I've jolted awake in the middle of the night with the lines from Chicka Chicka Boom Boom echoing through my mind.)
So as an antidote to the board book takeover in my brain, here's a list of adult books to pair with baby's library – using those board books as a springboard for some really great books to read for your own "before sleep" (with baby, or without) enjoyment.
So your baby loves: Time for a Hug by Phillis Gershator and Mim Green
"Wake up, wake up, the day is new! The clock says eight, what shall we do?" Over the course of one day, a little bunny and his mama play on the rug, go for a walk, bake a pie, make sock puppets, and eventually, hop off to bed.
For you: 2 A.M. at The Cat's Pajamas by Marie-Helene Bertino
Told over the course of one twenty-four hour period, this is the story of nine year-old Madeleine, who has recently lost her mother, and who finds herself in trouble for her greatest wish: to be a jazz singer and perform at the jazz club, The Cat's Pajamas. We get Madeleine's story, but also that of her father, her teacher, and the jazz club owner, who has fallen on hard times. This book is musical, it's a little magical, full of whimsy and heart and a ticking clock that keeps the story moving at a swift pace.
So your baby loves: The Very Hungry Caterpillar by Eric Carle
The very hungry caterpillar eats his way through fruits and veggies and candy and cured meats and ends up, as one might guess, with a stomachache and a bright future as a butterfly.
For you: Gabi, a Girl in Pieces by Isabel Quintero
This seems a natural moment for a literary tour de cuisine – like Hemingway's A Moveable Feast – or a transformation memoir – like Elizabeth Gilbert's Eat, Pray, Love – but I want to take a bit of a turn from the literal and offer up Gabi, a Girl in Pieces. A YA coming-of-age tale, we join Gabi in her senior year in high school when she is dealing with a LOT on her plate: her best friend gets pregnant, her other best friend comes out of the closet, and her family struggles through her father's meth addiction. Gabi is finding her voice and her future as she prepares to go to college. And while this isn't a "foodie" novel, Gabi has strong feelings about her snack foods, rooting us in her body and her hunger on different levels.
So your baby loves: Chicka Chicka Boom Boom by Bill Martin Jr. and John Archambault
I sometimes wonder if all the letters of the alphabet racing up the coconut tree might be a bit much for an eight month-old to handle, but he loves this book about what happens when all the letters fall out of the coconut tree and must be sorted out.
For you: Crazy Rich Asians by Kevin Kwan
After you take all twenty-six letters of the alphabet up the coconut tree and back down again, then settle in with Kevin Kwan's rich (and large) cast of characters in Singapore society. Rachel Chu is going home with her boyfriend, Nick, to meet his family and attend his best friend's wedding. But Nick failed to mention that he's basically Singapore's most eligible bachelor. Social climbers, frenemies, and more than one super controlling mother make this book high on drama and intrigue. It's one you'll have a hard time putting down.
So your baby loves: The Mommy Book by Todd Parr
"All mommies like to hang out with you." And my baby loves hearing about all the different mommies there are in the world. With Todd Parr's signature illustrations and a charming run-down of mommies, this list book is a sweet celebration of moms.
For you: Where'd You Go, Bernadette? by Maria Semple
Look, there are a LOT of literary moms we could go with here. And the lists abound. But one of my favorite moms is Bernadette Fox from Maria Semple's frenetic novel, Where'd You Go, Bernadette? Bernadette has gone missing, and her daughter attempts to piece together her whereabouts from email transcripts, receipts, and, in a bonkers plot turn, the FBI. This is a fantastic mother-daughter story, one about being true to who you are (before who you are claws its way out and wreaks havoc).