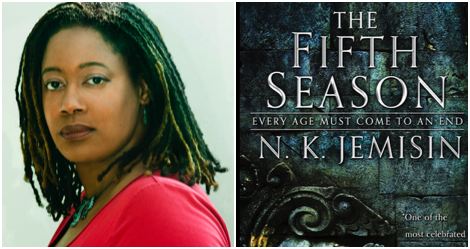 News
Adaptation of N.K. Jemisin's THE FIFTH SEASON Coming to TV
This content contains affiliate links. When you buy through these links, we may earn an affiliate commission.
Squeal! Double squeal! Okay, triple squeal! (Hey, it's a trilogy.) If I could choose one fantasy series to see made into a TV series, it would be The Broken Earth trilogy, which starts with The Fifth Season. And TNT is set to adapt it. I've no idea how they're going to pull it off, but I'm excited nonetheless.
And it's perfect timing. The third and final book in the trilogy — The Stone Sky — came out this past Tuesday. And last Friday book two — The Obelisk Gate — won the 2017 Hugo Awards. But wait for this, The Fifth Season also won a Hugo in 2016! Which made N.K. Jemisin the first black woman to win the award. Here's hoping for a trifecta. This series deserves it (though my copy of The Stone Sky just arrived at the library, so I'm merely anticipating its greatness).
Wondering about casting? For some reason, I'm not that worried about it. But Book Riot contributor Mya Nunnally will have a post coming soon with her dreamcast. Obviously for anyone familiar with the books or N.K. Jemisin's works, the casting must be almost all black. But I'm assuming everyone signed on to the project understands and is excited about creating an all-black fantasy series.
Creator Leigh Dana Jackson, producer of 24 and Sleepy Hollow, will write the adaptation. I'm not up on my TV, but those are pretty big shows, right?
I can't wait to see some geologic magic going down. Bring on the orogenes!
Are you as excited as I am?