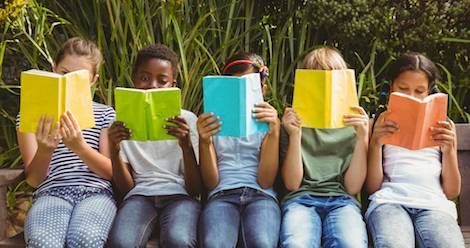 Late last year, librarian Angie Manfredi took to Twitter with a challenge: How many classrooms in need could the book community fund over the course of one day? Other librarians and bloggers and authors and industry folk joined in, and it quickly became apparent that there were a whole lot of people out there just itching to do some good, whether by spreading the word or opening their wallets or both.
On Inauguration Day, we (we being Kelly Jensen and Leila Roy) put together a list of classrooms in need, with a focus on classrooms that served immigrant, refugee, and ESL communities. With the help of Book Twitter, every single one of those classrooms was fully funded by the end of the day. Since then, every Friday, we've continued to highlight and advocate for similar classrooms, and again and again Book Twitter has come through.
Now, we're bringing our Fund 'Em Fridays to you, the Book Riot Community. Please boost, donate if you can, or even pick out a classroom to personally champion!
And now, our classrooms of the week! Both classrooms are from high-poverty areas, with students coming from homes that are struggling financially. Classroom one wants to help those kids learn to read through listening (yay aural literacy!) while classroom two wants to help kids have supplies for creative writing.
Good Listeners Make Good Readers in Pasadena, Texas:
I work with students from a low socio-economic back ground. Over half of our students receive free or reduced lunch. We are a Title 1 school. My students are at a disadvantage even before they come into the classroom. Learning begins at home. However when distractions of life impede the process learning is stifled. This is the struggle my students face. My students enjoy coming to school just as a way of escape from having to make grown up decisions in life.
Igniting hope through reading is a way of giving back to my students.
Listening stations will encourage reading more. Listening stations will build fluency. Listening stations will increase a yearning to want to read. I believe that once a student hears the book come to life they will want to hear the stories over and over again. I enjoy listening to audio books while driving and in my spare time, so I know my students will want to listen to stories more. Not being able to read will no longer be a barrier because as students listen and follow along they will be able to pick up words and increase their vocabulary.
Writing The Words For The Future: Camden, NJ
Teaching in a low-income urban setting, I know that my students are faced with economic challenges both in and out of the classroom. Like any good teacher, I want my students to have access to as many materials and resources as they possibly can. While, our school provides many of these wonderful tools, we cannot rely on parents of our students to replenish and donate throughout the school year.
My classroom is comprised of 17 boys and girls with minds like sponges, ready to absorb all of the knowledge around them!
My students are full of positivity and creativity and never let adversity show. They are our future doctors, scientists, teachers, athletes, and mechanics—the list is endless. I am looking to give my students a giant push toward their futures by being able to give them as much as I possibly can. The future starts here and now!
____________________
Sometimes, the sheer enormity of all of the wrongs we have to right, the injustices we have to fight, the work we have to do… it can feel overwhelming. Funding a single classroom might feel like a drop in the bucket. But a single drop of water causes ripples, and a single classroom ultimately serves a larger community. Small actions make change. Join us.