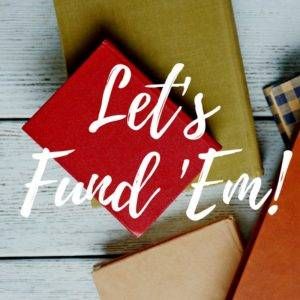 Late last year, librarian Angie Manfredi took to Twitter with a challenge: How many classrooms in need could the book community fund over the course of one day? Other librarians and bloggers and authors and industry folk joined in, and it quickly became apparent that there were a whole lot of people out there just itching to do some good, whether by spreading the word or opening their wallets or both.
On Inauguration Day, we (we being Kelly Jensen and Leila Roy) put together a list of classrooms in need, with a focus on classrooms that served immigrant, refugee, and ESL communities. With the help of Book Twitter, every single one of those classrooms was fully funded by the end of the day. Since then, every Friday, we've continued to highlight and advocate for similar classrooms, and again and again Book Twitter has come through.
Now, we're bringing our Fund 'Em Fridays to you, the Book Riot Community. Please boost, donate if you can, or even pick out a classroom to personally champion!
And now, our classrooms of the week! Both classrooms are seeking class libraries with inclusive books and both are serving highest poverty populations.
Let's Read! in Long Island City, NY
This project is all about helping students fall in love with reading. By providing my students with books that interest them, they will be able to become more interested in reading, both in school and for pleasure. This will help them develop their vocabulary and fluency in reading and writing in English. My students are interested in everything from vampires and astronomy, to first love and the immigrant experience. Our independent reading project allows students to choose their own book, explore genres, and define themselves as readers. This is a great opportunity for our students to grow academically and personally.
Leveled Readers for English Language Learners in San Francisco, CA
This list of books I am requesting for my students includes readers for emergent readers grades K-2 that are specifically designed for English language learners in addition to high interest low reading level books for middle school English language learners just beginning to learn English as a second language. These are two key resources to help support our students in the lower and uppermost grades in our K-8 school.
______________________________________
Sometimes, the sheer enormity of all of the wrongs we have to right, the injustices we have to fight, the work we have to do… it can feel overwhelming. Funding a single classroom might feel like a drop in the bucket. But a single drop of water causes ripples, and a single classroom ultimately serves a larger community. Small actions make change. Join us.