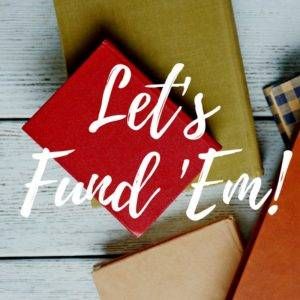 Late last year, librarian Angie Manfredi took to Twitter with a challenge: How many classrooms in need could the book community fund over the course of one day? Other librarians and bloggers and authors and industry folk joined in, and it quickly became apparent that there were a whole lot of people out there just itching to do some good, whether by spreading the word or opening their wallets or both.
On Inauguration Day, we (we being Kelly Jensen and Leila Roy) put together a list of classrooms in need, with a focus on classrooms that served immigrant, refugee, and ESL communities. With the help of Book Twitter, every single one of those classrooms was fully funded by the end of the day. Since then, every Friday, we've continued to highlight and advocate for similar classrooms, and again and again Book Twitter has come through.
Now, we're bringing our Fund 'Em Fridays to you, the Book Riot Community. Please boost, donate if you can, or even pick out a classroom to personally champion!
Bilingual Picture Dictionaries for Newly Arrived Immigrant Students, in Oakland, CA:
My school is an urban public middle school in Oakland, California. Along with a diverse middle school population, we also have a specialized program to meet the needs of recently arrived immigrant and refugee students with a pilot 9th grade program. The majority of our students left their home country to find safety seeking refuge from war or gang violence. Our Newcomer Program serves students from around the world. They are thirsty to learn more about their new country and the language spoken in this new country. These students are strong, brave, and smart and have witnessed and endured more than many of us can imagine in their journey to the United States.
I work with students who have been in the U.S., on average, six months or less. They are eager to learn the language, acculturate, and find their place in our school. Everyday, they do a dictionary activity, but we don't have enough dictionaries for every student, and they are a bit outdated. Currently, my classroom is the only class that has any bilingual picture dictionaries.
To Mars And Beyond! Learning Collaboration And Logical Thinking, in Readfield, ME:
We are 66 students that create learning at a close-knit community public school in rural Maine. We work together in a team setting where all three grade levels (6th, 7th, and 8th) learn and work together to try and understand the world beyond our small town. We have three great teachers who encourage us, push us, and allow us the freedom to choose what we want to learn about in order to be successful in life.
With this set of bots, we will be able to hone our skills in logical thinking, an area that will help us in math, science, writing, and life! We will also be using them to learn collaboratively about how robots work and how to communicate clearly in a non-realtime situation.
______________________________________
Sometimes, the sheer enormity of all of the wrongs we have to right, the injustices we have to fight, the work we have to do… it can feel overwhelming. Funding a single classroom might feel like a drop in the bucket. But a single drop of water causes ripples, and a single classroom ultimately serves a larger community. Small actions make change. Join us.