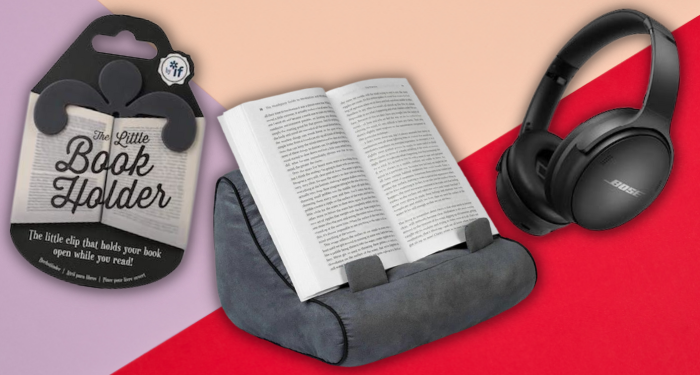 Book Fetish
11 Bookish Accessories to Make Reading More Accessible
When I entered the world of the bookish internet in my 20s, I loved being a book person. As my collection of bookish T-shirts and mugs grew, I also kept an eye out for other book related art, jewelry, and totes. I think it's safe to say that at that point, loving books had become part of my personality.
But when you're a disabled book lover, you often have to get…creative. Sometimes you can't read print, so you switch to ebooks. Then your Kindle or iPad becomes too heavy to hold. Then you switch to screen readers, but then you need software with more features. Living in an ableist society as a book lover can quickly become a spiral of constant reminders that your reading life doesn't look like non-disabled people's. But that's okay.
While constantly adjusting to new ways I need to accommodate my body, I've learned that creating new forms of accessibility is a chance at innovation and creativity. There's no one way to be a die-hard book nerd. We come with all different kinds of abilities and ways to read.
So if you're looking for ideas to accommodate your disability, or maybe you're just looking to help out a friend in a similar situation, here are some reading accessories that you might find helpful!
---
Disabled readers have become incredibly innovative, so I hope you've found a bookish accommodation for you! For even more accessibility options, check out 10 Excellent Book Holders for Reading in Bed.