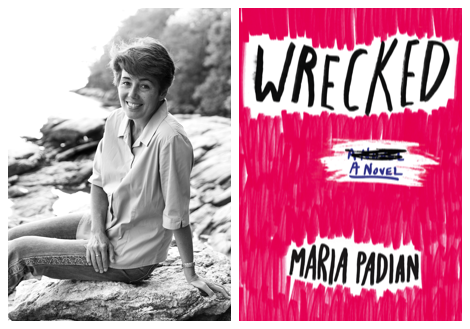 Interviews
"We Have To Accept We Have Biases": An Interview with Maria Padian, Author of WRECKED
This content contains affiliate links. When you buy through these links, we may earn an affiliate commission.
A topic that I have trouble thinking about and reading about is sexual assault. It's emotionally exhausting. Yet, it's also a topic I'm drawn to: I read as many of the books published about sexual assault, rape, and rape culture possible.
The YA world has taken on these topics for many years, though there's been a definite growth in prominence over the last four to five years. Part of it is that YA continues pushing boundaries, but part of it is that the conversations around rape and rape culture are necessary to be having. With high-profile rape cases like Steubenville, like Brock Turner's, and others being seen and discussed on the news and social media, it's a topic that YA can't relegate to one or two books, no matter how great they are.
Maria Padian's Wrecked, published in early October, explores the impact of rape and rape culture. While there's never a need for a "but" in a description like that, what makes Padian's novel a "but" in this category is that the story is set on a college campus. The campus culture takes on a prominence and resonance that differs from high school settings and in a way that hasn't yet been explored in YA lit.
And yet, it's a story that should be told in YA.
The book is told through the eyes of the close friends of the victim and rapist, as opposed to the POV of the victim or perpetrator. Wrecked focuses on the ripple effect of sexual assault and the greater implications of rape culture.
Wrecked hit especially home for me, as I attended a small college not dissimilar from MacCallum College. During my freshman year, one of the fraternities made t-shirts for pledging that perpetuated rape culture in one of the most vile, stomach-turning ways. At the time, I knew little about this group of guys, though seeing and hearing about this on my small campus made me fearful of crossing their path in the wrong way. The college, though, listened to student voices opposing these shirts. Their response was to host a number of campus-wide forums and open discussions of rape culture. These opened my eyes to how pervasive it is and gave me a language to describe the funny feelings I could get when I read something that felt off or heard language that made me uncomfortable. It was a hell of a lesson to get early on in college and one that no guide book nor classroom could teach me.
No doubt, this experience is one of the reasons I find myself drawn to stories like Wrecked and why I find myself angry and frustrated with each high-profile rape case that we hear about (and knowing, too, how many more we never hear about).
Books like Padian's help continue vital dialog about sexuality, about consent, and about the wheres, hows, and whys of rape culture.
I had the opportunity to talk with the author about her book, about YA explorations of hard topics, and more. Check it out.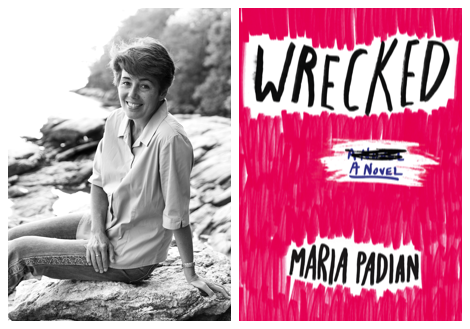 Your books have taken on big, meaty issues — Out of Nowhere explores the lives of Somali refugees in Maine and your latest release, Wrecked, takes a hard look at sexual assault and rape culture. What influence has your previous experience as a news reporter, essayist, and congressional aide played in telling these sorts of stories? And why tackle these for a young adult audience?
I have a tremendous amount of respect for young people. I don't think I would write young adult fiction if I didn't! And I think young people care very much about serious issues. The trick, as an author, is to create relatable teen characters and to write about these issues in age-appropriate ways without condescending to the reader.
I think my background as a reporter definitely helps me when I'm researching. I'm not shy and I have experience interviewing. I also love getting out into the world and talking to people and learning from them. It's such a privilege. You really feel that … when someone opens up to you and shares their story … that you're being given a gift, and a huge responsibility. You want to get it right.
I also think my experience as a radio reporter has helped me write dialogue. In radio, as opposed to print media, you have to write the way people speak. So all those years composing radio "dialogue" are finally paying off!
The framing of Wrecked is through the eyes of friends tied to the survivor and rapist. This challenges our initial assumptions as readers about those characters as they begin to better understand the ripple effects of rape and rape culture. Talk a bit about this choice in framing and what you hoped to accomplish by offering both a male and female main character and how each understands the issues differently. What power is there in choosing not to give either the survivor nor the rapist a voice in the story?
I have always been fascinated by how a story changes depending on the narrator, and how "truth" varies with point-of-view. When I sat down to write Wrecked, I wanted to take that idea one step further and write a story in which point-of-view isn't simply a device: it's a theme. And it's a theme which seems particularly relevant when we talk about sexual assault, because more often than not we are dealing with two … or more … very different versions of the same story.
I want readers to experience Wrecked the way we experience all reports of sexual assault: from the other side of a closed door. I want them to experience the discomfort of thinking they know what happened, then seeing from another point of view and having their assumptions challenged. Repeatedly. If I had written from the victim's or perpetrator's POV this would have been a more straightforward story, more about those characters' emotions in the wake of a crime. By writing from a bystander's limited view, it becomes a story about discerning truth.
Though the YA world has seen more stories about rape and rape culture in recent years, what makes Wrecked unique is that it's set on a college campus, as opposed to within the confines of high school/high school life. What inspired you to want to tackle this topic with this angle and what more does it add to the necessary on-going conversation about sexual assault?
Stories come at me from a lot of different directions. With Wrecked I was intrigued by the stunning, mind-blowing dissonance between victims' versions of what happened "that night" and the alleged perpetrators' versions. We see these accounts coming out of colleges and struggle to make sense of it all.
The only way I could imagine accurately dramatizing this dissonance was through a shifting kaleidoscope of perspectives. So in Wrecked, the college dean, the roommate, the strangers at the party, the parents, the lawyer, all lend their voices and their opinions. It therefore becomes the story of a community and a culture, and not simply a crime and a punishment. It opens up the issue to a larger discussion. My greatest hope for the book is that it gets both young men and women engaged in some necessary, awkward, uncomfortable conversations. I think that's the only way real change is going to happen.
Wrecked is a book marketed for young adults, despite being set in college. Why is this book right for a YA reading audience, as opposed to an older readership? What differences exist in the voice and storytelling that makes a book YA vs. adult?
Young people are sexually active long before they reach college. Exposure to issues surrounding consent needs to happen long before they are set loose on a campus! Wrecked dramatizes the transition, from high school to college, when young people are sorting out who they are now that they have left the confines of their childhood homes. It's a crucial period, and would interest teens on the cusp of that change, as well as those who have recently entered that new world and are currently navigating it.
I've often said that I write YA because I love readers who lead with their hearts. The most important thing is to create characters that elicit strong emotional reactions from the reader. I know I've done my job when readers talk about how the characters infuriated them or made them cry or made them laugh hysterically … as if they were real people.
Going along with the above question, what sorts of books that expose YA readers to worlds outside of high school do you think would be valuable to see more of?
I'd like to see more books which highlight issues surrounding economic diversity. I think there's a reason why Matt de la Pena just won the Newbery for Last Stop on Market Street. He has given young readers a glimpse into the beauty of a world which we don't often make the subject of young people's literature.
You are passionate about writing for teenagers, and you've written extensively about inclusive books for teen readers. That in mind, what have been some of your favorite inclusive YA readers over the last few years? Favorite authors? Favorite titles? Are there older back list titles that you think readers should (re)discover?
Wow, that's hard to narrow down. But right off the top: Sherman Alexie's The Absolutely True Diary of a Part Time Indian is a must-read. I recently picked up his collection, The Lone Ranger and Tonto Fistfight in Heaven, which is brilliant. He wrote it so young! It's an "adult" book but I think teen readers would get a lot out of it.
I'm a big Francisco Stork fan, everything he writes is beautifully inclusive. I loved his most recent book, The Memory of Light, and of course, Marcelo in the Real World. Francisco's work is a perfect example of what some call "everyday diversity." His characters simply are a beautiful rainbow of colors and types.
I'm just recovering from a Meg Medina obsession, she's brilliant, and I loved Burn Baby, Burn. Two other writers I have recently fallen for are Jason Reynolds … his American Boys is soooo good … and Sara Farizan, who writes about the challenges of being Muslim and lesbian in If You Could Be Mine and Tell Me Again How a Crush Should Feel.
If you could assign required reading, what would be the three books on the topic of rape/sexual assault you'd choose?
Absolutely required reading for everyone, male and female alike, is Peggy Orenstein's Girls and Sex. It's not about sexual assault per se: it's about our entire culture of sexuality, and the sections on sexual assault and pornography and consent are very, very well done. It's relatable, well-researched, devastating, thought provoking … I can't say enough about it. I gave it to my college-age daughter, and it sparked much very important conversation.
After that, of course Speak by Laurie Halse Anderson, and All the Rage by Courtney Summers.
What advice would you give to readers who want to avoid being active participants in rape culture?
I was meeting with students at a high school recently and we were talking about racism. One young woman completely threw me: she asked, "What are your racial biases?" Well, of course my instinct was to say, "I don't have any," but I realized how stupid and smug and wrong that would be. I realized that I couldn't think of my biases because I wasn't aware of them. That I had fallen down on the job. I hadn't spent any time challenging my own assumptions or questioning whether I had anything to learn.
If we want to avoid participating in rape culture then we have to accept that we have biases and be open to examining them: about gender roles, sexuality, consent, and objectification. We have to be willing to change and grow, and accept that we all need to change and grow.
My answer to that young women that day was, "I'm not aware of my own biases. But I'm determined to find out." That needs to be everyone's stance regarding rape culture.