Children's
Quiz: How Well Do You Remember A WRINKLE IN TIME?
This content contains affiliate links. When you buy through these links, we may earn an affiliate commission.
Are you a fan of Madeleine L'Engle's famous children's sci-fi classic A Wrinkle in Time? Is your memory of this beloved book in tip top shape? Test your knowledge with this A Wrinkle in Time quiz.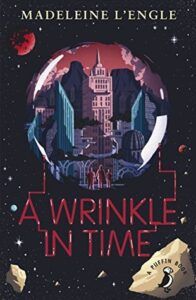 This treasured story won the prestigious Newbery Award and became an instant favorite among kids who like stories that explore other worlds, travel through space, and bend time. It's no surprise that it took off and is enjoyed today every bit as it was during its first decade in print. This story featuring spunky misfit Meg, her little brother, their friend, and the Three W's is unforgettable. Meg is an unconventional heroine who you can't help but root for. She doesn't fit in anywhere, she's constantly angry, and she's definitely misunderstood. By making her protagonist someone other than a perfectly perfect hero, L'Engle helped open up the book to more readers who also feel like they don't fit in.
Reading A Wrinkle in Time, you think anything is possible. The book is infused with a sense of wonder that permeates the pages and transfers to its readers. A Wrinkle in Time is simply awe inspiring.
Now take the test and see how well you remember A Wrinkle in Time.
For more Book Riot quizzes on classic children's lit, check these out: