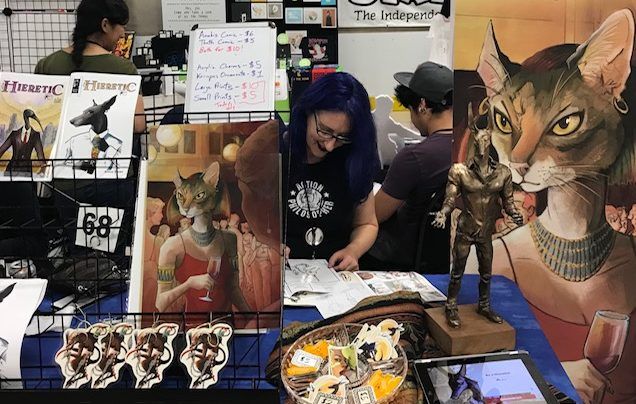 This content contains affiliate links. When you buy through these links, we may earn an affiliate commission.
Another year, another successful STAPLE! It was the 14th annual expo for independent comics, zines, art (and more!), and my 5th time attending, and it gets better with each passing year. I was able to attend both days at STAPLE! 2018, which allowed me to really take my time wandering the floor, talk to creators, and take some pictures to share with y'all.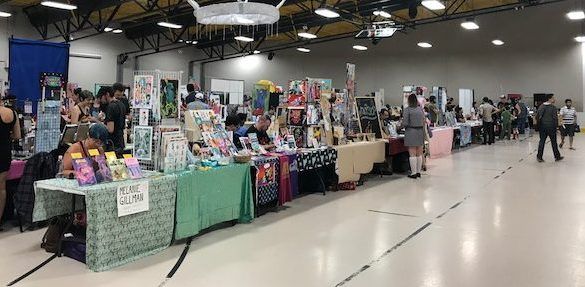 Being a local, I am bit biased towards the show, but clearly I'm not the only one who thinks the majority of exhibitors and attendees are great and thoughtful people.
Folks at @staple pay in exact change, 5's and 1's, and I would kill and die for them

— Now More Than Ever, Ken Lowery (@kenlowery) September 8, 2018
STAPLE! 2018 was full of new faces, returning favorites, teeny zines, amazing artwork, and I walked away broke. For those unable to attend, here are a few highlights, all with links to the creator's shop, website, and social media so you can read and buy anything that perks your interests.
Comics and zines from STAPLE! 2018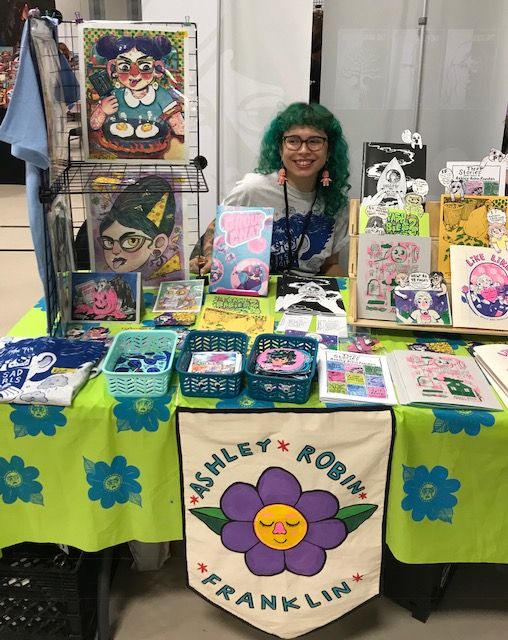 Ashley Robin Franklin gets a gold star from me for her whole color and design aesthetic. I need that Sad Girls Read Sad Comics shirt, but settled for the sticker this year. See more of her work on her website, and buy her comics and more online.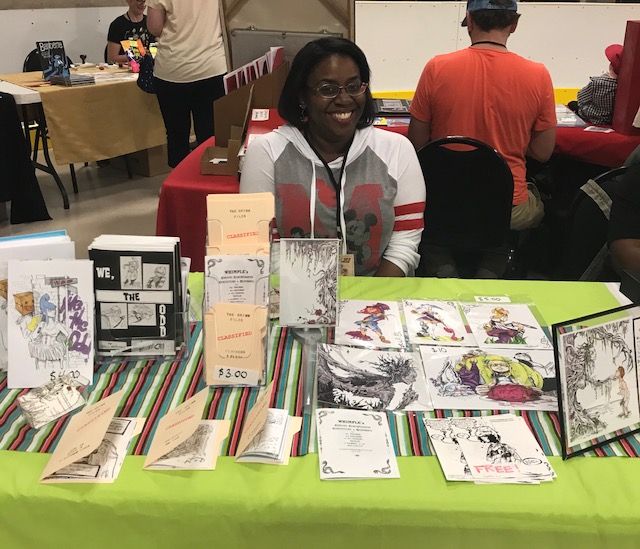 Delicia Williams made my favorite teeny comics of STAPLE! 2018: Grim Brothers case files, complete with a stamped manila envelope. You can see more of her work at her website.
Melanie Gillman's comics have been on my radar for years, so I was happy to finally get a copy of As the Crow Flies from them (I'm halfway through and it's so good, go read it). You can buy more of their comics from gumroad, and find more at their website.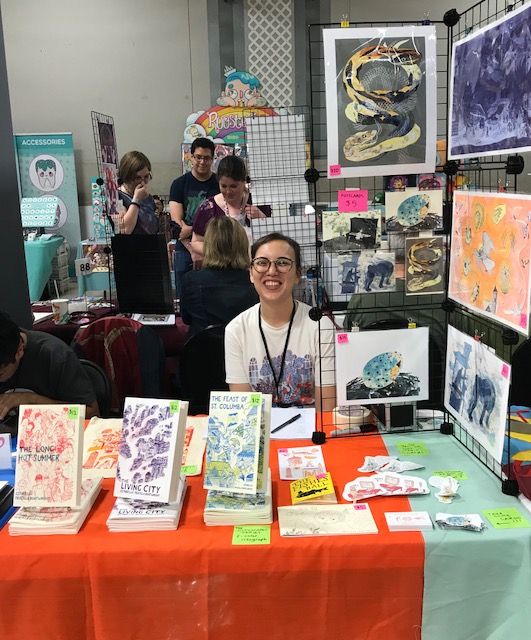 Priscilla Boatwright's two-colored risograph comics, which explore a magical city, were eye catching even from a distance. The comics are a collaboration between her and Esther Lui, who together form Peach Soup. You can buy their work from their Peach Soup shop, and see more of Priscilla's work here.
Alex Grandstaff makes queer-focused sex-ed comics. They also had some rad stickers I picked up for a friend, which I hope they offer online soon. You can find their comics on their website and buy their art from redbubble.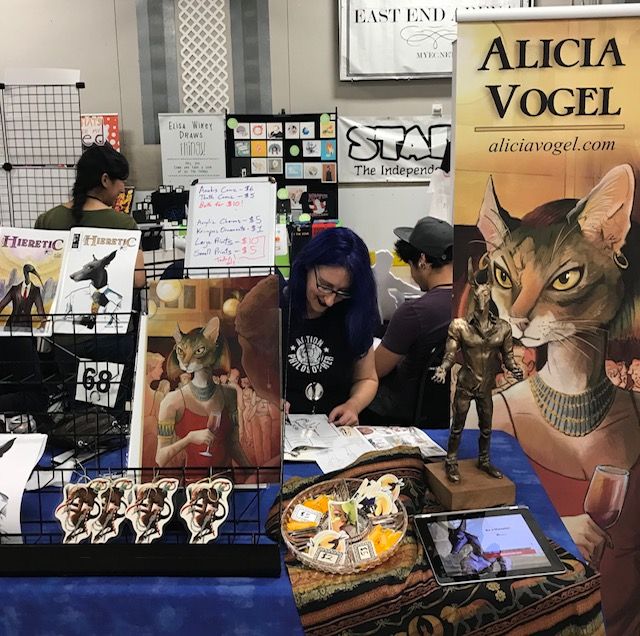 Alicia Vogel's comics about ancient Egyptian gods living and working in Austin sound like they were written for the wannabe Egyptologist lurking in my heart. See more of her work here and buy comics and more here.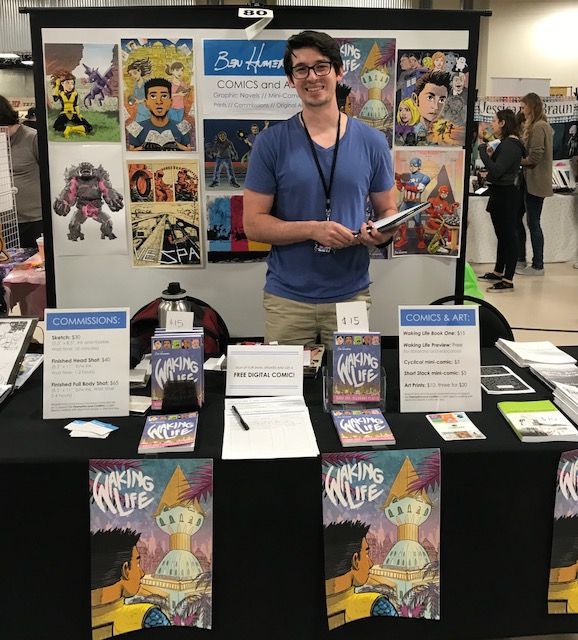 Ben Humeniuk's Waking Life webcomic, about a high school kid whose imaginary friend suddenly reappears sounds right up my alley, and I'm excited to dig into it. Learn more about Ben and his work on his website.
Lora Merriman's makes a scifi webcomic, The Other Known, which looks very good. I picked up her comic Re-Saturated, a story about depression and friendship set in high school, which is available in her online store. Lora also was selling this amazing grackle pin, which, if you're from or visited Austin, you understand why this is hilarious.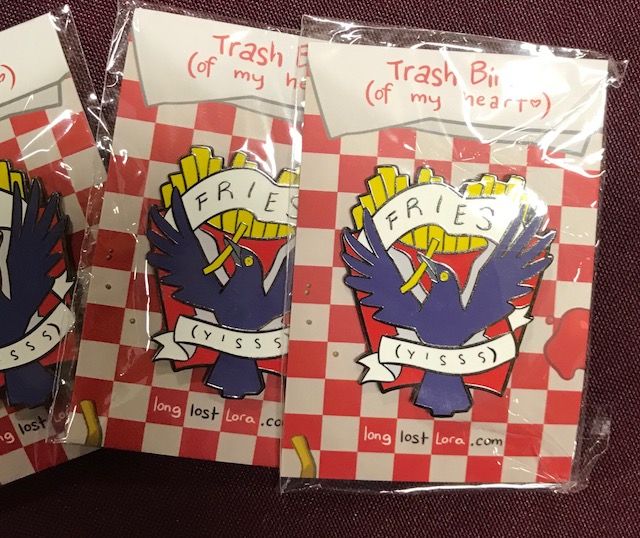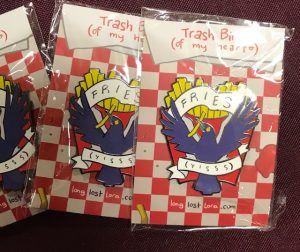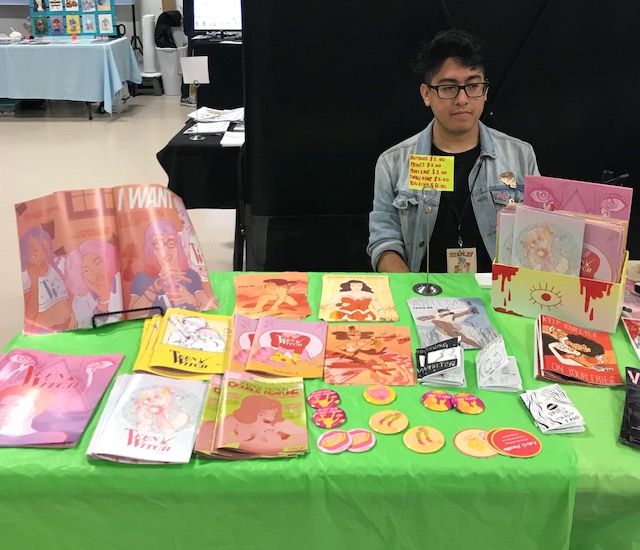 Luis Portillo had some beautiful prints of Greek gods and goddesses that I am honestly kicking myself for not buying. NEXT YEAR! See more of his work on his website.
Valeria Pérez was offering Post-it note commissions for fifty cents, which is such a good idea! You can see more of her work here.
Mad Rupert makes a webcomic, Sakana, about 20-somethings working at a fish market in Japan, which I'm excited to start reading.
All set up here at @staple ready to rock and roll and showcase my comics prominently again! Come by, say hi, make a buy, and let's have fun!
📦📦📦 pic.twitter.com/xk2Htxuvjz

— Eliamaria M. Crawford (@ELIAinaBOX) September 8, 2018
Eliamaria Madrid Crawford is a girl after my own heart, creating funny comics about fandom, art based on my favorite space boys, and wears killer lipstick. See more of her work on her website, and shop her studio here.
Art and More from STAPLE! 2018
Jae Lin's offering of pronoun bunny stickers, encouraging artwork (I got a Cultivate Kindness and Failing Is Not Always Failure postcard), and Enby hats was great to see this year. You can find more of their work at Doodle Me Alive and their etsy store.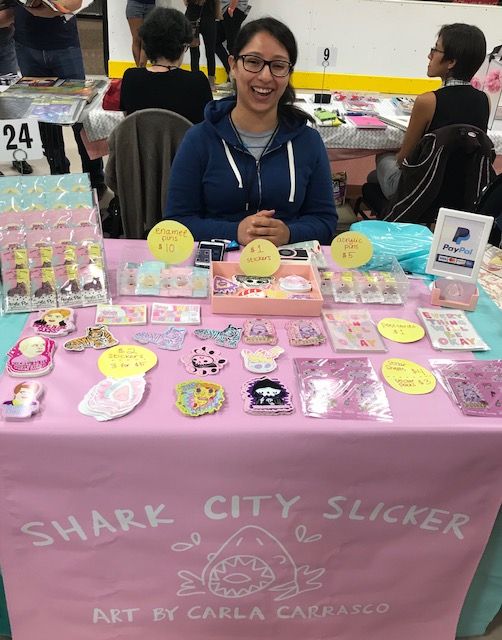 Carla Carrasco's artwork combined with her colors are just *chef kiss fingers*. Find more of her work on her website and buy all the things in her etsy shop.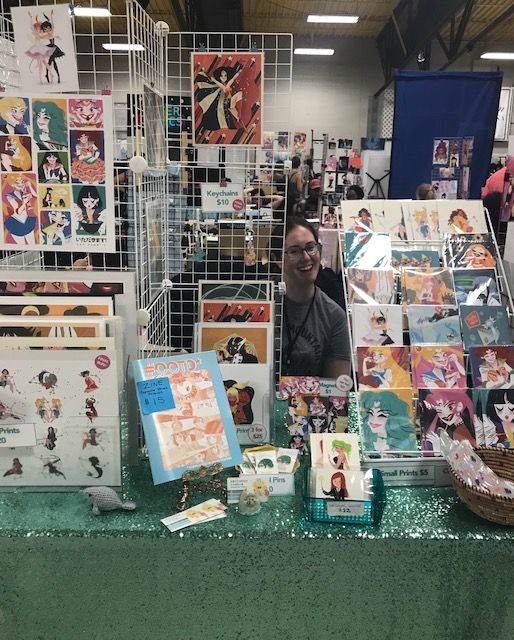 Katherine Kuehne's artwork reminded me of the great Mary Blair, and it was all I could do not to buy everything she had. You can find more of her work on her website and shop her prints on etsy.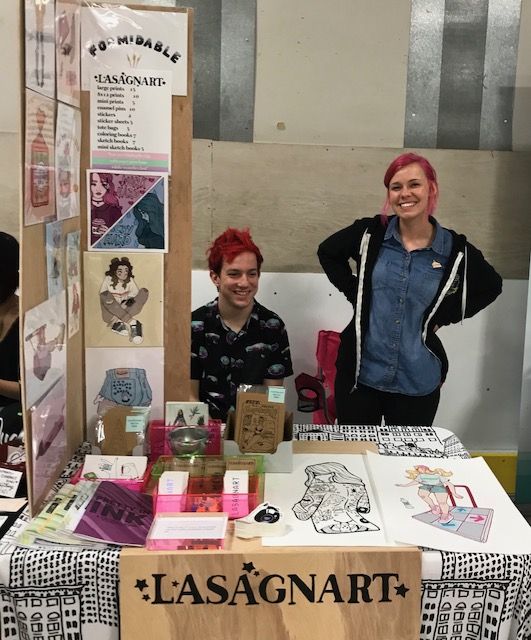 Meredith Brooks had some great prints available, but I walked away with a cheeky mini sketchbook and "Outfit Repeater" pin. You can see more of her art and buy that pin and more at her website.
There you go! STAPLE! 2018 Austin in a nutshell. Many thanks to all the creators I met and talked to this year, y'all are super talented, wonderful, and just plain nice! I'm already looking forward to the next expo and saving up for all the comics I'll see there in 2019. Hope to see y'all there!