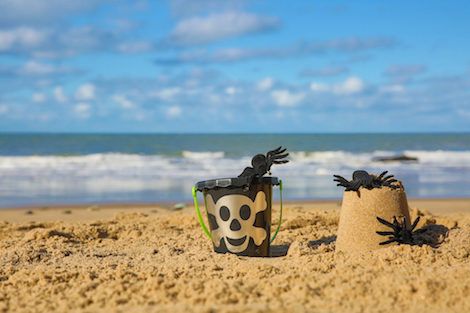 A Summer Reading List for Misfits: Critical Linking, July 5, 2018
Sponsored by Libby, the one-tap reading app from OverDrive.

---
The sun is out, the shoes are off, the legs are sprawled upon the color-blocked terry cloth, and your vacation book is open. It's not my intention to be the black spider crawling across your beach towel.
Every summer, seasonal reading lists hail the "fun" page-turner and use their ease to jeer at the "challenging" read—how dare a book do something freaky with language, structure, or content in the midst of so much natural light? Listen, I know the stakes: to denounce a plot-driven summertime read is to announce oneself too loudly as a serious person. In my case, a serious Slavic, lesbian, now-French woman with—way to ruin the vibe—short hair.
All right, I partake in recreational seriousness in the warm climate (my favorite melon is melancholia), but I will not apologize. I crave untraditional texts for my leisure, and I have a feeling (despite my existential leanings) that I am not alone.
Here is your unconventional summer reading list.
____________________
I can read only so many thrillers in a row before I assume that every knock at my door is a murderer coming to get me. Enter: the rom-com. I adore reading romantic comedies because they combine my two favorite things: swoony crushes and laugh-out-loud writing.
Nothing especially new here, but it's a good list for readers itching for a little love and laughter.
____________________
An animated Fancy Nancy TV series premieres on Disney Junior on July 13, and a second season has already been ordered. Lead voice actors include Mia Sinclair Jenness as six-year-old Nancy, along with Rob Riggle and Alyson Hannigan as Nancy's parents. The series, which is aimed at viewers ages two to seven, includes two 11-minute stories per episode and will feature both original storylines and music.
My kids at the library used to be WILD about Fancy Nancy!
____________________
Federal Judge William Orrick has issued an order vindicating Random House author Emma Cline and her novel The Girls.
Short news alert, but a good one.