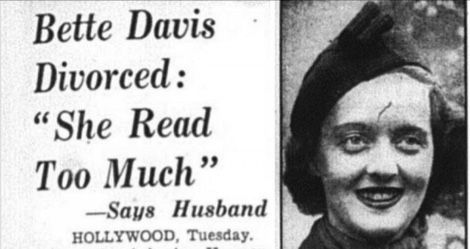 A Snapshot of Bette Davis's Divorce–"She Read Too Much," Says Husband: Critical Linking, November 11
Sponsored by Flatiron Books, publishers of Nine Perfect Strangers by Liane Moriarty.

---
On December 7, 1938, The New York Times reported on the dissolution of Bette Davis' marriage with Harmon "Oscar" Nelson. The stated reason for the divorce? The actress read too much. The report goes on to say: Harmon "usually just sat there while his wife read 'to an unnecessary degree." "She thought her work was more important than her marriage." "She even insisted on reading books or manuscripts when [Harmon] had guests. It was all very upsetting."
---
I believe Africans, living in Africa, need something entirely different from Afrofuturism. I'm not going to coin a phrase but please feel free to do so. Our needs, when it comes to imagining futures, or even reimagining a fantasy present, are different from elsewhere on the globe; we actually live on this continent, as opposed to using it as a costume or a stage to play out our ideas. We need a project that predicts (it is fiction after all) Africa's future 'postcolonialism'; this will be divergent for each country on the continent because colonialism (and apartheid) affected us in unique (but sometimes similar) ways. In South Africa, for instance, there needs to exist a place in our imaginations that is the opposite of our present reality where a small minority owns most of the land and lives better lives than the rest.
Here's a really great piece on Afrofuturism.
---
Epic adventures are only part of the appeal of J.R.R. Tolkien's Middle Earth books. What really set Tolkien apart from other fantasy writers was his skill at crafting entire worlds—and at showing how important language is to history and identity. How much do you know about Tolkien's linguistic world?